It's not quite electric yet as I'm still gathering money/parts, and doing mostly bodywork. This car used to be a lot worse last year, and its current paintjob was slopped on to protect it from rust, but it will be British Racing Green pretty soon. I couldn't bear to see it propped up on cinder blocks, so the car is currenly running as a gasoline powered car, waiting for me to dump more cash into it. Next order of business is to purchase or mold/create, and install the fiberglass LeMans style bonnet, doorskins, rockers, hatch, bumpers, wheel well covers, underbelly and inside grill cover, and install lexan windows and a new windshield. Currently inside the bonnet lurks a fearsome inline 6 cylinder, waiting to be replaced with an electric motor. That engine bay used to be empty, but not having much money as of late means it would just sit, so I had to do something with it!
The exterior is in pretty good shape. Mostly rust free, the body is the item I was worried about most. I checked this car with a magnet very closely when I got it and the body was great, although ever since it's been in my garage, the floorboards have gone from adequate to almost non-existant. The parking brake recently broke, so I hold the car in place with rocks, one in the front and one in the rear. Also, it has no plates(ones it had expired and were removed), but that hasn't kept me from driving it on occassion! I love how it can smoke its tires and make a savage growl not too different from a Harley Davidson motorcycle, although it faintly sounds like a 60s Ferrari to an extent as well. Nothing beats sneaking up on ignorant SUV and minivan drivers who cannot see it because it's too low to the ground, then suddenly slamming the pedal to the floor right next to them and shooting out in front of them at double the speed limit! Scares the shit out of them! I'll miss that noise when I put an electric motor in her.
Interior is crap. Doesn't matter: I'm stripping the hell out of it anyway. Make note of all the room in the back under the rear hatch. The back is going to be filled with batteries.
Now under the hood. You can see all 2.5 Liters and 210 horsepower of this bored TR6 beauty(Not stock). In an 1800 pound car. This will be taken out, to make way for the electric motor and the controller, along with a few batteries. Although you can't see it, installed is also a TR6 non-overdrive transmission and drive axel to handle the additional torque and power the electric motor will dish out to it once installed.
I'm going to paint her dark British Racing Green after I take that babyshit yellow off. It needed that paint on it though, otherwise rust would have seeped in killed the poor thing.
For those interested, here's a cost breakdown of how much it will have cost when finished:
-WarP 9'' series DC motor x1 $1,395
-Optima D750 YT battery x25 $2,500
-Godzilla Controller(72-300V DC, 1,000 amp max) x1 $2,495
-PFC 20 Charger x1 $1,500
-Todd DC-DC converter x1 $400
-Steel for battery racks $50
-Battery Cable $50
-EV200AAANA contactors x1 $75
-Feraz Shawmut A50QS400-4 fuse x2 $109
-Curtis Potbox(To control acceleration) x1 $75
-E-Meter x1 $235
-Solid-State Ceramic Heater Core x1 $75
-Adaptor Plate x1 $1000(I will be machining myself, so don't count cost)
-Miscallaneous components(Heat shrink tubing, tools, ect.) $500
-Leaf springs from Renegade Hybrids $300 (increase GVWR)
-Rudman Battery Regulators x25(Unassembled) $250
-x1 1969 Triumph GT6 Sports Car and some restoration = $1,200
-restoration and components costs, what will be spent later: $1,500 (half for restoration, half for fiberglass parts)
Total = $12,709. My own labor is free, so not tallied.
I have some of the parts bought from this list, not all. I'll need a few grand to buy the rest of the parts needed to get it going on electric power plus about 500 more hours of work, for anyone curious. Does not include price of all tools used. This will become an 80-100 mile range per charge EV that can out perform Porsche Boxters and Audi TTs with ease, while needing no gasoline. As it is now, it's simply a moderately decrepit road demon that gets about 30 miles per gallon and can still embarass most cars on the road. Can't wait to give it the upgrade it deserves.
Here's a simulated torque curve of the electric motor's performance from a little spreadsheet I made, which coincides with other calculations and estimates I made by hand and with other programs. Max motor voltage would be limited by controller to 216 volts and max motor current limited by controller to 1,000 amperes:
Perfectly flat torque up to about 4,000 rpm. What a beautiful power curve. So much of an advantage that this little 170 horsepower setup will perform like Nissan's 287 horsepower 350Z. Just compare torque curves:
I'd kill a 350Z off the line for sure, and even though I'd have only 170-ish horsepower, the guy driving the far more powerful car would have to really work to catch up.
Stock this car has a dry weight of 1,793 pounds. The drag coefficient of a stock GT6 with factory paint and no rust is about .32, and I hope to get that down to about .25-.27. Weight as an electric car will be about 2,400-2,500 pounds including driver.
The gas engine, which will be removed, is 402 pounds, and its ancillary components, like carbeurators, fuel lines, empty gas tank ect. weigh about 90 pounds.
So far I plan the following in order to cut down weight:
a) Replace the stock seats with lighter seats from a Mazda Miata or some such(-50 pounds after replacement seats are put back in)
b) Remove all carpets(-15 lbs)
c) Remove all sound deadener(-25 pounds)
d) Remove wood panel dash, replace with custom leather
dash(-5 pounds)
e) Fiberglass bumpers(-15 pounds)
f) Fiberglass bonnet, doorskins, lexan windows and other such stuff for weight reduction.(-200 pounds)
So minus 110 to 135 pounds to the car for a glider weight of around 1,000 pounds or so.
BUT, I figured out how to fit 25 Optima Yellowtop batteries into this car, at 45 pounds each. That's a 1,125 pound battery pack. The Netgain WarP 9'' electric motor going in it will weigh 160 pounds, the controller 23 pounds, charger 16 pounds, and about 100 pounds of miscallaneous parts like battery racks, rubber motor mount, battery cable, contactors, EMeter, shunts, ect.
That brings the car to a very porky 2,430 or so pounds. Plus I weigh 130 or so. Gross vehicle weight rating is 2,350 pounds, so I won't be too far over it. I may have to install leaf springs in order to handle the additional weight so the car doesn't sag, and I may need to add a second master cylinder to keep braking distance in high performance sports car territory, which may suffer due to the dramatic increase in weight.
As far as the appearance and dynamics of the car, I intend to do the following modifications in an effort to maximize efficiency and top speed by minimizing drag:
Full fiberglass underbelly, fiberglass LeMans style bonnet, removing the chrome strips and vents, fiberglass bumpers, fiberglass doorskins, fiberglass hatch, lexan windows, top half of rear wheel wells covered, she will be lowered an inch closer to the ground with a racing suspension, a roll bar will be installed, her brakes will be machined down to eliminate brake drag, her wheel bearings will be replaced with lower friction bearings, she will have aluminum alloy LeMans style rims, the driver's side mirror will be replaced with a more aerodynamic mirror, her engine compartment under the hood will be sealed from the outside world by covering the grille from the inside, her rain gutters will be shaved off, she will have shaved door handles installed, the radio antenna will be removed from the front and replaced with a less drag inducing antenna mounted on the roof, and a single center-mounted rally style windshield wiper replacing the two she has. Her transmission and drive axel will have Redline MTL synthetic oil placed in them. I plan to use Invitica GLR low rolling resistance tires. Alignment will be adjusted to 0 degrees camber in order to further cut rolling drag. Wheel bearings will also be replaced as wheel bearing friction is a significant source of drag. The flywheel will also be machined down in an effort to reduce rotational inertia, which adds to energy consumed during acceleration, this inertia resulting in slower acceelration times and more energy consumption. An electric motor doesn't need to stay revving at a stop due to it's high low-end torque, thus the flywheel does not need to retain any angular momentum like a gas car does, so it can handle hacing 10 pounds shaved from it and since it will be electric it won't stall.
Overall, this will give me 80-100 miles range pussyfooting it and taking it easy at 65-70 miles per hour on the highway, or one third to one half that range with a lead foot going 90 or so and with drag racing everybody in sight or terrorizing local law enforcement. Range at say, 140 mph, would only be about 10-15 miles. However, if I could find a place to maintain a steady 30 mph without stopping or being a nuisance to traffic, I could go 200 miles per charge, but I'd be hard pressed to ever find such a place.
The performance will be quite good. 0-60 will be around the high 5 second to low 6 second range as shown by computer simulation, and top speed between 130 and 150 miles per hour depending on the rim size I go with, the limiting factor being motor redline and not horsepower(the aerodynamic mods will help drastically).
Cost would be MUCH lower than a gasoline powered car, even with cost of batteries factored in. Let me demonstrate:
$2500 for 60,000 miles life is a battery pack cost of $.0417 per mile. At $.08 per kWh achieivng 150 wh/mile efficiency with a 92% charger efficiency and 70% battery efficiency, with $.005 per mile maintenance, total cost to operate comes out to $.0653 per mile, which combined is less than the gasoline cost for a gasoline powered Honda Civic getting 30 miles per gallon with gas at $2 a gallon. Plus the Civic also needs oil changes, tune ups, servicing, emissions tests, and other engine maintenance, while the electric car has no such issues other than tires/brakes and stuff like that. The electric car? Replace the batteries when they wear out, and change the motor brushes every 20,000-150,000 miles(Depending on how you abuse them in racing), which is a $15 dollar 20 minute operation you can do yourself in your own garage. The electric motor will last over 500,000 miles.
So, with my 100 miles range, assuming I drive 30 miles each day(my daily commute in both directions, 15 miles each way), would yield a 30% discharge, or a battery pack life of 60,000 miles before the battery pack has about 80% of its original rated capacity. A smaller battery pack of the same chemistry would mean for that same trip a deeper discharge is had, the cost per mile goes up. Too deep a discharge could kill your battery pack(although you can use computer software to prevent the operator of the vehicle from being able to do this). At shallow discharges like 20-40%, shelf life becomes the limiting factor, instead of cycle life, and Optimas have a shelf life of 6-7 years.
With a sealed lead acid battery like an Optima, you will see 2,500 cycles to 20% discharge, 2,000 cycles to 30% discharge, 800 cycles to 50% dicharge, 250 cycles to 80% discharge, and only 100 cycles to 100% discharge if properly cared for. After specified number of cycles, the battery is not 'dead', but will only deliver about 80% of its rated capacity, so it could last longer even.
Charge time will be about 2 hours from a 240V high amp outlet like you'd see at a camp ground, 8 hours from a 110 volt. Of if I bring a spare battery pack to the race track loaded up in a van or pickup and use it to dump charge my pack, it could be charged in 20 minutes. Quick charging electric vehicles is possible and technologically viable, we just haven't developed fast charging infrastructure and instead blew our much too high taxes in Iraq for oil. But our electric infrastructure is developed enough to be practical for regional travel. You can't find a gas station in every home or office like you can an electric outlet, even if it may be slow!
Later on when I am knowledgable enough to build my own battery management system, I'll be upgrading to a Lithium Ion battery pack that will give me 250+ miles range per charge @ 70 mph speeds, and weigh a full 700 pounds less than the lead acid battery pack. The car would then weigh less as an EV than it does stock as a gas car, and performance would jump, with acceleration dropping to high 4 second 0-60 times and low 13s in the 1/4 mile drag race. Cost per mile for the batteries would be about the same, with a 250,000 mile battery life for lithium ions. If I do all my own labor, this will be a $12,000 battery pack, using labtop batteries that are not mass produced for any sort of automotive application. Would automotive sized Li Ion batteries be mass produced, instead of having to rely on labtop batteries, a pack could cost as little as $6k, but if a bullfrog had wings it wouldn't bump its ass, either.
As for appearance, I'm going to take after the following cars on mine:
This thing will be looking like a $100,000 exotic by the time I get done with it. The LeMans bonnet will make it look a bit like a 1960s Ferrari. Below is a LeMans Spitfire, basically a GT6 built from a convertable Spitfire, with a LeMans bonnet like what I will be getting along with the type of rims I will be getting:
Below is how mine will be painted. Solid dark British Racing Green, no racing logos or anything like that, and it will have all the aerodynamic mods and no chrome unlike the car pictured: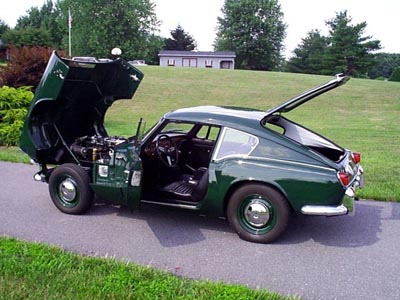 For the interior, I'm going to strip it and make it look like the following interior from an electric VW Kharmen Ghia, only instead of a red theme, a British Racing Green theme:
I'm also going to install a nice sound system. 400-600 watts or so, nothing that will add too much weight.
It will end up looking like it cost 10 times more than it did, cost less to run than a slow as molasses gas powered Honda Civic, be drivable during the peak crisis, and last but not least, if the peak crisis gets bad enough to where electricity is no longer generated:
www.solarvan.co.uk
I'll have a portable wind generator to keep it charged with when it's parked along with a garage-mounted solar array. Never going to have to worry about fuel. Plus the car has a nice space behind the seat to store guns in if needed.
She will be named "Greenpeace", I am going to drag race her while people still can get gas, and she will be used as a tool to speak out against the current status quo, in order to let people know that the peak crisis can be averted, but it won't because of corporate and government greed and bearucratic incompetence, and that they better get off their asses now and do something or their lifestyles or possibly lives will be over!