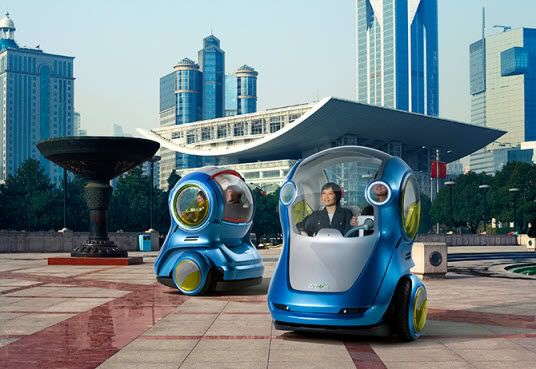 Autopia
General Motors sees a future where people navigate crowded cities in big Segways that look kinda like a Dyson vacuum cleaner and can drive you home when you've had one too many.
Mmm... one too many...
Seriously. The General unveiled a trio of electric "urban mobility vehicles," built with help from the über-geeks at Segway, today in Shanghai. They're called Electric Networked Vehicles and they're designed for cities bursting at the seams with traffic.

Shanghai is the perfect place to show the funky runabouts because China is the largest automobile market on the planet. A lot of thought is going into figuring out how all those people buying all those cars will get around. Sixty percent of the world's population will live in urban areas by 2030 and there will be 2 billion cars on the road. Automakers are looking for ways to build cars that pollute less and take up less space.

To that end, the two-seater concepts that GM rolled out today in Shanghai with its Chinese partner Shanghai Automotive Industry are about one-sixth the size of a conventional car. They're made of lightweight materials like carbon fiber and weigh just 1,000 pounds apiece. GM says you can squeeze five of them into a single parking space.
Obviously, we were all born way too soon.