All of Burns films are pretty good, but I have to admit they literally put me to sleep.. I've never managed to watch the whole Civil War series, and didn't even try with "Baseball" or that one on Jazz he did. They're all good, though.. I just fall asleep watching them.
So I gave his latest a try.. and I think he got this one right. Great historical detail and depth, pretty cinematography, and at 6 episodes it isn't too long. And, I didn't fall asleep watching it.
I did notice that all of Burns' sponsors are the usual corporate badguys we all love to hate (AIG, Bank of America, GM). I find that sort of disturbing, that PBS is so beholden to this group.. it means they're even less independent than commercial TV.
But, evil sponsors aside, one can't consume just Doom all the time.. "The National Parks" is a feel-good series worth watching, and I learned quite a bit from it.
Our national parks are gorgeous places, and are dirt-cheap to visit. After watching the series, I really want to get out to Yosemite: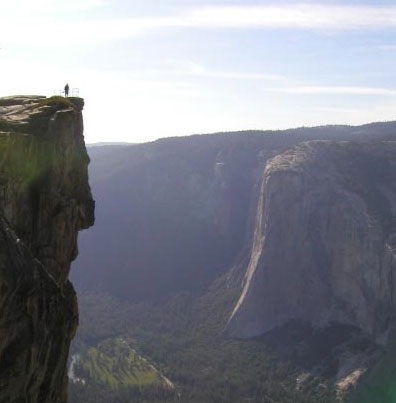 Wow, does it get any more gorgeous than that?
PBS has aired the last episode, but I'm sure they'll be repeating it again and again. I looked up the webstie, and it appears you can watch the whole thing online:
http://video.pbs.org/program/1072181584