Beery1 wrote:Deaths from left hooks are at epidemic proportions in the London cycling community because of this.
Oh dont talk pish.
"Filtering" is where the cycle lanes are.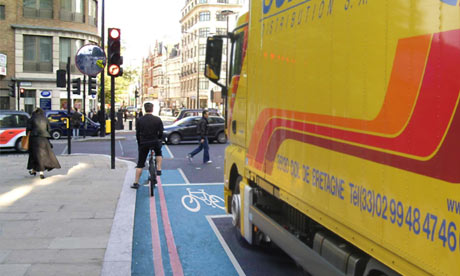 The problem is left turning heavy goods vehicles (specifically construction vehicles) from being stopped at junctions.
Women cyclists are far more likely to be killed by a lorry because, unlike men, they tend to obey red lights and wait at junctions in the driver's blind spot, according to a study. The TfL study has not been published – a move that has angered many campaigners.

The report by Transport for London's road safety unit was completed last July but has been kept secret. It suggests that some cyclists who break the law by jumping red lights may be safer and that cycle feeder lanes may make the problem worse.

The study claims that 86 per cent of the women cyclists killed in London between 1999 and 2004 collided with a lorry. By contrast, lorries were involved in 47 per cent of deaths of male cyclists. The findings help to explain why the growing popularity of cycling by city commuters is resulting in frequent deaths of young women in similar circumstances.

The death rate among women cyclists has increased since the report was completed, with two killed in collisions with lorries within 24 hours last month.
http://www.rudi.net/node/16395
The study, carried out for the Department for Transport, found that in 2% of cases where cyclists were seriously injured in collisions with other road users police said that the rider disobeying a stop sign or traffic light was a likely contributing factor. Wearing dark clothing at night was seen as a potential cause in about 2.5% of cases, and failure to use lights was mentioned 2% of the time.

With adult cyclists, police found the driver solely responsible in about 60%-75% of all cases, and riders solely at fault 17%-25% of the time.
http://www.guardian.co.uk/lifeandstyle/2009/dec/15/cycling-bike-accidents-study
And deaths per trip has been falling in nearly 1/3 over the past ten years.
Year Deaths Serious injuries Bike trips* Rate**

2002 20 394 300 0.36

2003 19 421 320 0.36

2004 8 332 330 0.28

2005 21 351 390 0.25

2006 19 373 420 0.24

2007 15 446 420 0.29

2008 15 430 440 0.27

2009 13 420 470 0.24

2010 10 457 490 0.26

2011 16 Not available yet Not available yet
[/quote][/quote]http://blogs.telegraph.co.uk/news/andrewgilligan/100135065/cyclist-deaths-and-casualties-in-london-%E2%80%93-the-facts/
Clycing has becoming vastly more popular. This has made the average cyclist safer as drivers are more aware of them.
Your alarmist clap trap belongs back in the 70s.
The majority think bike lanes are safe too, and they think sidewalk riding is safer than cycling in the road. The majority is wrong.
Oh how cyclists should cower and quiver and stay hidden from the big dangerous road.