Roc: Let me try coming at this in a different way. When you ask,
"...when you get up in the morning do you think about how much energy you must expend to get done the tasks you have to get done to have a happy life? ... you do not."
I'm reminded of optimal foraging theory in wildlife ecology. Over millions of years simple heuristics have evolved within the brains of predators to
allow them to answer exactly that question
.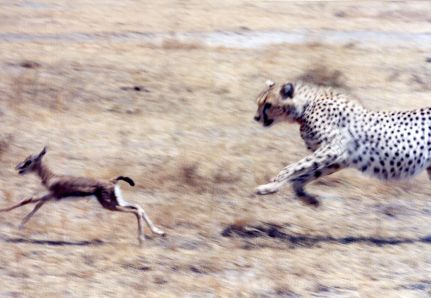 Brains smaller than ours are smart enough to break off the chase when they detect the EROEI falling below some threshold.
Now, I wouldn't want to claim that those creatures are carrying out conscious, rational, high-computation analysis. But they are doing some sort of rapid energy balance analysis; if they had not then they'd not have made it into the present gene pool.
If predators have survived by using an evolved EROEI-like calculation, then shouldn't society at least explore if and how such a calculation might help it navigate questions of energy policy (e.g., subsidies, taxes, rules and regs, R&D allocation)?
I would think, given the mess we're in, we should give it a try. Lord knows that whatever decision making methods we've been using up till now have gotten us into quite a fine mess. At least we can try to make the transition easier than it would otherwise be.
(BTW a similar mechanism seems to be at work in humans, and functions on everyday behaviors which you mention in your question: the notions of "willingness to act" and "positive approach" in psychology use a finite and fatigable resource residing in the pre-frontal cortex [that system is variously called "capacity to direct attention" or "ego depletion"] to decide whether to start a new activity or not, and how long to persevere at an ongoing behavior.)