I have yet to find a discussion of the Baltic Dry Index that cogently and compellingly explains its relevance ... but, anyway, here's one effort from
Seeking Alpha
...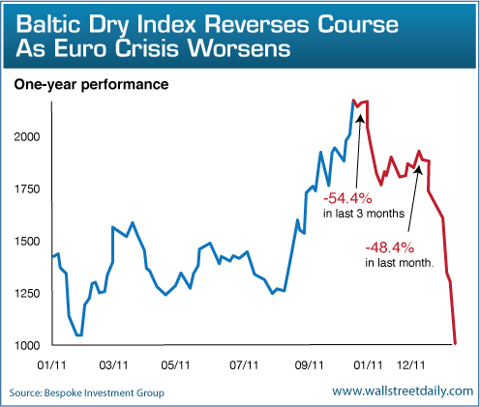 The Baltic Dry Index tracks the cost of shipping major raw materials (iron ore, coal, grain, cement, copper, sand and gravel, fertilizer and even plastic granules). Or, more simply, it tracks the precursors of economic output. As such, the Index provides a measurement of the volume of global trade

at the earliest possible stage

. ... As you can see in the chart above, the Index is down 48.4% in the last month, and 54.4% in the last three months.

The culprit is Europe, of course. You'll recall that European sovereign debt fears spiked (again) last October. And that's precisely when the Baltic Dry Index also began its descent. Coincidence? I think not. And the World Bank and International Monetary Fund (IMF) have my back. On Wednesday, the World Bank cut its world economic growth forecast explicitly because of Europe's never-ending debt crisis. Meanwhile, as Europe's debt crisis persists, Bloomberg reports that the IMF plans to cut its global growth forecasts, too.

The obvious takeaway from today's chart? Steer clear of companies that sell cyclical products exclusively in European markets. A recession there is afoot, if not already underway. And the less obvious takeaway? As I reported yesterday, avoid U.S. stocks with heavy European exposure.
Is it all noise? Is the BDI meaningful?
I think once you understand its limitations and potential as an indicator, it can serve as a sort of storm warning ... or not ...