Fundamentally if you take all the catastrophic headline grabbing projections out of the picture and just look at the data a couple things become clear.
First the climate is certainly warmer than it was in the 19th and 18th centuries.
Second humans have added billions of tons of CO2 and other greenhouse gasses to the atmosphere.
When you go from those basic facts to proclaiming humans will keep increasing greenhouse effect until mass extinction does us all in you cross over IMO from what the data says to what some advocate wants you to believe for some reason. That advocate may be a Luddite that hates all technology, or they could be a high tech 'renewable' believer, or any of a whole spectrum of other reasons. Many of them proclaim they are just using the Precautionary Principal. But every single one of them I have talked too when you get them to be honest is advocating against fossil fuels for some reason other than climate change.
The ones I find most amusing are the catastrophists who believe humanity is evil simply because of the instinctive way we behave. We know certain behaviors are instinctive because they were used by our most distant ancestors back 250,000 years and still we do them today. Yet while they decry their disgust with humans and human behavior they demand we stop acting like humans while also claiming we deserve the extinction they are hoping we are inflicting upon ourselves.
Well everyone let me point out that the laws of physics don't give two hoots in hell what your politics or advocacy are. Under the laws of physics we know about the band saturation effect, each chemical has a signature of frequencies of light it absorbs and re-radiates in a random direction.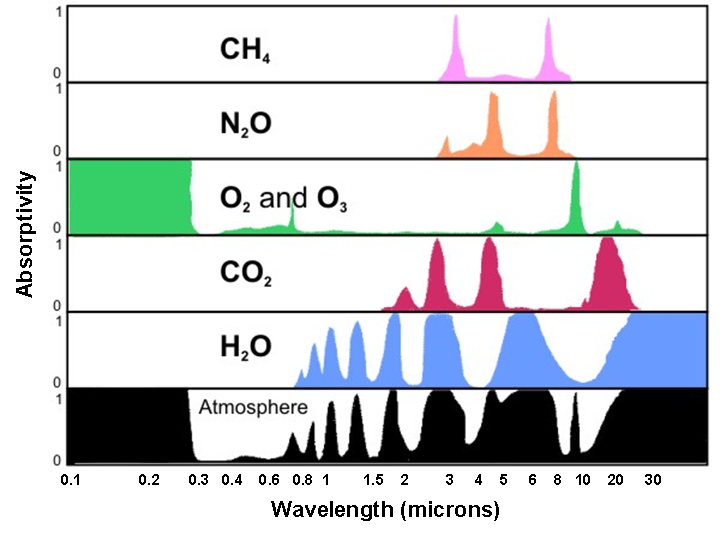 If you simply look at the graph and start with the blue band that represents water you can see with your own eyes why good scientists say water vapor is the most significant GHG and because of the way the water cycle works there is very little we can do about it. The planet is 70 percent covered by water and we are not going to change that in any meaningful way.
The next band is red for Carbon Dioxide and it has three significant peaks and a small one. However half of the small peak and all of the left most tall peak are swamped by the water vapor absorption band, in essence they have no effect because anything they would absorb would be absorbed by water vapor even if they were not present. The two right end spikes of CO2 absorption are partially covered by the water band and in effect they broaden the range of frequencies being captured and re-emitted slightly.
The green band is Oxygen including Ozone. Like water vapor Oxygen is a massive part of our natural planet making up 21% of our atmosphere. There isn't a darn thing we can do to increase or decrease it on a human timespan nor should we because without it we all suffocate pretty darn quick. The bread absorption covering the whole left end of the graph is the ozone layer in the upper Stratosphere. It is formed by sunlight hitting the upper air and ionizing it, and the process saves our behinds from that ionizing UV radiation which is so good at causing skin cancer and cataracts. The narrow tall spike is the stuff we breathe so again it is something we can do nothing about.
The orange band is nitrous oxides. These gasses form a couple different ways, one is from lighting through the air which is the main natural source. The other is high temperature combustion where air is used as the oxidizer, like high temperature fires inside the cylinders of internal combustion engines. We try to reduce our man made output with things like catalytic converters on gasoline engines. However if you look carefully at the graph you will see the lower tall spike is completely swamped by other gasses so it has little if any impact, and the upper spike is partly covered by a broad spike in the water band and serves to broaden it slightly. The most impactful effect is in the lower middle of the spectrum it is a weak absorber of some frequencies and adds that weak absorption to the total cumulative picture.
Lastly we get the pink Methane band. This gas has two spikes with a small hump in between. Fortunately the hump in the middle is swamped by the Water frequencies so we can ignore that completely. The rightward spike is swamped by the NOx band and also partially covered by the water band so even absent the NOx it would simply provide a slight broadening of the water frequencies. For the leftward spike the lower end of it is swamped by three other bands, Nitrous, CO2 and H2O. The narrow upper spike does slightly broaden the water absorption band in the 3 micron range.
If you overlay the water and oxygen bands that are completely beyond our control and then overlay each of the other three individually anyone with eyes can see CO2 is by far the most significant of the three main man made GHG components. Having said that the CO2 band already extends the whole height of its strip in the spikes. This means CO2 already absorbs all it can absorb in the center of those frequency spikes, and the only way for it to absorb more is by broadening the spikes. Spikes grow broader as more of the specific component is added to the mix, but the effect is VERY GRADUAL. Twice as much CO2 does not make the spike twice as broad. Twice as much CO2 causes an inverse geometric increase in absorption, in other words it is the doubling effect where each doubling has less and less cumulative effect.
While it matters whether that doubling effect is 2 C or 6 C it does not matter quite as much as some folks seem to think. Because of human population growth over the last two centuries we have been burning fossil fuels at an ever growing rate of consumption. Everyone knows this at least if they are honest. However this is the PEAK OIL website dedicated to the fact that finite resources run out at some point. We are at or near the peak in world oil supply. Like it or lump it oil is a finite resource and we are expending it at a prodigious rate of combustion. 95 MILLION barrels of crude oil a day, more or less. It by some miracle there are 3 Trillion barrels remaining today AND we can keep burning at the same rate of consumption that is 31,789 days of consumption, aka 4511 weeks aka 86 years 6 months. How many here believe we have 3 Trillion barrels left? That is not the main point however, the main point is OIL IS FINITE. Once we burn it all up it is gone, fini, no longer an additional factor.
We have a lot more Methane in the form of natural gas than we do oil for the blunt reason that fracked shale gas is simply a very abundant resource. However as we start down the back slope of peak oil there will be greater and greater incentive to substitute methane for petroleum everywhere possible. This means as the oil starts dropping off natural gas consumption will be required to expand rapidly to help offset the energy requirements of our civilization. Some places like Cincinnati and Los Angeles have already converted municipal fleets of public transit and refuse removal to run on cheap natural gas. As we go over the hump and down the peak oil slide the number of cities doing that will change overnight until almost all of them have switched over.
I am a historian by nature and training. You do not find overnight collapse scenarios in history. On rare occasions like the end of the Maya pyramid building culture there is a sudden end to written records. However even in those cases the population did not drop dead, the most likely answer based on archeological evidence is the lower poor revolted and killed or chased off the educated literate class. After that the civilization reverted into village size population centers instead of city size population centers and it stayed around that level until the Spanish arrived with disease vectors. Something people miss a LOT when talking about civilizations like the Maya is they had been civilized as in agriculture communities for a very long time. Because of this they were more resistant to European diseases than the first peoples further north that were more recent adopters of agriculture. While about 90-95% of Mississippian peoples that lived in the broad center of North America were killed off by disease in the Maya/Aztec and Inca regions of central and south America the death toll was closer to 65-70% This is why you can find a large minority of cohesive first peoples in southern Mexico where they make up 30% of the national total population. It is also the reason the majority of the Mexican population is of mixed ancestry instead of majority European ancestry like the USA/Canada are even today. Even in the Mississippian civilization also known as the Mound Builder culture the devastation caused by European diseases didn't end everything. The survivors went right along a year later planting the same crops they had been planting before and maintaining their languages and traditions. They lost a lot of inherited knowledge because they had no system of writing and knowledge was passed from one generation to the next orally. When so many died their knowledge died with them, but the culture persisted in a smaller form right up until the Europeans swamped them with a double whammy, forcing eastern tribes to move west into their territory early on, and then invading that territory themselves a few generations later. By the time Europeans got around to asking the survivors about the mounds 200+ years after the diseases killed off so many none of them knew. In many cases the survivors by that point were formerly eastern tribes who had migrated into the territory and defeated the Remanent who had known a few generations earlier.
Anyway back on the topic. Human instinct drives us to use fire, thus it has been for close to a quarter of a million years. Fossil fuels burn. Ergo humans instinctively burn fossil fuels. This was a limited extent until the invention of functional low pressure steam engines in the 1700's. Once we learned how to harness steam to do mechanical work we discovered a massive new reason besides heat/light/cooking for burning fossil fuels. Compared to the same mechanical effort done via muscle power burning fossil fuel is a huge advantage with even the most primitive low pressure steam engine. Believing that humans are going to give up burning fossil fuels before they are too difficult to extract is IMO a form of magical thinking. Even the ancient Roman Empire did some coal mining where seams broke the surface, and all they used it for was heating baths and in some instances blacksmith forging. Have a massive nuclear holocaust right after you finish reading this and kill half the world population within the first year. The survivors are still instinctive burners and by and large they have heard of coal and oil and natural gas. Some of them live near open pit coal mines. Even if there are no functional machines left the coal mines are still there and people can still get the coal out with pick and shovel if they have to. Instinctive burners are not going to stop burning no matter how hard you wish they would. In order of precedence humans want to eat, mate and burn. Fighting is actually further down the list as most people do not want to fight, but everyone wants to stay warm when it is cold and most of us prefer cooked food over raw.
Admit it to yourself, if we can access a flammable material sooner or later we will burn it for reasons that seem sound on the individual scale at that moment in time. Once you accept that you can forget all the fantasies about 'renewable' energy putting an end to the age of fossil fuels and think about the long term consequences. We will burn it all. What does that mean?
Short term it means somewhere around two more Trillion barrels of oil converted into CO2 and H2O. The water vapor rains out but the CO2 persists at least a few thousand years which on the life scale is effectively permanent. Add in the equivalent of about another two Trillion barrels of oil in the form of Methane. Then pile in about 5 Trillion barrels of oil equivalent of coal. All together that means CO2 is going to keep going up for another century more or less until we physically run out. Forget fantasies about governments ending fossil fuel combustion because what doesn't get burned in one place is offset by burning somewhere else. Even if the socialist utopia one world government suddenly appeared they would still burn everything because people want energy and burning stuff is an easy way to supply that energy and avoid revolts by the lower classes. Anyone who things socialist utopias are classless is fooling themselves, it is also a human instinct to for hierarchies. Someone is always on top and they employ middle management to keep the lowest layer from easily accessing them.
So we SHALL burn all the oil/gas/coal that can be accessed. We are even so clever we have developed techniques to burn very deep coal seams in situ and extract the gasses to use on the surface. Once you accept that reality the next fundamental fact is, how much fossil fuel does the whole world have for use to burn? Depending on your source it works out to around enough to increase CO2 up to between 7,000 ppmv and 9,500 ppmv depending on what source you believe.
So how many doubling's is that? 280_560_1120_2240_4480_8960 aka 5 doubling's on the high estimate 4.5 on the low estimate. So if the optimists are correct we get 2 C a doubling and
from 9 C to 10 C increase in global average. If the pessimists are correct we get 6 C a doubling and 27 C to 30 C global average increase. But wait! The Earth has not managed to get over 23 C in the last 100 Million years, so even though levels already exceeded 3 doubling's in the era of the Dinosaurs with levels around the 2300 ppmv mark the average temperature was very stable around 22 C global average ice free to both poles. The massive suspected methane burst at the PETM only managed to bump the Earth average up to 23 C.
This raises the obvious question, if three doubling's from pre-industrial levels resulted in a world with a global average of 22 C compared to the 13 C of the 18th Century what does that mean for us? Well the difference between 22-13 = 9. This is extremely strong evidence that each doubling results in a 3 C average increase in global temperature until you hit a limit where negative feedback's make additional warming more and more difficult. If we accept the preponderance of scientific evidence we will acknowledge that 3 C per doubling is the most likely answer.
This does not mean there is a smooth transition all the way from 280 ppmv to 2300 ppmv. The climate of the planet clearly demonstrates a bifurcated hysteresis, a threshold behavior where temperatures hold in a narrow range then suddenly step up or down and hold in a different but still narrow range. I am convinced by many papers read over a lifetime than the Earth has three quasi stable steps between full hothouse to full icehouse with our current continental configuration. Below about 320 ppmv the planet exibits cyclic icehouse conditions where major glaciation from both poles extends down to about 40 degrees latitude away from the Equator. This is the climate we evolved in and many are afraid if we leave it we will suffer severely. Bad news, we left that climate in the early 1970's. The second 'step' on the climate staircase is between 320 and 560 ppmv where the Northern Hemisphere was relatively ice free and the subtropics extended as far as 60 degrees north with temperate climate extending to 75 degrees north. We are well inside this step and one day now the climate will show this by Greenland melting much more quickly every summer until relatively ice free and the Arctic ocean becomes ice free every summer. The third step is somewhere between 560-780 ppmv and that step puts us in the greenhouse where Antarctica also melts every summer until the continent is relatively ice free. This begs the question, if the threshold is 780ish ppmv for a 22 C global average how did the Earth maintain that temperature up to 2300 ppmv and even higher? The real answer is negative feedback mechanisms kick in somewhere around 800 ppmv and the global average stops going up even with a doubling from 800 to 1600 or a 1.5 doubling's to 2400 ppmv. In effect this means the world average temperature becomes relatively insensitive to CO2 increases above 800 ppmv. This also means that math of 3 C per doubling to 2400 ppmv is invalid because all of the increases take place between 280 and 800, not 280 and 2400. So recalculating that 9C of increase takes place between 280_800 which is a doubling plus 220 more or less. IOW with this knowledge the idea of doubling being the metric is seen as no longer valid. The threshold is the significant number, not the relationship between that number and the base value. We don't know precisely what the threshold number is for the first step, however the behavior of the Arctic Sea Ice since 2005 presents evidence we are close to or might have already passed that threshold. The only thing that has prevented us from returning to the climate of 20 million years ago when the Arctic was relatively ice free including all of Greenland outside of mountain peaks is inertia. The remaining sea ice and the Greenland ice cap are effective albedo reducers reflecting most sunlight without absorbing it and changing the frequency when emitting it back out to space. However every time more of the sea ice melts than the summer before we get closer and closer to the blue ocean event at which point the albedo effect significantly decreases and heating rates substantially increase. Ice acts as a giant heat sink absorbing the energy not reflected away in huge quantities before it transitions from ice to water. Once we get a blue ocean event that enthalpy of transition ceases to be a factor and the quantities of energy absorbed by the ocean surface skyrocket. This is once again simple physics, nothing new or mysterious. IMO when we hit the blue ocean event we have made that first step and Greenland will all melt over the following few decades. The main cause of this rapid melting will be weather events, namely summer rainfall. Put a number of ice cubes in a strainer in your sink and time how long it takes for them to melt. Then take a similar number in the same strainer and sink and sprits them with room temperature water from a spray bottle every five minutes until they all melt. The second set of ice cubes will absorb most of the energy in the light spray of room temperature water and will melt an order of magnitude faster.
Greenland is doomed, possibly ice free as soon as the 22nd Century. Accept that fact and plan accordingly. Mostly that means if you don't like subtropical weather and plan to live more than a couple decades into the future you should either move south of the Equator or much closer to the North Pole.
Also keep in mind that at the current rate of population and fossil fuel use growth we are likely to meet that 750-800 ppmv level where Antarctica will melt too before we run out of fossil fuel to burn. If we are building up 3 ppmv a year now we shall likely exceed 4 ppmv a year by 2030 as more and more combustion based fossil fuel use gets added to our civilization. It was not that long ago that we were only building 2 ppmv a year, and it is well within a human lifespan that we were build 1 ppmv a year or less. Factor in substitution of coal for oil as we peak out and those numbers will inevitably grow faster. Also sea surface sinks appear to be slowing down in capacity to absorb though whether this is saturation or simply the speed of emissions is not totally clear. Even if we managed to hold at 3 ppmv a year that would be another 245 by the end of the century putting us at 660ish ppmv CO2 and on the threshold of hothouse earth. If sinks are at capacity and we hit 5 ppmv by 2030 that would be about a doubling from where we are today or over 800 ppmv at the turn of the next century which would almost guarantee an ice free Antarctica not long after.
The question is not IF we will burn it all, simply WHEN.
The question is not IF we will recreate the Hothouse Earth of the dinosaurs, simply HOW SOON.