According to the EIA, global oil supply and demand are roughly in balance right now.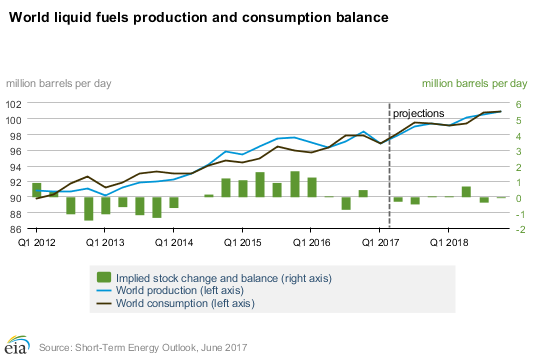 The World Oil Outlook, put out by OPEC, is a fascinating long read that projects oil demand will reach 99.2mbd by 2021 and 109.4mbd by 2040. Its analysis takes into account demographics, economic growth, technology advances, and other factors.
Among its assumptions is that "non-conventional powertrain passenger vehicles are expected to represent 22% of the car fleet by 2040, up from only 3% in 2014. Most of the growth will come from passenger BEVs, which are anticipated to increase to 141 million in 2040."
While I believe that EVs and hybrids will represent well over half of all passenger cars by 2040 and nearly all of new car sales by then, the range of oil demand is relatively narrow from 99.2mbd to 109.4mbd. I roughly agree with OPEC's short-term outlook because oil demand is still increasing prior to big EV and hybrid sales. Longer term, I believe the OPEC oil demand high-end is too high. In my recent Macro Monday piece, I project oil peaking by the mid-2020s.
Regardless of the ultimate high-end of the oil demand range, the key takeaway is that it is a narrow range, indicative of what I have been forecasting to be and calling a "peak oil plateau."
Oil Supply Will Fall Before Demand Does
The price of oil remains low for now despite balanced supply and demand. The primary reason for cheap oil is that inventory was recently pegged by the EIA at 262 million barrels above the five-year average. While the inventory is significantly high, it is not so much that it supports the short trader's repetitive narrative of "lower for longer" oil prices.
As Raymond James pointed out last week, the short oil narrative is "fake news." While I am not a fan of Raymond James in general, I largely agree with the points they made in their recent "Energy Stat of the Week." Here is a "top 10 list" they did of oil-narrative "fake news."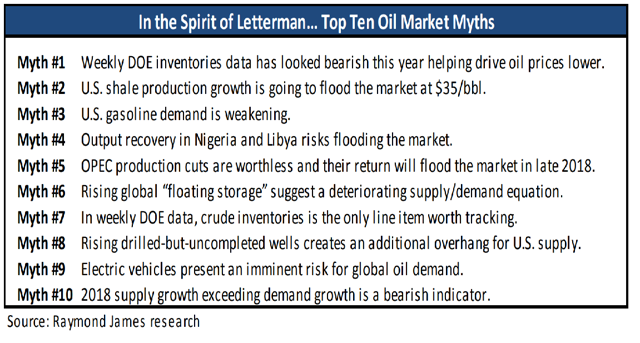 The point that I think needs the most debunking is "Myth #2" which is that U.S. shale production is going to flood the market with more oil even at $35 per barrel. The idea that there will be a lot of American shale oil development in the current price environment that is economical is farcical.
With the exception of parts of the Permian and STACK/SCOOP in Oklahoma, very little shale oil is actually able to produce free cash flow below about $50 per barrel. That is why we saw such heavy hedging by oil companies late last year when oil was in the mid $50s.
Going forward, because physical, technical, and water constraints are limiting much in the way of further cost reductions for producing from shale, and because the best spots were drilled first, we should expect shale to need higher prices to be economic going forward.
While oil production by the U.S. will drift up to 10mbd by late this year or sometime next year, there is no surge coming. In fact, with many hedges running out at the end of this year, oil companies will rethink new capital investments until oil prices do rise. So, that raises the question, what will drive oil prices up?
The short answer is that increases in oil supply will have to not keep up with increases in demand. In the intermediate term, while OPEC roughly holds the line until it can pump more – its report suggests the early to mid 2020s – the key place we will see lower oil supply is in the deep water offshore.
Currently, offshore represents about 29% (28mbd) of global demand. As the EV and hybrid markets take shape, capital spending on new development will continue to lag as wary investors consider whether they will get paid back for investing in deep water oil megaprojects that take a decade or more to make their money back on. I covered that in depth in "Deep Water Drillers Are Doomed Even If Oil Prices Surge."
As deep water offshore wells decline and are not fully replaced, that will put pressure on land drillers to produce more. They will be challenged to do so unless oil prices rise. The cure for low prices ultimately still remains low prices.
In what will become the biggest irony in the oil markets, the impending end of the oil age due to EVs and hybrids is stifling the most expensive oil from being developed because it might not pay back investors fast enough to get paid in full. That phenomenon, in turn, will drive the price of oil up until legitimate demand destruction for oil actually happens.
The ultimate demand destruction for oil could play out over about three decades. What we don't know is where the line eventually crosses for demand to fall faster than supply which has sunk in costs. I anticipate that crossover is not until the mid to late 2020s, although others, such as OPEC suggests it is not until around 2040. Either way, the 2020s look like a higher priced oil market.
Shorter term, over the next year or two, nobody truly knows what oil prices will do. Raymond James points out that global inventories are probably depleting faster than given credit for. If that is the case, then oil prices could rise faster.
I happen to believe that it is very likely there will be a disruption to Middle East oil supplies due to a war with or within Iran in the next couple of years. I wrote about that here. I also believe we are closing in on the end of the petrodollar era. Even if those things do not happen, the fundamentals are still taking shape for a more constrained oil supply market over time as investment will forever remain constrained as the end of the oil age runs off.
To wrap your head around why capital investment will remain constrained in the oil space, think about how lending shook out after the financial crisis. It was slow, even though we were entering what turned out to be a long recovery and there was plenty of liquidity. Oil has an opposite problem: the end of the oil age has begun, and capital is nowhere near as plentiful. Sure, some suckers took on more oil related high-yield debt lately, but that has already been drying up. Take a look at some of The Heisenberg's articles on oil-related junk debt to get a grasp on that.
Who Are the Real Winners When Oil Prices Rise?
In an article on MarketWatch in June of 2014, I first discussed the idea of a "peak oil plateau" for investors. In that article, I forecast that we would see a significant drop in oil prices and that it might be an unusually large decline.
"In the current short-term window, if there are no international threats to production and distribution, we could approach the lower end of the range by year end. Such a drop in oil prices could occur, largely due to increasing U.S. inventories, which reduces our need to import, thus putting downward pressure on prices."
The reference price range to the above statement was $80 to $120 per barrel. At the time, the price of WTI crude was $103. I also said, "that's not to say there can't be out of the ordinary price plunges or spikes, however, should those occur, that opens the door for unique leverage opportunities by enterprising investors."
The time for unique leverage opportunities has finally arrived after one false start. I believe that oil prices are putting in a floor now and will rise substantially in coming years with or without a supply disruption. Accumulating smart oil-related investments now gives you a free call on potential supply disruptions or a falling dollar should the petrodollar fail sooner than later.
During the coming window when oil supply is outstripped by oil demand, there will be some big winners in the oil space. The problem for investors is finding companies leveraged to rising oil prices that are not hamstrung by debt they cannot ever pay down and still have profits left to pass on to shareholders.
Investors will want to identify lower debt oil producers with "good rock" – there are precious few of those – and oil services companies that are highly levered to rising oil prices.
As I covered in a recent ETF File where I analyzed oil services ETFs, smaller oil services stocks are generally more leveraged to oil prices. The oil services ETF that fits that provides more relative access to the smaller companies is the SPDR S&P Oil & Gas Equipment & Services ETF (XES) which is equal weighted versus the market cap weighted approaches of its peers. I currently rate XES as a buy.
For stock pickers, there are several low debt companies within XES's holdings to take a closer look at. One of my favorite holdings within XES is Helmerich & Payne (HP).
Helmerich & Payne is a contract drilling company and a market share leader in the U.S. with a large backlog of business. They are strong financially, with low debt and pay a hefty dividend over 5%. I will do a more complete breakdown of this company in coming weeks but believe you should put it on your radar. Its shares are currently down over 50% from recent highs and represent value in my opinion. I currently rate the stock a buy. I will provide a more comprehensive look at Helmerich & Payne this summer.
On the E&P side the drilling is rough. As David Einhorn has pointed out, the industry is loaded with debt. Analyzing any company's real asset position value, which many companies overstate, to long-term debt is a must. Frankly, I am not high on most of the companies in the space because even if they do get the several years worth of great cash flow I am expecting, they would simply be paying down debt, not creating much shareholder value.
One company I am high on, that I did a more complete analysis on recently, is Encana (ECA). The company has a rich Permian Basin position, as well as, a good Eagle Ford position which it could sell. Its natural gas assets in Canada are very solid and represent an opportunity to transition to that longer time frame asset when they are done with oil. Encana spent several years reducing debt and becoming a very focused on just four core assets. The stock is down significantly again from last year's rebound. I currently rate the stock a buy.
A company that for whatever reasons has flown under the radar in recent years is Occidental Petroleum (OXY). It is a company I am keeping an eye on for a few reasons. The first is that it has a solid balance sheet that won't freeze out shareholders if oil prices rise. Again, this is the most important thing to look at with these E&Ps.
Importantly, the company has an industry leading position in the Permian Basin that is helping it achieve its goal of breaking even at $50 per barrel of oil. Its management also recently made two strategic transactions to help it drive costs down as well. In my opinion, management has demonstrated an understanding of the long-term oil future and has been making the right moves. I of course believe oil will be over $50 per barrel soon.
Occidental also produces about 441 MMcf/day of natural gas making it the 27th largest supplier in the U.S. If management continues to sell assets, as I expect it will, the company could emerge as an even stronger natural gas producer down the road. This is a pathway I am looking for with any company I am investing in since I believe natural gas has a much better long-term future than oil. Like the other two companies mentioned, Occidental stock is down substantially in recent years. The stock now sports a dividend over 5% that appears to be well covered. I currently rate the stock a buy. I will provide a more comprehensive look at Occidental this summer.
The final takeaway is that if you believe oil prices will rise, then there are candidates for investment, however, you will need to carefully analyze the debt profiles of those companies and determine whether their assets are truly worth what they claim.
Disclosure:I am/we are long XES, ECA, OXY.
I wrote this article myself, and it expresses my own opinions. I am not receiving compensation for it (other than from Seeking Alpha). I have no business relationship with any company whose stock is mentioned in this article.
Additional disclosure: Please make sure to "follow" me as I am making the transition from MarketWatch to Seeking Alpha and haven't been found by many yet. Also, please forward, tweet, like this article if you found it helpful. Thank you. You can find a history of my articles via TipRanks.com which ranks me in the top decile across all time frames. I own a Registered Investment Advisor, however, publish separately from that entity for self-directed investors. Any information, opinions, research or thoughts presented are not specific advice as I do not have full knowledge of your circumstances. All investors ought to take special care to consider risk as all investments carry the potential for loss and should consult an investment advisor before proceeding on any trade or investment.