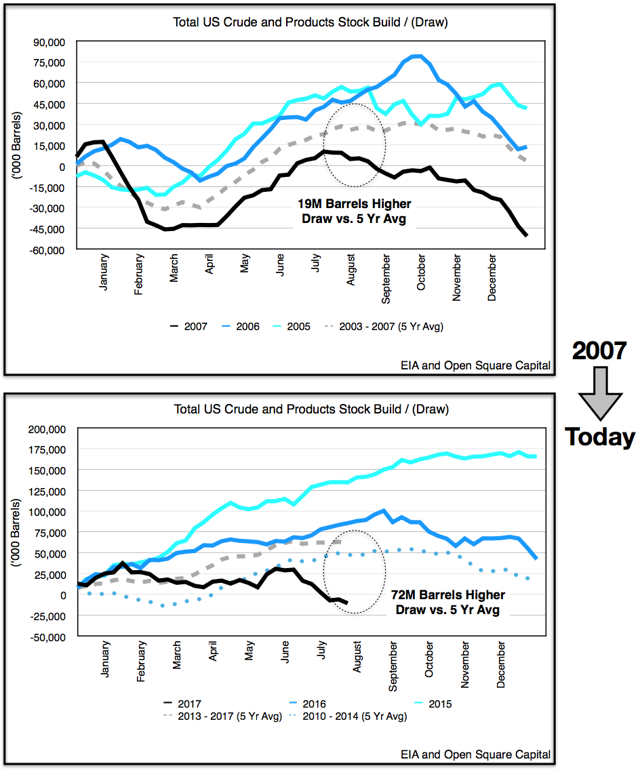 Call us intrigued. Goehring and Rozencwajg had previously called for $100/barrel oil by 2018 because they contend that 2017 is setting up to be a repeat of 2006/7 where an undersupply of oil was exacerbated by a later OPEC cut. By December 2007, oil inventories hit the 5-year average, and projected shortages in 2008 and onward set up the run for oil to quickly reach triple-digits by mid-2008. Catnip for oil bulls no doubt, but let's just take a look at what oil stocks looked like then and what they look like today.
OECD Inventories
First off, total worldwide OECD inventories were about 10% lower a decade ago. Looking at IEA data from June of 2007, total OECD inventories (both crude and oil products) were 58M barrels above the 5-year average. In a few more months (by September of that year), the excess would be eliminated. Today, the oil picture is much different. Excess oil stocks are almost 2.5x higher than the 5-year average at 153M barrels. Although demand today at 98M bpd is close to 15% higher the 86M bpd in 2007, the oil market certainly has its work cut out for it.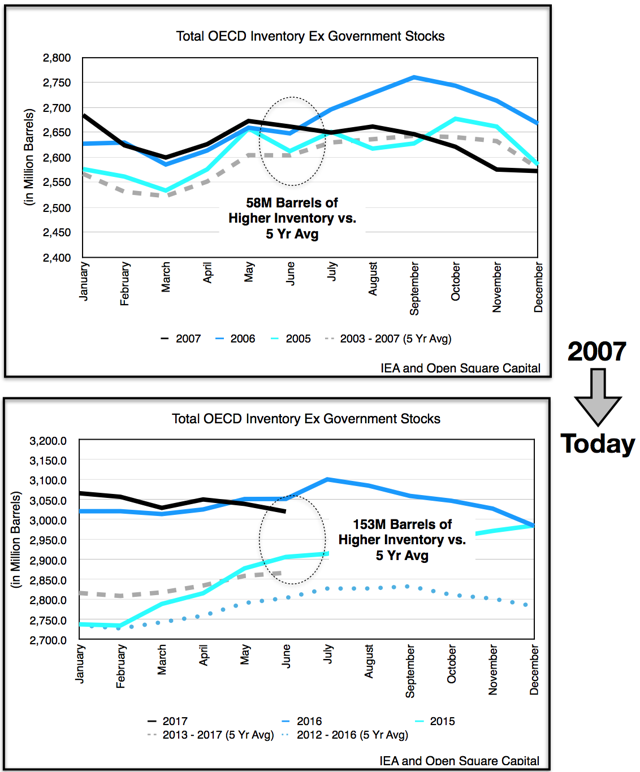 So what about draws? Well, fairly close. In 2007, draws were 51M barrels higher than the 5-year average, so inventory drawdowns were accelerating. In contrast to today, the draws (as of IEA's June data) are slightly less (at 48M barrels higher vs. the 5-year average). Yet, because of the elevated inventory levels we noted above, the inventory draws would need to be even higher to rebalance the market.

US Inventories
This may be discouraging but if we dive into the OECD figures and look at the largest market, the US, we can see some interesting trends. For the US analysis, we'll use data up to August because of the timeliness of EIA data. Let's start with total US inventories (both crude and oil products). In 2007, total excess inventories were running about 24M barrels higher than the 5-year average, whereas today, they are close to 3.5x more at 93M barrels. Inventories levels overall are higher today by about 30%, so the "excess" is greater on both an absolute and proportional basis. The 93M barrel "glut" is essentially 60% of the total OECD glut of 153M barrels, so what happens to this excess will greatly impact OECD trends.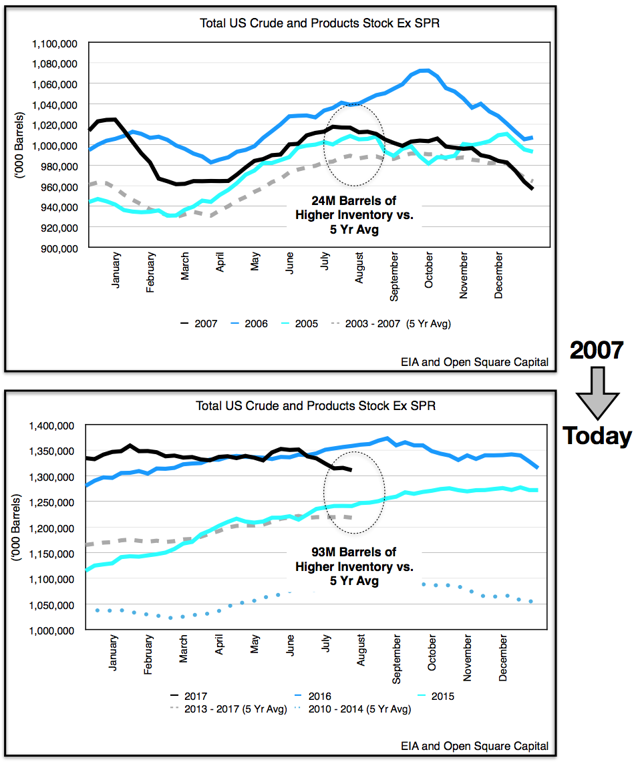 What are those trends? We'll what we're now seeing is that US crude and oil products are drawing down at a substantially accelerated pace. By August 2007, oil inventories had increased by only 9.5M barrels vs. the 5 year average build of 28.7M barrels, a 19M barrel difference.
This year we're experiencing an even larger counter-seasonal draw. Whereas in the past 5 years we've averaged an inventory build of 60M barrels, this year we have a 10M draw, a 72M difference.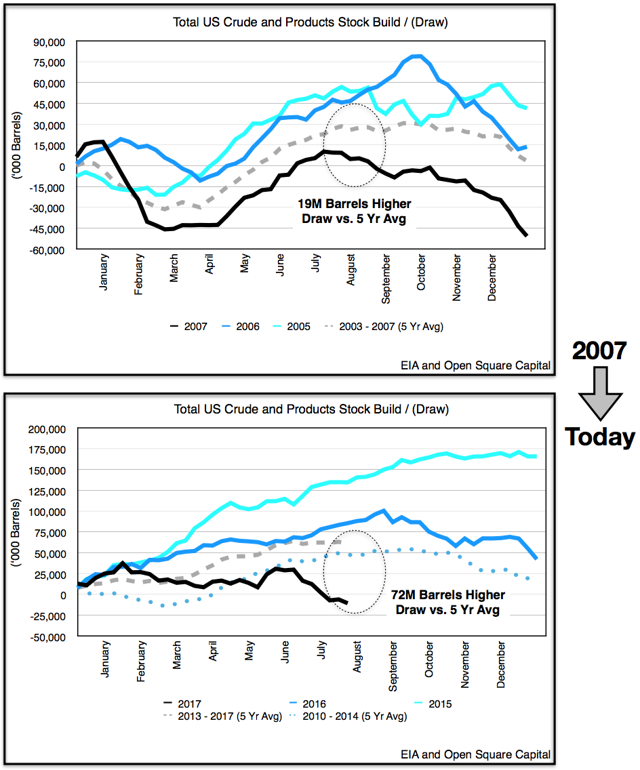 Much of the excess stock in both 2007 and today are due to crude levels. Let's take a look at crude oil, and how it is performing vs. the 5-year average. For 2007, by August crude oil inventories were drawing about 3M barrels higher than the average. This year, the crude inventory draws are more than 8x higher at 25M barrels higher than the average.

Takeaways
So what's our takeaway? Well, the "excess" worldwide inventories (i.e., current inventories vs. the 5-year average) are 2.5x times higher today than a decade ago, and almost 3.5x higher in the US.
OECD draws, although elevated compared to the 5-year averages for both 2007 and today, are trending similarly, which means it appears that rebalancing in 2017 is still much further off than 2007. Unlike 2007 (where oil inventory increases followed the 5-year average trend line in the first half of the year, and then subsequently drew down at a faster rate in the second half), this year the draws have been significant since Q1 and are accelerating. We also contend that even the Q1/Q2 draws were understated given that inventory destocking masked the true undersupply. Thus, as we head into the latter half of the year, the undersupply of oil seen in H1 will not only carry over, but join with the seasonal drawdown to accelerate draws further.
Thus, it's likely that despite the higher excess inventory levels in 2017 vs. 2007, the elevated draws (coupled with H2 seasonal draws) could make short work of today's elevated inventory levels. Regardless of whether the oil market achieves rebalancing by year-end or Q1 2018, the undersupply should continue into 2018 as US growth fails to keep up with growing demand. We also believe OPEC will extend its cuts in some form as it needs to incentivize higher oil prices (not only for the Aramco IPO, but encourage oil investment after 3 years of underinvestment in long-term capex).
Just as in 2007 when the fundamentals rebalance, sentiment and oil prices can quickly swing upwards if perception of further draws continue. So although we may have started 2017 with higher excess inventories than 2007, we may eventually end-up at the same place, a shortage. If so then 2018 could be a deja vu of 2008 again, and for oil bulls it'd be a welcome sight.