Introduction
Last week, we outlined a bearish case for crude oil and the United States Oil Fund (NYSEARCA:USO). After a surprisingly bullish EIA report on Wednesday following only a mildly bullish API report on Tuesday evening, we have updated our near-term outlook to a coin flip. After the EIA report, we covered our short position and went long at $47/bbl and selling yesterday when the market appeared to be drifting back below $48/bbl.
We have shifted back to a long bias, based upon a belief that OPEC and other market makers have a vested interested in keeping the oil price higher, not only for the Saudi Aramco IPO scheduled for 2018, but also for the financial health of oil exporting countries worldwide. We have covered these issues in prior articles.
On the other hand, the market has been oversupplied with oil for more than two years. While there have been glimmers of hope for supply-demand re-balancing, oil supplies in the U.S. remain at all-time monthly highs. If the price of oil was in the $20s at lower inventory levels, who is to say that it cannot return there?

The USO ETF closely follows the front-month WTI crude oil futures contract on NYMEX, since it holds the front-month futures contracts as its primary asset. USO can be useful for short-term trading positions, but is not always a great candidate for "buy and hold" investors, due to time decay created by the normal structure of the futures market. We covered that briefly in an article that can be accessed here. We have updated our indicators for USO investment, and the above table summarizes our current outlook.
USO recently completed its monthly roll over from the June to the July crude oil futures contract. If you are investing with USO, the current ratio of July NYMEX contract to the USO price is about 4.80, so $48/bbl equals $10/share for USO.
Technicals
We believe that technical analysis on the continuous West Texas Intermediate Crude Oil futures contract is more relevant than technical analysis on USO. Therefore, while our charting below is on the oil futures contract traded on NYMEX, our trading positions are often on USO, which is very liquid and accessible. On the crude oil daily chart, we highlight a few items:
The bullish EIA report has reversed the bearish technical picture. Recovery of price above $47/bbl and $48/bbl, at a minimum, have created some short covering. It is possible that this week's rally has been a short-covering rally.
Resistance above the price includes the prior uptrend line near $48.5/bbl and the 200 day SMA at $49.0/bbl. If price rallies above $49/bbl and the 200 day SMA, it may have technical energy combined with geopolitical forces to regain the current uptrend.
If price breaks below $47/bbl, $45/bbl and the and the newly established lows, then the technical momentum would combine with the reality of an over-supplied market to confirm a new downtrend. Since late February, the chart shows lower highs and lower lows.
Perhaps another scenario here is that crude oil trades sideways in a broadening range set by $47/bbl and the rising prior uptrend line.
In all cases, price may temporarily breach support and resistance temporarily to run stops. Crude oil is at a watershed level, particularly near the very psychologically important $50/bbl level.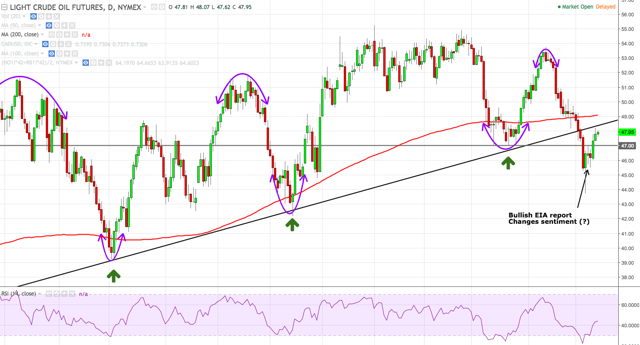 Geopolitics
In our most recent updates, we laid out our view that Saudi Aramco's planned initial public offering in 2018 should provide (direct and indirect) support to crude oil prices.
Oil price will continue to respond to headlines from OPEC members, and we should expect that OPEC member nations will respond to any price decline with headline creating bullish comments.
Currency and Refined Products
Crude oil has value due to the refined products that are produced from it: diesel and gasoline. Since Canada's GDP is heavily reliant on crude oil, the value of the Canadian dollar tends to move along with the price of crude oil, and vice versa.
Below, we have graphed the price of crude oil (in candlesticks) versus the relative value of refined products (black line) and the CADUSD (blue line). We view the combination of these relationships as cautionary. Further weakness in the CADUSD pair will weigh on the price of crude oil and USO.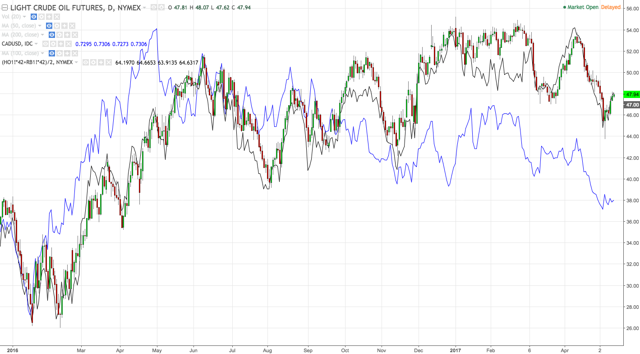 Supply and Demand Fundamentals
The U.S. remains at or near record highs for crude oil, gasoline and diesel fuel. We have copied below a helpful summary of the current and historical supply and demand picture, which was produced by Ole Hansen, a commodity analyst with Saxo Bank. The total crude oil inventories in the U.S. are in the upper left corner. Total inventories are less than record highs, but highest ever for the current calendar week.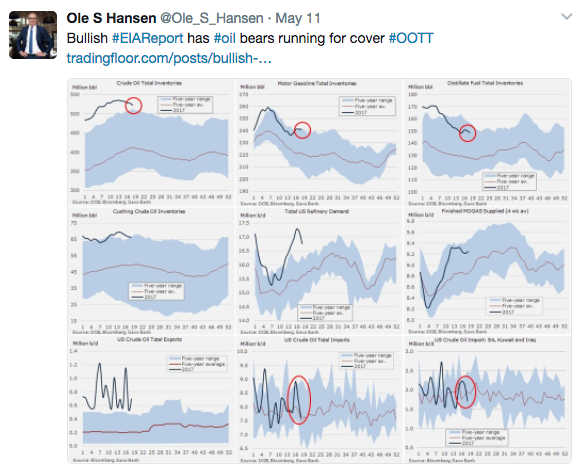 The crude oil market has been oversupplied for many months, so the fact of oversupply is not the primary determinant for near-term price direction. In the short run, headlines and technical factors will dominate price direction.
Thanks for any comments and feedback below. If you liked this article, please hit the follow button above.
Note: All charts above were taken from TradingView. Unless otherwise indicated, the tables were created by Viking Analytics.