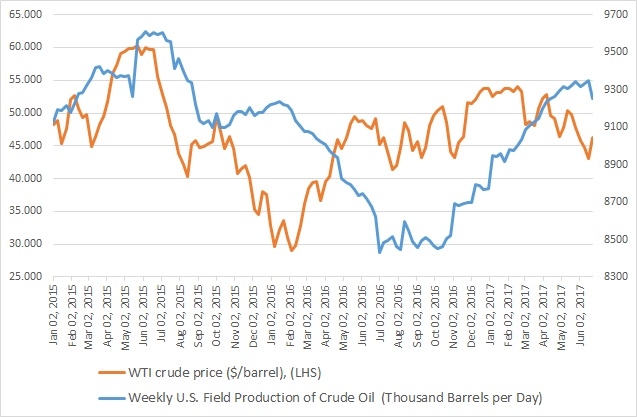 The Oil production in America seems to be having a 'Deja-vu'. Back in 2015, despite a drop in the price of oil, the production in the United States was rising and it wasn't until the very end of June that year the production started declining. The oil price dipped below $50 per barrel for the first time since the 'Great Recession' in January and once again in March, before bouncing back above $60 per barrel. After that, oil started steady decline and production in the United States started faltering. The production declined from 9.6 million barrels per day in June 2015 to 8.43 million barrels per day in July 2016.
The production started recovering in the United States only after the price of oil jumped above $50 per barrel in June 2016 and started consolidating around. The increased price, thanks to the OPEC/N-OPEC deal that reduced global supply by 1.76 million barrels per day, pushed the production from 8.43 million barrels per day to 9.35 million barrels per day by mid-June this year.
However, the production has once again started to decline as the price of oil declined for five consecutive weeks after the OPEC and participating N-OPEC countries extended the production agreement for nine months until March 2018. The price (WTI) declined to as low as $42 per barrel. Since its peak in Mid-June, the production has declined 100,000 barrels per day.
While there are numbers of factors such as operating rigs, the efficiency of rigs, etc. it seems that the oil production in the United States is struggling to grow if price declines below $50 per barrel.