A Deloitte MarketPoint analysis suggested large-field projects, each producing more than 25,000 b/d, could bring on 1.835 million b/d in oil supply this year of which 635,000 b/d would be from members of the Organization of Petroleum Exporting Countries and the rest from non-OPEC productions. In 2014, new non-OPEC large-field projects collectively brought on 2.3 […]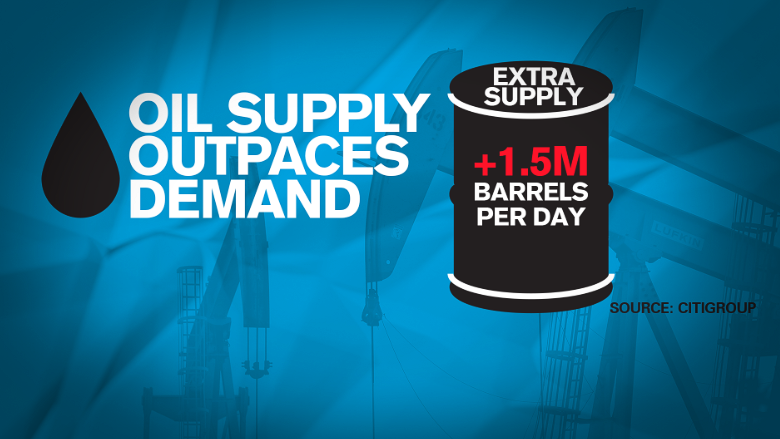 The oil crash — and cheap gas bonanza — probably isn't over yet. For a few days, oil was showing real signs of life following last year's meltdown. Prices spiked above $54 a barrel on Tuesday after oil's best three-day performance in six years. Drivers may have even noticed a little pop in gas prices. […]
The United Steelworkers union, which represents employees at more than 200 U.S. oil refineries, terminals, pipelines and chemical plants, began a strike at nine sites Sunday, the biggest walkout held in support of a nationwide pact called since 1980. The USW started the work stoppage after failing to reach agreement on a labor contract that expired […]
 If the Saudis wanted to crush America's shale oil industry they are certainly doing a good job of it.  West Texas Intermediate reached a 2014 peak of $107.73 in June before dropping as low as $49.77 today on the New York Mercantile Exchange. The grade settled at $50.04 a barrel. That's below the break-even price […]
There's a term traders use when the price of a commodity like oil has fallen because of oversupply but seems guaranteed to rise again. It's a market that's "in contango," says Brenda Shaffer, an energy specialist at Georgetown University. "It almost sounds like a sort of great oil dance or something." And Shaffer says that […]
With crude prices down nearly 60 percent from their highs, investors are learning that not all oilfields are created equal. U.S. oil production grew 49 percent between 2008 and 2013, as drillers improved productivity and tapped high-yield debt markets. But with their product fetching far less these days, exploration and production companies have slashed capital […]
Market developments over the past six months have created an environment where a "crisis" seems all but inevitable. The world's reserve currency, USD, is now 17% stronger than it was in June on a trade-weighted basis. Europe and Japan, the world's largest and fourth largest economies, are in recession, while China, the third largest economy, […]
Companies Are Buying Oil Now to Sell Later When Prices Rise The supertanker TI Oceania was built to ferry vast quantities of oil across oceans, but for the next year it is expected to remain anchored off the coast of Singapore, storing millions of barrels of oil for Vitol SA, a giant trading house. The […]
Awkward Beginnings… With all due respect… What a way to start the year. The crash in oil prices is no small matter. The previous down sweep in energy prices occurred in the midst of the financial crash 0f 2008 and Great Recession. Oil prices soon reversed afterwards and climbed back to dizzying heights, even as […]
During the 1990s, the oil price was around $10-20 a barrel. Petrol was cheap and SUVs and gas guzzlers were selling in record numbers. Oil company share prices were low and there was next to no oil exploration. Yet wells from the North Sea to Saudi Arabia were still producing oil — after all, once an oil well has been drilled, […]
We have all been held spell bound by the recent precipitous plunge in oil prices. The implications are the stuff of conjecture, conspiracy theories and just plain interesting conversation. Adding to this conversation, it would appear that another troubling trend has possibly emerged. It is well known that the Fed has kept interest rates artificially […]
Some of the world's biggest oil traders have booked supertankers to store at least 25 million barrels at sea in recent days, seeking to take advantage of the crash in crude prices and make a profit down the line. Floating storage levels are expected to increase further in coming weeks as trading companies adopt a […]
Sherri McDaniel is already feeling the sting of the drop in crude oil prices from more than $115 per barrel in June to less than $50 in early January. She is president of ATEK Access Technologies, a small Minneapolis firm that owns TankScan, a wireless monitoring system that keeps track of fluid levels in oil […]
Following last summer's stand-off in Colorado between the state's pro-environment and pro-energy forces, an unofficial triumvirate consisting of Coloradans for Responsible Energy Development (CRED), the University of Colorado and Governor John Hickenlooper's task force is upping efforts at finding a balance before tensions – and tempers – heat up again. It is no secret to […]
Oil might have been in a bubble that's now popping. Gluskin Sheff Chief Economist and Strategist David Rosenberg observed in his Friday morning research note that: "Well, with perfect hindsight, oil was in a classic bubble: parabolic price moves, tremendous excitement, widespread participation by the investing public, a ton of leverage." Rosenberg noted that, when […]
Energy firms have been financing new oil production by taking on large amounts of debt. When oil prices averaged over $100, that strategy made sense. But with oil at $50, most indebted firms are suddenly in crisis. In recent years oil exploration companies have taken on more debt in order to finance their operations. The […]
Producers Have Increased Their Borrowings by 55% Since 2010 American oil and gas companies have gone heavily into debt during the energy boom, increasing their borrowings by 55% since 2010, to almost $200 billion. Their need to service that debt helps explain why U.S. producers plan to continue pumping oil even as crude trades for […]
Are low oil prices good or bad for oil traders? In theory oil traders should not care about the price of oil; as they have reminded us many times recently, the big trading companies trade differentials and spreads, not flat (outright) price. In a trader's ideal world oil prices would fluctuate in a range, giving […]
Well! WTI below $50 and Brent below $53 when I start writing this. Who knows where they'll be by the time I'm finished?! The euro down below $1.20, US stocks flirting with -2%, major European ones off -3%, Italy and Greece over -5%. Welcome to the real world, baby! Didn't think you'd see it again […]
With all the conspiracy theories surrounding OPEC's November decision not cut production, is it really not just a case of simple economics? The U.S. shale boom has seen huge hype but the numbers speak for themselves and such overflowing optimism may have been unwarranted. When discussing harsh truths in energy, no sector is in greater […]
While inventories for US natural gas are low, production is up, causing prices to fall 29 per cent in December alone. Lex's Oliver Ralph and Alan Livsey discuss.
The rise of US shale is similar to the dotcom boom of the late Nineties and will cause many companies to fail, one of Russia's top oil executives has warned. Leonid Fedun, vice-president of Lukoil, Russia's second-largest oil producer, believes that with the price of Brent crude and WTI at multi-year lows, fracking companies will […]
The price of oil continues to drop, and that now means mass layoffs for oil workers in Bakersfield. The Employment Development Department showed 700 people to be laid off by Ensign Energy Services, but that bad news came very suddenly for families, even with the threat of low oil prices looming overhead for months. "I've […]
Arye Kohavi's Water-Gen has developed technology to meet a basic and universal need: Making water available everywhere at a reasonable price. A drab building in Rishon Letzion's industrial zone hides one of Israel's most surprising and innovative enterprises. The offices of this startup company are stashed away at the back corner of the second floor, […]
Summary There have not been any considerable fundamental changes in the oil market from June to December that justify the big drop in oil prices. OPEC surplus of crude oil production capacity has changed very little between June and December. Now is an excellent opportunity to make a long-term investment in good energy stocks at […]
Saudi Arabia has insisted that OPEC will keep oil production at 30 million barrels per day no matter the cost of crude, but even the world's biggest oil exporter has a limit, the CEO of Breitling Energy told CNBC on Friday. "I think the panic button is at $40," Chris Faulkner said in a "Squawk […]
If approved by Gov. Christie, bill would give municipalities with aging pipes right to sell systems to private companies A bill that would allow New Jersey municipalities to sell their public water utilities to private, for-profit corporations without putting the measure to voters is awaiting Gov. Chris Christie's signature. Until now, any municipality in New […]
Gold is a commodity that in the real world doesn't get used for a whole lot of truly important things, but is seen as a financial asset, and always has been. Oil is a commodity that in the real world makes modern life possible, gets used for many, many important things, and yet is also seen […]
It was six months since he joined Business Bugle and Ashutosh was already a seasoned journalist. Summoning him, his editor said, "We've got an edition to run, boy. I know there's no actual business happening. All the company chiefs and market gurus are probably in pubs swigging Single Malts. But ask them how 2015 will […]
Boone Pickens, BP Capital founder, shares his thoughts on what oil production would look like without the United States.