If you haven't seen this video by Richard Heinberg and the Post Carbon Institute, you should. In a lot of ways it is an excellent summary of the history of fossil fuels, entertainingly and creatively done. In some ways, it is extremely valuable as a basic educational piece. I'm very impressed with the clarity of […]
According to research released by NASA, humans are using more and more plant life for "food, fiber, building and packaging materials and biofuels."  That increase is happening not just overall as the world population increases but also per person. According to satellite data, our consumption of the Earth's total land plant production in 1995 was […]
"We have the technologies for a global clean economy, but they will not deploy in significant numbers without greater public policy certainty and incentives," said Andrew Liveris, Chairman and CEO, The Dow Chemical Company. "Even without the optimal policy environment, however, we are investing in energy efficiency, in research, development and the deployment of clean […]
Actuaries help companies manage risk. Gail Tverberg wants to help us all manage our energy risk. "If I plant a garden and all my neighbors are starving, I'll have to share it with them and it's not going to go very far," says Gail Tverberg, known to readers of the Oil Drum as Gail the […]
If we look at a graph of historical world oil production, we see a somewhat bumpy production pattern with two major price spikes (in 2009 $)–one peaking in 1981 and one peaking in 2008. Figure 1. World oil (crude and condensate) average daily production and refiners average acquisition cost in 2009 $, both based on […]
It is easy to become befuddled by the current discourse on peak oil. Peak oil is defined generally as the point at which the flow rate of oil to society has reached a maximum. But this simple definition has issues too, such as what should be considered "oil." Take, for example, the following sentences from […]
For the first time since 2008, inflation is hitting consumers in the stomach. Grocery prices grew by more than 1 1/2 times the overall rate of inflation this year, outpaced only by costs of transportation and medical care, according to numbers released Wednesday by the U.S. Bureau of Labor Statistics. Economists predict that this is […]
The impact the humans are having on Earth's resources depends essentially on three factors; population size, the affluence of this population, and our technological efficiency. This simple equation, laid out by the Stanford professor Paul Ehrlich nearly 40 years ago, makes for pretty scary math in 2010. In a sobering, post-global-financial-crisis book, Prosperity Without Growth; Economics […]
Seeking to combat manipulation and speculation, the Commodity Futures Trading Commission on Thursday proposed restricting the number of commodity futures and option contracts that any investor can hold in energy, agriculture or metals derivatives. The agency is required to implement the measure by the Dodd-Frank Act that was approved in July. "Position limits help to […]
This essential information summarizes Peak Oil through includes interviews with Richard Heinberg, Paul Roberts, Gerald Cecil, Otis Graham, Jeremy Rifkin, James Howard Kunstler, Jerry Mander, and a cameo from Jimmy Carter.
Bashing the oil industry seems to be popular. The most recent example is the New York Times' editorial They haven't learned. I don't think any industry is perfect, but I also have a hard time seeing that any industry should be singled out for uniquely harsh treatment. Things are going to go wrong whenever human […]
At first, there were only a few who were not shy about singing the worried song, Kathy a.k.a. Peak Shrink, Matt Simmons, Matt Savinar, Colin Campbell, Richard Heinberg, Tom Whipple, and James Kunstler to name a few. Initially it was easy to pick out the individual "voices" singing the worried song. Now instead of a […]
A discussion between economist Kazuo Mizuno and Tsuda College associate professor Toshihito Kayano, which was carried in a book, is based on a bold hypothesis and is inspiring. In the book, titled "Cho-Makuro Tenbo, Sekai Keizai no Shinjitsu" ("Ultra-macro Outlook — The Reality of the World Economy"), Mizuno and Kayano discuss the global economy from […]
Colin Campbell, Richard Heinberg, etc..
What are your views on Peak Oil? Assuming you think its arrival is relevant to people alive today, when do you forecast the market will recognize its significance? If we have to cut our use of oil, will we also have to cut our addiction to economic growth in conjunction? The rate of global consumption […]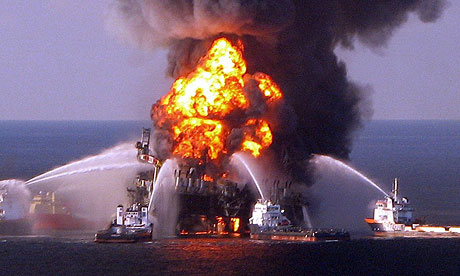 Striking resemblances between BP's Gulf of Mexico disaster and a little-reported giant gas leak in Azerbaijan experienced by the UK firm 18 months beforehand have emerged from leaked US embassy cables. The cables reveal that some of BP's partners in the gas field were upset that the company was so secretive about the incident that […]
The United Nations Population Fund launched the State of World Population Report 2010; 'From Conflict and Crisis to Renewal:   Generations of Change' last evening. According to the report  "when women have access to the same rights and opportunities as men they are more resilient to conflict and disaster and can lead reconstruction and renewal efforts […]
"The American food system rests on an unstable foundation of massive fossil fuel inputs. It must be reinvented in the face of declining fuel stocks." — Richard Heinberg and Michael Bomford, 'The Food and Farming Transition' (http://www.postcarbon.org/report/41306-the-food-and-farming-transition-t…) "The United States and many other heavily populated countries face a growing threat of severe and prolonged drought […]
The government spends billions of dollars to support the energy industry, which allows it to make energy cheaper than it should cost on the open market. These subsidies—either in the form of tax breaks or direct funding—favor some types of energy over others, giving our country a skewed sense of what each gallon of gas […]
Sir Richard Branson, the British tycoon, said at the opening of the Cancun talks on climate change last week: "The next five years will see us face another crunch – the oil crunch." He predicted that prices, now about US$90 per barrel, would hit $200. "Our supplies of … oil and natural gas are being […]
I overheard a conversation between two employees over at the Price Chopper supermarket last week. (The Price Chopper logo is a picture of a Mercury dime with an ax cleaving into Mercury's head; in other words, an ax murder.) The supermarket employees were both middle-aged women. First: "I'm going home to a cold house." Second: […]
"We are on the brink of a new energy order. Over the next few decades, our reserves of oil will start to run out and it is imperative that governments in both producing and consuming nations prepare now for that time. We should not cling to crude down to the last drop – we should […]
OPEC is breaching its production limits the most in six years, signaling the world's biggest suppliers are ready to pump more crude next year as oil rallies toward $100 a barrel. The Organization of Petroleum Exporting Countries excluding Iraq pumped 26.78 million barrels a day this year, exceeding the quotas by an average of 1.934 […]
I pointed out on Friday that there provisionally appeared to be a new peak in global liquid fuel production, at least based on reports from OPEC and the IEA, and subject to confirmation by the third agency (the EIA) and the inevitable revisions to the series. Predictably, this led to a chorus of comments that […]
Scientists have been warning for years that the inevitable peak in oil production could lead to serious skirmishes or even the next world war. There is disagreement over whether peak oil has already occurred or, if not, then how far into the future the finite supply will no longer be enough to supply soaring demand. […]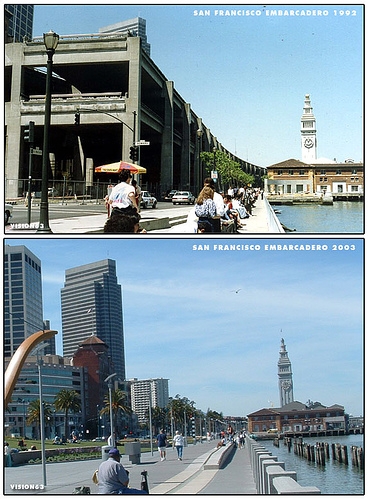 The 1989 San Francisco earthquake, known as Loma Prieta and which occurred during that year's World Series, forced a number of unexpected changes in Bay Area transport–many of which survive to this day. The most visible is the opened up San Francisco waterfront which now finds a streetcar running over cobbled streets in place of […]
Delegates at the UN climate change conference in Cancun have agreed on a deal to curb climate change and fund developing countries on Saturday. Bolivia however, raised objections to the proposals drawn up the host Mexico. The draft comes as respite as the last summit in Copenhagen failed to agree on the best way to […]
Libya's top oil official said Saturday that $100 a barrel is a "good price" for oil. Shokri Ghanem also joined the chorus of ministers going into Saturday's OPEC meeting, saying the group won't change its current self-imposed limits on crude-oil output. "A good price is a little bit higher than $80 to $90 a barrel," […]
OPEC ministers decided Saturday to keep oil output at current levels, citing ample inventories amid persisting global economic uncertainty and a price of just under $90 a barrel. The 12-member cartel said after an unusually short meeting that it based its decision on projections showing demand for crude would grow more slowly in 2011 than […]
Nathan Ayers, Kurt Cobb, David Gard, and John Sarver field questions regarding peak oil, climate change, permaculture, and the future of energy. This is part 1 of 2 videos following the first session of talks at the 2010 International Conference on Sustainability: Energy, Economy & Environment organized by Local Future and directed by Aaron Wissner. […]