Welcome to PeakOil.com, an online community exploring oil depletion.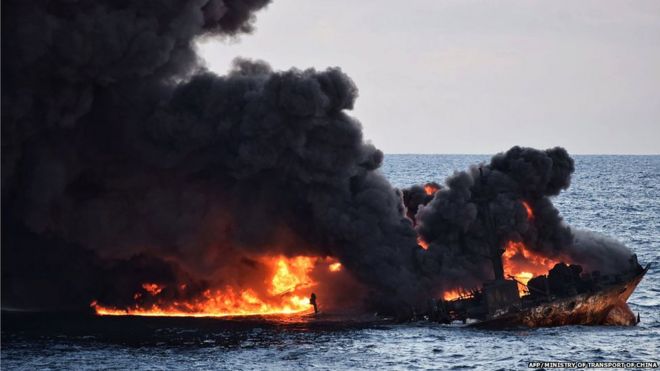 Fishing continued at the site of a massive oil spill in the East China Sea for days after the incident, satellite images obtained by the BBC suggest. Most of the fishing vessels in the affected region were identified as Chinese. There have been major concerns over possible contamination in seafood and marine life in and around the region. The spill occurred after an oil tanker collided with another cargo ship on 6 January before sinking days later. It was transporting 136,000 tonnes, or almost one million barrels, of ultra-light crude oil, known as condensate, to South Korea. It is feared to be highly toxic and is invisible, unlike the shimmering slick on the sea-surface seen after crude-oil leaks. Experts say it is the first time petroleum product of this type has spilled in such huge quantity. Independent experts say fishing was not stopped until much later and ...
Egypt has the natural potential to become one of the world's strongest energy players as it contains the three main natural elements to develop an abundance of energy: sunlight, wind and hydro-energy. Despite that, Egypt has been failing to provide a stable source of electricity to its ever-growing population. The country imports oil despite having the largest oil refinery in Africa, according to an American Security Project background report from 2015.However, a recently announced project promises to provide the needed amount of clean, renewable solar energy to transform Egypt into a clean energy producer. The Benben SolarPark near the southern city of Aswan promises to transform Egypt into a major solar energy player in the world. The ambitious project, set to be the largest solar park in the world, aspires to provide somewhere between 1.6-2GW of solar power by mid-2019. Egyptian officials believe ...
Starting in late 2017 Venezuela's President Nikolas Maduro began expanding heavily into media space in an attempt to promote a new payment instrument– the government-issued cryptocurrency Petro. On Feb. 20 the pre-sale of Petro was launched and has already raised $735 mln, according to Maduro's Twitter. Total amount of PTR issued for sale is 100 mln and is worth $6 bln. The pre-sale will end on March 19. The following questions are raised by this controversial project: what is Petro in an economic context and what would be its possible real use in the global economy? Is it a cryptocurrency, a stable coin, oil futures, new government debt instrument or something else? What is its possible economic impact? Which legal issues could follow? image courtesy of CoinTelegraph Having carefully studied the Petro white paper and other data available, we present below the results of the ...
Russia remained the top crude oil supplier to China in January, data showed, beginning 2018 on a strong note after the start-up of an expanded trans-Siberia pipeline and as Beijing released more crude import quotas to independent refiners. Angola and Iraq took the second and third positions for the month, leapfrogging Saudi Arabia, which was the second-largest supplier to China in 2017. Russian supplies came in at 5.67 million tonnes, or 1.34 million barrels per day (bpd), up 23.4 percent from a year earlier, data from the Chinese General Administration of Customs showed on Saturday. The January number compared with 1.194 million bpd in December. Last month, data showed Russia notched up its second year as China's largest supplier in 2017, surpassing Saudi Arabia - OPEC's top exporter - by some 150,000 barrels each day. The strong Russian exports to the world's largest crude oil ...
By Jim Krane Over the years, America's involvement in the strife-ridden politics of the Middle East has brought a lot of heartache. By one measure, however, Americans' luck in the Middle East has improved. It's not that political divisions have mended. It's that U.S. natural gas producers have found a way to capitalize on those divisions. Yes, American shale gas is now so plentiful we have started exporting it to countries accustomed to being on the other side of our energy dependence equation. The reverse U.S.-Mideast energy trade I mentioned in an earlier blog post has deepened. China, too, is now cashing in, selling the region on coal. At the root of these strange trade juxtapositions lies fractious regional politics. Source: US Department of Energy Figure 1: In 2016 and 2017, more than 10 percent of US LNG exports, or 27 cargoes, went to these ...
One of the world's leading energy companies, BP is predicting renewable energy sources to be influential in shaping the global energy sources by 2040. The report released by BP proposed that renewable energy will grow in five-folds within the next twenty-two (22) years to provide 14% of the world's primary energy. A growing competition in solar and wind-sourced energy will be a major factor in the expected energy shift. And its rapid development is expected to be enhanced by government policies and technology advancement, according to the 2018 energy outlook. "We're seeing a number of forces come together to make global energy markets increasingly competitive. Demand grows less quickly as we get better at using energy more efficiently," says Spencer Dele, Chief Economist of BP group. Spenser also revealed that most contributions to the energy transition will come from Asia, with China and ...
In 2009, in the comments to this post on The Oil Drum we stumbled upon a mine of information on the operation of the Rossing uranium mine in Namibia. The data table provided numbers for the amount of energy used on site together with the amount of uranium mined. This provided an opportunity to calculate the energy return of the mining operation. Simply put ERoEI = energy contained in the U / the energy used to mine and refine it. There are some complexities but back then I calculated an ERoEI of 1200:1 The data has been updated and fresh calculations are presented below. First a few words about Rossing. The mine is operated by Rio Tinto, one of the world's largest mining companies. Discovered in 1928, operations began in 1976. According to Wikipedia Rossing is the 5th largest U mine ...
Just recently I saw this innocent question asked on Moon of Alabama's website, and decided to post a reply: http://www.moonofalabama.org/2018/02/russian-bots-how-an-anti-russian-lobby-creates-fake-news.html "For the life of me I cannot figure why Americans want a war/conflict with Russia." Ever since US Crude Oil production peaked in 1970, the US has known that at some point the oil majors would have their profitability damaged, "assets" downgraded, and borrowing capacity destroyed.  At this point their shares would become worthless and they would be bankrupt. The contagion from this would immediately spread to airlines, transport businesses, plastics manufacture, herbicides and pesticide production and a total implosion of Industrial Civilisation. In anticipation of increasing Crude Oil imports, Nixon stopped the convertibility of Dollars into Gold, thus making the Dollar entirely fiat, allowing them to print as much of the currency as they needed. They also began a system of obscuring oil production ...
The world has abundant fresh water but it is unevenly distributed and under increasing pressure, United Nations agencies say, as highlighted by the drought in Cape Town. On Tuesday South Africa declared the drought that has hit parts of the country and threatened to leave the Mother City without domestic tap water a national disaster. More than 97% of the planet's water is salty, most of it in the oceans and seas. But every year about 42.8-trillion cubic metres of renewable fresh water circulates as rain, surface water or groundwater, according to the UN's Food and Agriculture Organisation (FAO). This equals 16 216 litres a person a day — four times the amount required in the United States, for example, for personal and domestic consumption, industry and agriculture. Depending on diet and lifestyle, a person needs between 2 000 and 5 000 litres of water a day ...
In 1972, Sheik Ahmed Yamani, then the oil minister of Saudi Arabia, commented to the Chairman of Exxon that "the United States cannot take an oil supply shut down", knowing well that there was no spare capacity anywhere else in the world. The honorable minister may not have imagined that four decades later, the rest of the world would be asking Saudi Arabia if it can take an oil demand shut down. But a demand shut down is an exaggeration as pointed out in a recent paper co-authored by the chief economist of British Petroleum. With More Cars, Higher Oil Demand in India The exaggerated attention on 'peak demand' for oil, a point in time when demand growth for oil peaks and has started to decline, is misplaced, the authors argue, partly because the date at which oil demand will stop growing is highly ...
Vision 2030 & the Political Costs of Saudi Reforms
A pillar of the Saudi social contract has been the allocation of oil rents ...
Gail Tverberg: Raising Interest Rates Is Like Starting a Fission Chain Reaction
Central bankers seem to think that adjusting interest rates is a nice little tool ...
BP: Oil Demand Is Going to Peak in the Next 20 Years
Oil use will peak by the late 2030s as electric vehicles hit the road ...
Robert Rapier: Peak Oil In Four Years?
Between 2010 and 2015, annual oil production in the U.S. grew by four million ...
More News By Topic...