Welcome to PeakOil.com, an online community exploring oil depletion.
Plunging oil prices have pitched Iraq into a severe financial crisis as it struggles to combat the Islamic State group, play host to millions of refugees and rebuild cities and towns ravaged by war. Iraq's economy is almost completely reliant on oil, which accounts for 95 percent of government revenues. With global prices hovering around $30 a barrel, Iraq has had to draw on foreign exchange reserves to fill a shortfall in the 2016 budget, which anticipated $45 per barrel. In past years, when oil prices were closer to $100 per barrel, Iraq had attracted foreign investment and rebuilt much of its oil infrastructure after decades of war and sanctions. "We are now exporting greater quantities than ever before," said Oil Ministry spokesman Assim Jihad. "But in return the oil revenues have decreased." The ministry says Iraq brought in a little over $2 billion ...
For the first time in a long time I feel concerned and worried about the prospect of war.  The reaction of Saudi Arabia to the Russian intervention in Syria has always been the wild card in the shifting geopolitical power base in the Middle East.  Turkey and Israel, along with Saudi Arabia are the three countries with the most to lose because of a strong alliance between Syria, Iran, Hezbollah, and Russia. These three traditional American allies have been accustomed to Western support in regards to their own specific regional goals and ambitions.  This support has been so staunch and counterproductive to regional stability that the growing comfort and alliance between Iran and the US should be both confusing and worrisome to Saudi Arabia and Turkey. On the one hand the US is making agreements with Iran and lifting sanction while on ...
My mother didn't die when so many others did – and so lived to give birth to me. I write about this now, because it has everything to do with today, even though the cataclysm in which so many perished happened more than 75 years ago. This is how I began part 1 of this story, which tells how my mother's family, Dutch Jews, escaped the Holocaust in which at least 75% of Holland's Jews perished. As the first article explains, my great-grandparents' kindness in raising a German Jewish orphan during World War I gave my grandparents the opportunity to protect and hide this woman and her family when, as adults, they were smuggled out of Nazi Germany. My grandparents' act of generosity in giving shelter to this family gave them the knowledge of what was really going in inside Nazi Germany ...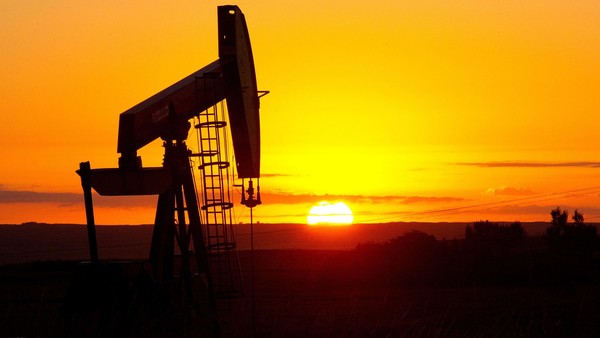 The drop in oil price adds a twist to the forces driving fragmentation and conflict. Vladimir Putin, the Russian president, is being forced to consider a fire sale of state assets even as he steps up the bombing of opposition forces in Syria. Waging a war of words with Iran, Saudi Arabia is planning its debut on international bond markets. Nigeria has started talks about assistance from the World Bank. Venezuela careers from bust to bankruptcy. Welcome to the world of $30 oil. Conversations about the oil market once started from two ironclad assumptions. Cheap oil was good for global growth because consumers are more inclined than producers to spend windfall gains and disturbances in the Middle East would send prices higher so the west should back the Arab autocrats who kept the wells pumping. Received wisdom has been upended. The fall from ...
You cannot understand the vulnerable state of the U.S. and global economies — and nervous stock markets — without coming to grips with the crash of "emerging-market" countries. Led by China, these are middle-income countries that, along with the poorest countries, account for 85 percent of the world's population and 60 percent of the global economy, according to Christine Lagarde, head of the International Monetary Fund. In many ways, their voyage into the global marketplace is a triumph. Rapid economic growth, driven in part by trade and international investment, has catapulted hundreds of millions of people out of deep poverty. By World Bank estimates, about 13 percent of the world's population lives on incomes of $1.90 a day or less, but that's down from 37 percent in 1990 and 44 percent in 1981. Unfortunately, emerging-market countries are now disappointing in ways that ...
I'd meant this week's Archdruid Report post to return to Retrotopia, my quirky narrative exploration of ways in which going backward might actually be a step forward, and next week's post to turn a critical eye on a common but dysfunctional habit of thinking that explains an astonishing number of the avoidable disasters of contemporary life, from anthropogenic climate change all the way to Hillary Clinton's presidential campaign.   Still, those entertaining topics will have to wait, because something else requires a bit of immediate attention. In my new year's predictions a little over a month ago, as my regular readers will recall, I suggested that photovoltaic solar energy would be the focus of the next big energy bubble. The first signs of that process have now begun to surface in a big way, and the sign I have in mind—the same ...
An OPEC production cut is unlikely until U.S. production declines by about another million barrels per day. OPEC won't cut because it would accomplish nothing beyond a short-term increase in price. Carefully placed comments by OPEC and Russian oil ministers about the possibility of production cuts achieve almost the same price increase as an actual cut. Bad News About The Oil Over-Supply from IEA and EIA The International Energy Agency (IEA) and U.S. Energy Information Administration (EIA) shook the markets Tuesday with news that the world's oversupply of oil has gotten worse rather than better in recent months. IEA data shows that the global liquids over-supply increased in the 4th quarter of 2015 to 2.24 million barrels per day (mmbpd) from 1.62 mmbpd in the 3rd quarter (Figure 1). Figure 1. IEA world liquids market balance (supply minus demand). Source: IEA and Labyrinth Consulting Services, Inc. Supply increased ...
The oil sector may be in the doldrums – but BP can see light at the end of the tunnel and has predicted that the oil price could even return to $100 a barrel again. Oil has tumbled 70 per cent in the past 18 months to around $30 a barrel and operators have been forced to cull costs in one of the worst downturns in the history of the industry. However, BP's chief economist Spencer Dale said he sees 'light at the end of the tunnel at the end of this year. I look at the simple economics of demand and supply and we will get a shift'. +1 Hopes: BP chief executive Bob Dudley said he expects energy consumption to be 'up about a third on today' He described $100 as 'unusually high' but said prices will move 'in the middle somewhere' between ...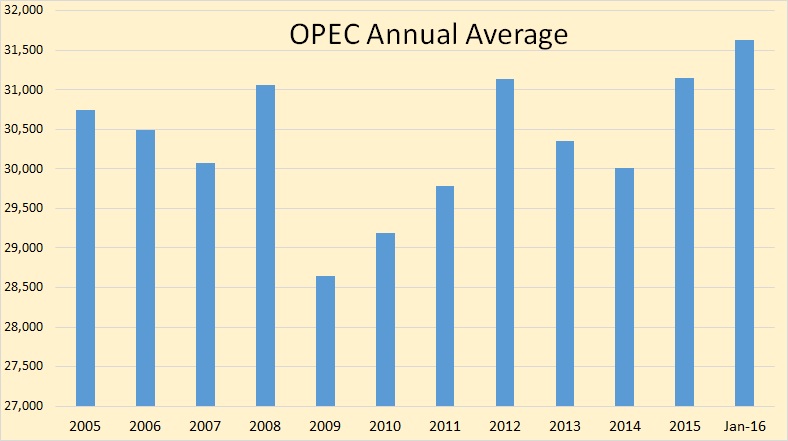 The latest OPEC Monthly Oil Market Report is just out. The the data is "Crude Only" production and do not reflect condensate production. Also the charts, except for Libya, are not zero based. I chose to amplify the change rather than the total. The chats do not include Indonesia. That will be added within the next few months when I am able to get better historical data for Indonesian crude only production. All Data is in thousand barrels per day. OPEC production, not including Indonesia, was up 130,700 barrels per day in December. OPEC uses secondary sources such as Platts and other agencies to report their production numbers. These numbers are pretty accurate and usually have only slight revisions month to month. Algeria peaked in November 2007 and has been in a steady decline since that point. Angola has been holding steady since peaking in 2008 and 2010. Ecuador appears ...
U.S. shale oil production will double over the next 20 years as drillers that became more efficient amid a slump in oil prices unlock new resources, British energy giant BP said on Wednesday. In its industry benchmark 2035 Energy Outlook, BP forecast global demand for energy to increase by 34 percent, driven by growth in the world population and economy, with the share of oil declining in favour of gas and renewables. U.S. shale or tight oil production using fracking technology was a key driver behind global supply growth in recent years. The sector, with relatively expensive production costs, has nevertheless been hard hit by a 70 percent decline in oil prices over the past 18 months to around $30 a barrel. But in the longer term, shale production is set to grow from around 4 million barrels per day (bpd) today to ...
The US enters a brave new world as it begins LNG exports
Next month, the US is set to export its first cargo of LNG from ...
The Return Of Crisis
Financial markets the world over are increasingly chaotic; either retreating or plunging. Our view ...
Russia Now China's Biggest Oil Partner
The output of oil from Russia reached peak levels in 2015 not seen since ...
China's Experimental Fusion Reactor
A Chinese fusion reactor managed to sustain plasma at temperatures of over 90 million ...
More News By Topic...