Welcome to PeakOil.com, an online community exploring oil depletion.
Military leaders from more than 20 countries have met in the United States to discuss how to combat the Islamic State of Iraq and the Levant (ISIL), as US and Russia announced an agreement to share intelligence on the armed rebel group. US President Barack Obama met on Tuesday defence ministers from 22 countries, acknowledging that he is "deeply concerned" about the advances ISIL is making in Iraq's Anbar province and in Syria, including the Kurdish town of Kobane. He vowed that US air strikes will continue in both countries, while saying that "important successes" have also been made in stopping ISIL in areas such as Erbil and Mosul. Pinpointing military and humanitarian aid from nations in the international struggle against the armed group. "This is going to be a long-term campaign," Obama said without hinting at any changes in the current military strategy, which mainly involves air strikes. "There are ...
Better fuel efficiencies and a change in fuels used for home heating means most people are spending less on energy than before, the U.S. Energy Department said. "Because electricity and transportation spending accounts for more than two-thirds of consumer energy expenditures, increasing vehicle fuel efficiencies and changing fuels used for home heating have contributed to lower consumer energy expenditures relative to disposable income," the department's Energy Information Administration said Tuesday. Edmunds.com said the average new vehicle sold in January got 24.9 miles per gallon of gasoline, an increase of nearly 5 mpg from October 2007. The number of consumers using natural gas has increased more than 3 percent from 2007. EIA said consumer energy expenditures as a percent of disposable income was lower last year than the average in the 1960s despite the rate of inflation. The report found, however, that energy prices have ...
I believe that there are limits to everything in terms of our physical world. All of our resources will eventually run out, sources of energy will run dry (or limit our growth) and technology alone will not be able to sustain us forever should our population continue to climb exponentially. Therefore, I believe that at some point in the future we will enter a situation where increases in input (in terms of technological growth) will result in smaller and smaller amounts of output. Even if we find a way to utilize renewable resources to fuel our society, there is also a limit to that. For example, the amount of energy reaching the Earth from the sun is quantifiable and finite. Also, the sun is a star and will eventually die as well. In addition, the earth can only support a certain ...
A person might think that oil prices would be fairly stable. Prices would set themselves at a level that would be high enough for the majority of producers, so that in total producers would provide enough–but not too much–oil for the world economy. The prices would be fairly affordable for consumers. And economies around the world would grow robustly with these oil supplies, plus other energy supplies. Unfortunately, it doesn't seem to work that way recently. Let me explain at least a few of the issues involved. 1. Oil prices are set by our networked economy. As I have explained previously, we have a networked economy that is made up of businesses, governments, and consumers. It has grown up over time. It includes such things as laws and our international trade system. It continually re-optimizes itself, given the changing rules that we ...
If you've ever wondered just how powerfully collective thinking grips most members of our species—including, by and large, those who most forcefully insist on the originality of their thinking—I have an experiment to recommend: go out in public and advocate an idea about the future that isn't part of the conventional wisdom, and see what kind of reaction you field. If your experience is anything like mine, you'll get some anger, some argument, and some blank stares, but the most telling reaction will come from people who try to force what you're saying into the Procrustean bed of the conventional wisdom, no matter how thoroughly they have to stretch and chop what you've said to make it fit.   Now of course the project of this blog is guaranteed to field such reactions, since the ideas explored here don't just ignore the ...
There's something about $80/barrel crude that gets petrochemical markets in the US all riled up. As the energy complex slowly emerges from its latest dip, let's take a look at how some of these key markets fared over the past two weeks. We'll start with the usual suspects — aromatics — and move our way down to more "decoupled" markets — i.e., those closer to natural gas. Benzene US prices had been tanking for a while, in essence since early August as demand eroded and imports from Asia picked up. But things got serious in recent weeks. The market saw prices shed nearly 12% in a matter of days, culminating with last week's prompt pricing hitting a 34-month low of 375 cents/gal ($1,121.25/mt) FOB USG on Oct. 15, before recovering some so far week. As a whole, benzene prices have fallen some 27% since late July. There's no ...
According to the Energy Information Administration "about one-third of the natural gas North Dakota has produced in recent years has been flared rather than sold to customers or consumed on-site." Meaning, that 33% of all of the natural gas in North Dakota is being burnt rather than collected. I'm guessing that 33% is not being calculated into the "efficiency" of burning natural gas, but you can bet it is included in the market price. Why do they burn the gas? First, natural gas is made mostly of methane which is a much worse greenhouse gas than carbon dioxide. Burning it prevents free methane in the atmosphere. North Dakota law also prohibits venting natural gas into the atmosphere without first burning it. Why don't they collect it? The easy answer is that there is not the infrastructure to do so. Over the last 4 years ...
In public lectures that I give about global energy, I often note that since the writing of A Cubic Mile of Oil the global reserves of oil have increased, not decreased, despite the fact that in the intervening time (i.e., between 2007 and 2013) the world has consumed about 7.5 cmo. In this post I want to dig deeper and look at the changes that have brought about this paradox, and what it means for Peak Oil. As I explain in the book, reserves have a special meaning refer to those geologic accumulations that can be economically extracted with the current technology. With the development of technology and/or changes in the price of oil, geologic accumulations that were once only part of the larger resource base may get transferred to the reserves. Focusing only on the reservesis apt to give a ...
 Undersea combat robots will be protecting Russian oilrigs and transportation networks in the Arctic region at some point, Deputy General Director of the Russian Foundation for Advanced Research Projects, Chairman of the Foundation's Scientific and Technological Board Vitaly Davydov told Interfax-AVN. "The Foundation is not designing robotic sharks but it is working on undersea robots and autonomous gadgets capable of protecting infrastructure, controlling the waters and detecting, tracking and, if necessary, destroying a potential enemy. The prospective machinery may be deployed on the sea bottom and specialized submersibles," he said. So far, the Foundation is focused not so much on defense issues as on mineral development projects, Davydov said. "The rivalry in this region will be centered on its natural resources. A key task to be solved in the Arctic is access to mineral resources, first and foremost, hydrocarbons. This goal can be ...
It's just funny how everything has its time and place. What is right now is not comprehensible at a time in the past. We are expecting the Fed to put an end to quantitative easing next week, but many think that it deserves at least another few months. The oddest thing is that a few years ago, many believed it shouldn't have happened at all. At the time many thought that letting the U.S. buy its own debt with its own debt was like feeding bacon to pigs. In the end though, it seemed to have work and we're not Japan. We're letting go and moving on. Well at one time we were a country that was in debt to foreign oil and the best plan of social security was to add oil to the Strategic Petroleum Reserve (SPR). The designated allocation ...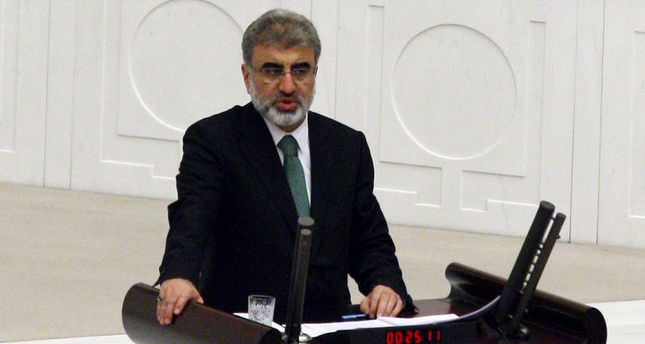 Turkey: Ukraine crisis to affect natural gas supply
During a televised interview on NTV, Energy and Natural Resources Minister Taner Yıldız answered ...
Swatshbuckling Total 'peak oiler' CEO Christophe de Margerie was like no other Big Oil executive
Total SA CEO Christophe de Margerie was like no other Big Oil executive, a ...
Saudi's Policy Of Downplaying Oil Prices Will Backfire On Them
Saudi Arabia wants to use lower oil prices to pressure Russia to change its ...
How will Saudi Arabia respond to lower oil prices?
Oil prices (along with prices of many other commodities) have fallen dramatically since last ...
More News By Topic...