Welcome to PeakOil.com, an online community exploring oil depletion.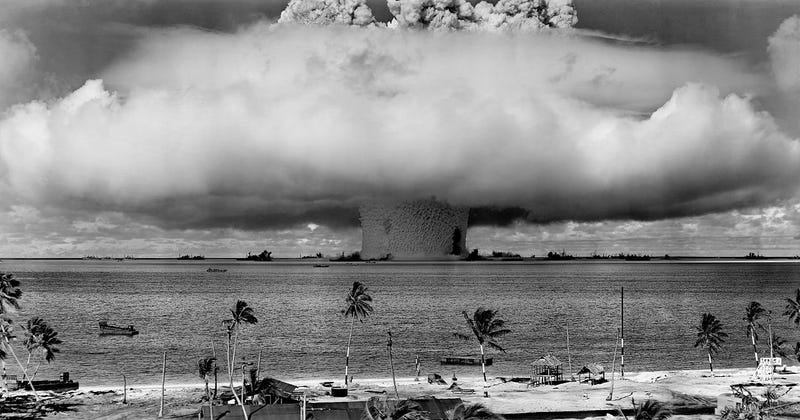 We've heard a lot of buzz recently about the Anthropocene, the geologic epoch of man and machine. Does it exist? Are we in it right now? Later this summer, the International Stratigraphic Union will convene and attempt to answer these weighty questions. Deciding whether or not we've entered a new chapter in geologic history isn't going to be easy. Normally, scientists use shifting rock layers, fossils, and geochemical evidence to place new ticks on the geologic scale. But the fingerprints of industrial society are not yet buried within sedimentary strata—they're all around us. We're creating them right now. To figure out if humanity has truly become a geologic force of nature, we need to be sure that our traces will persist long after we're gone. Here are six pieces of evidence scientists are considering. Technofossils If there's one thing modern humans are great at ...
The Polish news channel TVP Info reports French and German foreign ministers are ready to reveal a super state "ultimatum" to EU countries in response to Brexit. European SUPERSTATE to be unveiled: EU nations 'to be morphed into one' post-Brexit https://t.co/3pmUi3V7x0 pic.twitter.com/rDOvKH95gh — Voice of Europe (@V_of_Europe) June 27, 2016 The totalitarian proposals will strip the sovereignty of member states and the ability to have an army. The criminal law system and central banks will also be removed and run by bureaucrats in Brussels. Additionally, member states will lose control of their borders and procedures on admitting and settling migrants. "Our countries share a common destiny and a common set of values that give rise to an even closer union between our citizens. We will therefore strive for a political union in Europe and invite the next Europeans to participate in this venture," a preamble to ...
Last week, my article on the Saudi Arabian oil and solar outlook, titled Saudi Arabia's Solar Planning Is Paved in Oil Production, certainly shook up a hornet's nest in the Twittersphere. In the piece, I postulated that the Saudis – under the de facto leadership of 30-year old Mohammed bin Salman (MbS) – would move toward dramatically increasing their oil production over the coming years in order to move towards taking over the solar power market. As espoused in public statements, Saudi Arabia intends to be as much a powerhouse in solar energy as it has been in oil. MbS is a strategist. He realizes that by mid-century, oil will be worth a lot less – perhaps even zero, as the book The Energy World Is Flat postulates. This theory, however, is not an entirely popular one. Here are a few of the "nicer" tweets ...
  I am grateful to be back in your lovely city, and I am grateful for your invitation to speak today about the commons as a new vision of "development."  As the planet reels from the slow-motion catastrophe of climate change, we are seeing the distinct limits of the prevailing paradigms of economic thought, governance, law and politics.  While collapse and catastrophe have their own lurid attraction to many, the human species – and our governments – have a duty to seriously entertain the questions:  What new structures and logics will serve us better?  How can we better meet basic human needs – not just materially, but socially and spiritually?  And can we move beyond rhetoric and general abstractions to practical, concrete actions? After studying the commons for nearly twenty years as an independent scholar and activist, I have come to the ...
Wait a minute. They're already dead. Brexit just reveals that not everybody's brains have been eaten. A viral contagion now threatens the zombified institutions of daily life, especially the workings of politics and finance. Just as zombies exist only in the collective imagination, so do these two principal activities of society operate mainly on trust, an ephemeral product of the hive-mind. When things fall apart in stressed complex systems, they tend to fall apart fast. It's called phase change. Too many things in 21st century life have depended on sheer trust that the people-in-charge know what they are doing. That trust has subsisted on the doling out of money-from-nothing: debt, reckless bond issuance. TARP, QEs, bailouts, bail-ins, Operation Twists, Ponzi schemes… the whole sad-ass armamentarium of banking necromancy. The politicians let it get out of hand. Things that can't go on ...
The implications of the global water footprint of energy generation are phenomenal, writes Gary Bilotta of the University of Brighton. He warns that if policy makers fail to take into account the links between energy and water, we may come to a point in many parts of the world where it is water availability that is the main determinant of the energy sources available for use. Courtesy The Conversation. With a quarter of the world's human population already living in regions that suffer from severe water scarcity for at least six months of the year, it is perhaps not surprising that the World Economic Forum recently rated water crises as the largest global risk in terms of potential impacts over the next decade. Electricity generation is a significant consumer of water: it consumes more than five times as much water globally as domestic uses (drinking, preparing food, ...
"It is difficult to imagine how anyone who encounters these stories as a youth could grow up to have anything other than profound respect for the latent power of the natural world." On the comments page for a popular environmental radio show a listener asked for suggestions for books or stories on nature themes to read or to give to children —  the kind that maybe influenced you when you were little. Three titles immediately came to mind, and now seem more relevant than ever. One was set in the steaming tropics — Leiningen Versus the Ants by Carl Stephenson (in Brazil, in 1938). The other two are set in the far north — To Build A Fire by Jack London (in the Klondike, in 1910) and Master and Man by Leo Tolstoy (in northern Russia, in 1895). Why they appealed to ...
The fretting in the financial markets after Great Britain's voters narrowly decided to leave the European Union (EU), a move dubbed Brexit, was less about immediate effects--there aren't any since it would take Britain up to two years to withdraw--and more about a foreboding that other countries will want out, too. In addition, some think it likely that Scottish independence will once again be on the agenda. Scots were heavily in favor of remaining in the EU. Centrifugal political forces are bad for business since they spell uncertainty and ultimately disruption if they come to fruition as they did in Britain regarding the EU. And, Britain, of course, isn't the only country in Europe facing breakaway movements. The people of Spain's Catalonia region have for some time sought a referendum on independence from Spain. Only last year Catalan separatists won a majority ...
While we were all caught up in the EU referendum this week, there was an item in the news about the UK's largest gas storage facility, Rough: Wholesale gas prices have been volatile following news that the UK's largest gas storage facility is being shut down for 42 days. Normally, gas would be being injected into Rough right now, and was being until a couple of days ago, as you can see from the first graph on this page. The update on Centrica's website says: In March 2015, CSL began conducting testing and verification works on the Rough wells. In the course of conducting these works, CSL has identified an additional issue on one of the wells tested. As a consequence, CSL has ceased all Rough injection and withdrawal operations. CSL will seek to expedite testing on the issue identified and expects this ...
At first glance it is hard to see how oil, interest rates and debt are connected. Two of them are human constructs while oil (fossil sunlight), a gift from Mother Nature, took tens of millions of years to process. Oil is an endowment extracted from a confined underground stock and is now the most dense and versatile energy source known to man. Figure 1: Chart that shows the development of [extraction] cost of oil and interest rates (US 10 Year Treasuries) has developed since 2000 and a likely trajectory for oil extraction costs. Both lines are SIGNALS, and most likely plan their future based on only one of them. The 10 Year Treasury (or similar) rate is the reference used for amongst other things to set interest rate for mortgages. Most now, aware of it or not, base their future plans on the ...
Will the 'Brexit' mark the end of the age of globalization?
For decades, financial and political leaders have preached the inevitability of globalization, promising nations ...
Decline and depletion rates of oil production: a comprehensive investigation
Abstract Two of the most fundamental concepts in the current debate about future oil supply ...
Feeling Guilty about Global Warming and Peak Oil
Guys, today I wanted to write about kittens and string. No wait, I wanted ...
UK Prime Minister David Cameron To Resign
Well that escalated quickly...Speaking from in front of 10 Downing Street, UK PM David ...
More News By Topic...