Welcome to PeakOil.com, an online community exploring oil depletion.
U.S. imports of crude oil in August were the lowest they've been in almost 20 years, the American Petroleum Institute said. API said in its monthly report on trends in the U.S. energy sector crude oil imports of 7.6 million barrels per day in August, the last full month for which data are available, was 6.2 percent less than last year and the lowest level for August since 1996. Total imports of petroleum productions were down 10.2 percent year-on-year. August crude oil production of 8.6 million bpd, meanwhile, was the highest for the month in nearly three decades. Production was boosted largely by output from North Dakota and Texas. In terms of demand, API said its petroleum delivery metric showed a 1 percent increase year-on-year to 19.3 million bpd, the highest in three years. "Petroleum demand last month showed slow but steady growth, mirroring economic ...
Exxon Mobil said it added to its portfolio in the Permian shale basin in Texas in exchange for a portion of its field operations in California. Exxon under the terms of a non-monetary exchange with LINN Energy gets 17,000 net acres in the Permian basin in exchange for 500 acres at its Belridge field in California. Permian production increased 58 percent from 2007 to reach 1.35 million barrels per day last year, which represents 18 percent of total U.S. crude oil production. Exxon said the Belridge field is producing approximately 3,400 bpd. The Permian area will be operated by Exxon's subsidiary XTO Energy Inc. "We continue to expand our leasehold position in a prolific area that is poised for profitable volumes," Randy Cleveland, president of XTO Energy, said in a Thursday statement. For LINN, it said it would examine 300 potential future drilling locations in a ...
The United Nations and the streets of Manhattan are going into global warming saturation mode, from Sunday's People's Climate March through the Tuesday climate change summit convened by Secretary General Ban Ki-moon and on through an annual green-energy event called Climate Week. Photo A graph showing the percentage of married women surveyed in parts of Asia, South America and Africa who say they use modern contraceptives.Credit Population Reference Bureau Largely missed in much of this, as always seems the case with climate change discussions, is the role of population growth in contributing both to rising emissions of greenhouse gases and rising vulnerability to climate hazards in poor places with high fertility rates (think sub-Saharan Africa). That's too bad given that on Monday a separate special session of the General Assembly is scheduled to hold a 20th-anniversary review of actions since the International Conference on Population ...
Jeff Rubin's book The End Of Growth is a good introduction to the impact of Peak Oil on the economy and markets. It was published in 2012, and the Kindle version has been updated since then (note that I did not read the updated version). Although the book is not perfect, I think it has some advantages over other analyses of Peak Oil. Although Peak Oil has been proclaimed to be dead, I explain the advantages of starting to analyse it now - you want to understand the concept before it rises again from the grave. Jeff Rubin was the Chief Economist at CIBC world markets, and wrote the earlier book, Why Your World Is About To Get A Whole Lot Smaller. I was familiar with his analysis based on his visits to my previous employer. This is why I picked ...
A lot of folks are fervently forecasting that shale gas and oil production is a bubble about to pop, possibly producing an economic collapse similar to the one in 2008. Earlier this week, the left-leaning Center for Research on Globalization in Montreal dismissed the shale revolution as a "Ponzi scheme" and "this decade's version of the Dotcom bubble." In a column last year for The Guardian, Nafeez Ahmed of the Institute for Policy Research and Development cited studies predicting that U.S. shale gas production will likely peak in 2015 and oil production in 2017. In a July 2013 report for the Club of Rome—the same folks who brought us 1972's doom-mongering classic, The Limits to Growth—the University of Florence chemist Ugo Bardi declared that the "idea that a 'gas revolution' that will bring for us an age ...
Three things you shouldn't miss this week Chart: How Scotland's energy compares with the rest of the UK's Source: DECC electricity generation and supply figures for the home nations, 2012, via Carbon Brief Commentary: What Happens To Clean Energy Investments If Scotland Votes "Yes"? - Reviewing the BNEF study. Commentary: Going green is good for the economy (depending on your economic worldview) – How the UK economy could be larger, its households better off, unemployment lower and its businesses richer if it chooses to cut emissions.   So it's a no. Months of debate are finally over. But what's the future for Scottish energy? It was a dominant theme throughout the referendum, but debate was largely focused on whether or not Scots could wangle a so-called 'fair share' of North Sea oil and gas. Where were renewables in visions of a post-2014 future? North Sea reserves are in terminal decline, but in the European league ...
During the last half of 2008, as the global economy ground to a halt, the price of oil fell from an all-time high of $145 a barrel to less than $40. A lot of people lost a lot of money. Just as in the stock market, though, the oil crash presented a chance to buy crude cheaper than it had been in years and might ever be again. If you had a place to store that cheap oil, you could make a lot of money when prices rebounded. Thus was born the booming demand for oil tankers, or any other place to stash low-cost crude. By January 2009, with prices still hovering around $50 a barrel, there were some 90 million barrels of crude in floating storage. The futures markets had entered something traders call contango, a fancy commodities term for the ...
Oil prices have found some support from the potential for lower production from OPEC next year, as suggested by the group's secretary general, Abdalla el-Badri. Speaking to Platts by telephone from Vienna earlier this week, Badri was at pains to stress that he was not predicting the outcome of OPEC's next scheduled meeting on November 27. Nor was he talking about a 500,000 b/d reduction in the group's current 30 million b/d ceiling. He was, he said, talking about an outlook that pegged the call on OPEC crude at 29.5 million b/d. He was not talking about a decision by OPEC. Badri, however didn't make clear which outlook he was talking about. The latest forecasts from OPEC's Vienna secretariat, released last week, see demand for OPEC crude averaging 29.45 million b/d and falling to 29.2 million b/d in 2015. Badri's figure is ...
Natural gas rig in the Piceance Basin in Colorado. Fracking in water-stressed areas poses risks to energy producers and communities. Photo: Energy Tomorrow/Creative Commons 2.0. As more data emerge, shale gas increasingly appears to be in the cross-hairs of the water-energy nexus, and far too little is being done to defuse impending conflicts. While hydraulic fracturing (or "fracking"), the process used to unleash natural gas from shale deposits, has raised serious concerns about groundwater contamination, less attention has been given to the added competition for limited water supplies the process can bring. Each fracking well can require up to 25 million liters (6.6 million gallons) of water. A new study by the World Resources Institute (WRI), a research group based in Washington, DC, attempts to fill this knowledge gap by overlaying known recoverable resources, or "plays," of shale gas onto maps of water stress.   The results raise concerns. The WRI team found ...
Over at ESPN, there's a podcast called "Numbers Never Lie."  The name's something sports types like to throw around when making a point. Like this: Detroit Tigers slugger Miguel Cabrera is one of only four players with 300 total bases in 11 straight seasons. It would be hard for even a Kansas City Royals fan to punch a hole in that. But gasoline statistics lack that kind of foundation. One man's golden ticket is another's fool's gold, especially if the guy with the golden ticket knows about the leaky refinery and his golfing buddy doesn't. Case in point: In the last two weeks, US driver demand has taken a dramatic, and perhaps sustainable, dip. The US Energy Information Administration's best take on demand is "implied demand," reflected by the amount of gasoline that reaches the pump as product supplied in any given week. It's not ...
Exxon halts Arctic oil well drilling on sanctions
Exxon Mobil Corp has halted drilling an offshore oil well in Russia's remote Arctic ...
World Population Could Hit 12.3 Billion by 2100
Researchers had earlier estimated the population would only reach 7.2 billion The world population may ...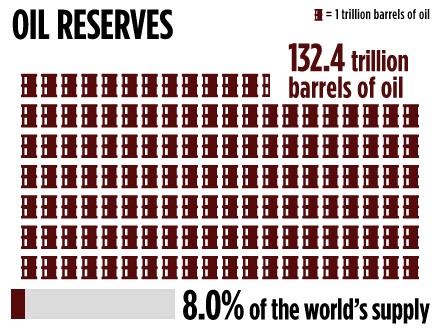 Africa's oil and gas potential: Boom or hype?
Africa's oil and gas potential will grow significantly over the next two decades, driven ...
Oil-Price Quirk Sends Crude Out to Sea
 Big oil companies and traders are stashing millions of barrels of crude on massive ...
More News By Topic...