Welcome to PeakOil.com, an online community exploring oil depletion.
Nigeria's population has become an embarrassment that cannot be hidden anymore. A population time bomb is dangling on the country waiting to detonate unless urgent preventive measures are taken. A similar fear was equally expressed by the Director of Monetary Policy of the Central Bank of Nigeria, Dr. Moses Tule, at the 40th Annual Conference of Nigerian Statistical Association in Abuja. The director stated the obvious when he said that Nigeria's population had become a liability and would remain so unless it expands its economic base by stimulating the economy and producing the needed goods and services to sustain it and create jobs. Surprisingly, while population is growing at the rate of 3.5 percent, economic growth rate is a paltry 2.5 percent. Common sense should sound it anyone that our situation is quite unpalatable. On no account should population register a higher growth ...
The growth economy is historically relatively recent, and is now consuming 1.5 Earths and growing. Compound interest is sucking the lifeblood out of the real economy, from households to countries. Mike Lewis, co-author of The Resilience Imperative, tells the story of the successful JAK Cooperative Bank in Sweden, which is based on saving on behalf of others and uses only simple interest. It's one example from the book which illuminates "alternate pathways to move from a growth imperative to a resilience imperative… It presumes we will transition ourselves back to one Earth and find a different way of dealing with a number of ways we meet our basic needs — whether it's with food, energy, shelter, land, or finance (an important part of the problem)." Don't miss his stunning hungry hamster example of compound interest at work! Episode 315  [http://communityrenewal.ca].
August was the biggest month ever for U.S. gasoline consumption. Americans used a staggering 9.7 million barrels per day. That's more than a gallon per day for every U.S. man, woman and child. The new peak comes as a surprise to many. In 2012, energy expert Daniel Yergin said, "The U.S. has already reached what we can call`peak demand." Many others agreed. The U.S. Department of Energy forecast in 2012 that U.S. gasoline consumption would steadily decline for the foreseeable future. Source: Constructed by Lucas Davis (UC Berkeley) using EIA data 'Motor Gasoline, 4-Week Averages.' This seemed to make sense at the time. U.S. gasoline consumption had declined for five years in a row and, in 2012, was a million barrels per day below its July 2007 peak. Also in August 2012, President Obama had just announced aggressive new fuel economy standards that ...
In about one month, the long-awaited production at the largest oil field of Kazakhstan – Kashagan – will finally be resumed. Earlier, the Minister of Energy of Kazakhstan Kanat Bozumbaev had announced October 23 of this year as the official start date of the Kashagan project. Kazakhstan's largest oil field has proven to be quite difficult. After repeated delays, the production there was stopped because of gas leaks in September 2013, exactly two weeks after its start. Then, two weeks after a restart, another gas leak was found on the pipelines connecting the field with the sulfur and gas removal plant. After a thorough analysis, the project operator – North Caspian Operating Company (NCOC) – undertook a full replacement of a total of 200 kilometres of the field's gas and oil pipeline. All that time, the numerous comments and forecasts of experts and ...
A fire broke out on an oil tanker of Mexican state oil company Pemex in the Gulf of Mexico on Saturday, forcing all the crew to be evacuated in the latest accident to plague the struggling firm. The blaze on the tanker "Burgos" occurred off the coast of Boca del Rio in Veracruz state and all the crew were safe, Pemex said in a tweet. Mexico's Navy said there were 31 crew members and that all had returned to port. Images tweeted by Pemex showed the vessel giving off plumes of smoke as another boat hosed the tanker. Early on Saturday evening, Pemex said that firefighting teams were still working to put out the blaze. The tanker was carrying 80,000 barrels of diesel and 70,000 barrels of gasoline, Mexico´s Communications and Transport Ministry said. The fire follows a series of other mishaps at Pemex, which ...
Investment in upstream operations in the oil and gas industry shrank by a quarter last year and is expected to continue shrinking this year by another 24 percent. Next year could see a continuation of the trend, which will represent the longest investment decline period in the history of the industry, says the International Energy Agency. In its latest World Energy Investment report, the IEA points out that most of the decline in upstream investment – a decline of over $300 billion – was a result of lowered costs. This could suggest quickly improving efficiency of exploration and production, but it's far more likely that the lower costs are a direct result of rigorous cost-cutting by E&Ps across the board to weather the effects of the oil price rout. In absolute terms, investment in upstream oil and gas totaled $583 billion last ...
Saudi Arabia's oil policy, unveiled just under two years ago, at the November 2014 OPEC meeting where it effectively splintered the OPEC cartel by announcing it would produce excess quantities of oil in hope of putting shale and other high-cost producers out of business has backfired spectacularly: not only has OPEC failed to crush the US shale industry, which as a result of increasing efficiencies, and debt-for-equity exchanges has seen its all in production costs tumble, making even far cheaper oil prices profitable (especially with the addition of hedges), not to mention Wall Street's ravenous desire to buy any debt paper that offers even a modest yield allowing US oil producers to delay or outright avoid bankruptcy. But while shale has avoided annihilation, it is Saudi Arabia that has been suffering. In "Kingdom Comedown: Falling Oil Prices Shock Saudi Middle Class", ...
Joseph Chamie is an independent consulting demographer and a former director of the United Nations Population Division. City view of Dhaka, Bangladesh. The Asia-Pacific region is urbanizing rapidly. Credit: UN Photo/Kibae Park NEW YORK, Sep 23 2016 (IPS) – While the world's population of 7.4 billion is growing at 1.1 percent per year – about half the peak level of the late 1960s – enormous differences in demographic growth among countries are increasingly evident and of mounting concern to countries and the international community. Few of the decliners are prepared to accept large-scale immigration, particularly from doubler countries, to address labor force shortages and population aging concerns. At one extreme are the doublers: 29 countries whose populations are expected to at least double by the middle of the 21st century. At the other extreme in striking contrast are the decliners: 38 countries whose populations ...
What if everybody in the world, all 7.4 billion of us all lived together in the same city? How big or small would this city have to be and how close together or far apart would we all be living from each other? This video explores those concepts and visualizes what a massive global city would look like were it to ever exist in the real world.
OPEC officials met in Vienna to prepare for Algiers talks Rivalry between two nations prevented supply deal in April OPEC members Saudi Arabia and Iran, whose rivalry derailed an oil supply accord earlier this year, met in Vienna for a second day of discussions to prepare for wider group talks next week in Algiers. The two oil producers met at the headquarters of the Organization of Petroleum Exporting Countries in Vienna in preparation for informal discussions between energy ministers from OPEC and Russia in Algiers next week, according to two people briefed on the discussions. The two nations have not yet reached an agreement, one of the people said, asking not to be identified because the meeting was private. The rare private talks between Saudi Arabia and Iran -- OPEC's two leading members and regional rivals -- show diplomatic efforts to secure a ...
Lessons from the Syrian Revolution
More than five years into the Syrian revolution, we interview Syrian-British journalist and co-author ...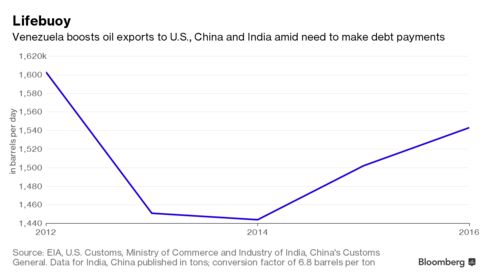 Venezuela's Regional Oil Diplomacy Cools as Crisis Looms Large
OPEC member reduces exports of subsidized crude to Petrocaribe Shipments to China and ...
Why Iraq's Oil Production Has Reached It Limits
Iraq has succeeded in ramping up oil production by more than 1 million barrels ...
Governments poised to agree historic CO2 emissions market system for aviation
The United Nations International Civil Aviation Organization is poised to take a ground-breaking decision ...
More News By Topic...