Welcome to PeakOil.com, an online community exploring oil depletion.
While a lot of the political fodder during the 2014 election season focused on the "war on coal," a bigger and even stronger show of force is transforming the nation's economic landscape, especially in "war torn" Appalachia: natural gas. The natural resource has emerged from the back burner of U.S. energy development and onto the hot seat. Over the last seven years, it has not only fueled new economic growth but it has also changed the way electricity is generated. Beyond the newfound abundance — a result of shale gas drilling technologies — the manufacturing sector has subsequently boomed. To be clear, dry natural gas can be used for electric generation. Wet natural gas, or natural gas liquids that include methane, ethane butane and propane, are separated from the dry gas. Those elements are then used as feedstocks in the manufacturing and ...
The possibility of a new Cold War between Russia and the United States and its NATO allies brings with it the spectre of nuclear war, an all-but-forgotten threat since the breakup of the Soviet Union in 1991. Even as the number of nuclear weapons has declined through mutually agreed reductions from a worldwide total of 68,000 in 1985 to an estimated 16,400 today, the destructive force of such weapons is so great that if the remaining ones were used, they might well spell the end of human civilization as we know it. One indication of the rising threat is what NATO calls an "unusual" increase in Russian military flights over Europe involving so-called Bear bombers, long-range Russian counterparts to American B-52 bombers. But, of course, U.S. and Russian nuclear forces have been operating all along since the end of the Cold War ...
"Marx said the opium of the masses was religion. For the USA, it's Netflix and Wal-Mart." We arrived to rural México in time for the 104th anniversary of Dia de la Revolución. The dirt streets of this small village whose central plaza we sit in to write this were lined with people waving flags and singing Cielito Lindo to their children, dressed as revolutionaries, on parade. Ay, ay, ay, ay, Canta y no llores, Porque cantando se alegran, cielito lindo, los corazones. [Ay, yai, yai, yai, sing and don't cry, because singing gladdens, my pretty little love (or our little heaven), the hearts.
]   The hearts here are not gladdened at the moment. México has just witnessed the largest street demonstrations in its history, complete with plainclothes agents provocateur smashing windows in Mexico City before being videotaped getting back into their police van (the official government line is that they were ...
Now the dust from the Shock & Awe of the 30% drop in oil prices has started to settle, two things are clear: (a) Saudi Arabia did not engineer anything (b) they don't have a Machiavellian plan to stick one up the wildcatters in North Dakota, or the Russians...the Iranians...the Venezuelans, or even the genius from the Daily Telegraph who was bemoaning the fact that if oil prices go down it will be hard to import inflation into U.K. Here are five good reasons why they are going to pass on the opportunity to slash their oil production by 30% so that other OPEC members can cheat and make a windfall, like they all did in 1987/8.   1. Read My Lips Since oil prices jumped from $80 to $110 in early 2011 the Saudi's have been saying, over, and over and over again, ...
In the past few chapters on Energy Economics, Peak Cheap Oil, and the false promise of Shale Oil, we've gone into great detail to show how our economic growth is deeply dependent on our energy systems. Here's how it all sums up. There are some knowns: We know that energy is required for both growth and complexity.  We know that surplus energy is shrinking.  We know that the age of cheap oil is over.  And we know that because of this oil costs will consume an ever-greater proportion of our total budget. And with these known facts, come along specific risks. There is the risk that our exponential money system will cease to operate in a world of declining energy surplus.  It is designed for a world without limits – a world of endless growth.   And there is the risk that our society will be forced to become less complex - a loaded statement if ever there was one. Each one of ...
Iran may propose that OPEC cuts its output target by as much as 1 million barrels a day to prop up prices when the country's oil minister meets his Saudi counterpart as the group gathers this week, Mehr News reported. Bijan Namdar Zanganeh and Saudi Arabia's Oil Minister Ali Al-Naimi will confer on the sidelines of the meeting in Vienna of the Organization of Petroleum Exporting Countries to define a common view among its 12 members for supporting crude prices, state-run Mehr reported, without saying where it got the information. An official in Iran's ministry didn't immediately comment when contacted by phone. OPEC, supplier of about 40 percent of the world's oil, will meet Nov. 27 in the Austrian capital to assess its collective output amid a supply glut and a 27 percent drop in prices this year. Half the analysts in ...
Summary of article 1, Cobb's "Aging Giant Oil Fields" 2013 The world's 507 giant oil fields comprise a little over 1% of all oil fields, but produce 60% of current world supply Of the 331 largest fields, 261, or 79%, are declining at 6.5% per year. Techno-fixes have made matters worse because they'll increase the decline rate to 10% or more, because we're getting oil now, faster, with new technology that we would have gotten later. And that will make it harder for unconventional oil (tar sands, deep ocean, tight "fracked" oil, etc.) to replace it Summary of article 2, Koppelaar's "… future oil supply": Based on 3 studies, average global oil decline rate of 4.5 to 6% assumed. No problems until 2013, and only then if there's a rapid recovery of the economic system. Otherwise: 2014: in a weak recovery oil starts to tighten 2017: weak recovery, ...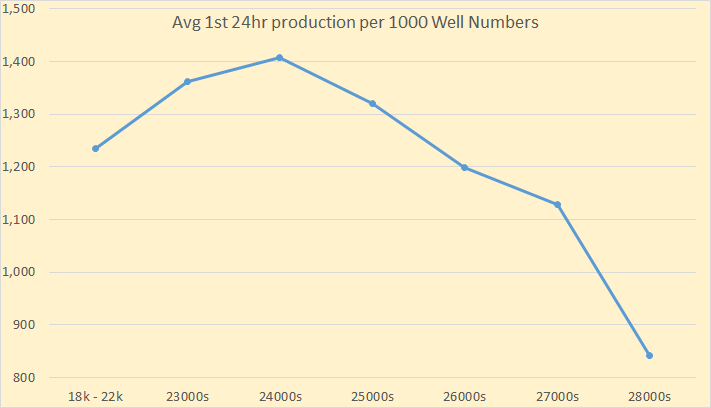 The Bakken, as well as other shale oil areas, is not one homogeneous area where equal amounts of can be found. David Hughes in DRILLING DEEPER puts it this way, though here he is talking about gas wells, the same applies to oil wells: All shale gas plays invariably have "core" areas or "sweet spots", where individual well production is highest and hence the economics are best. Sweet spots are targeted and drilled off early in a play's lifecycle, leaving lesser quality rock to be drilled as the play matures (requiring higher gas prices to be economic); thus the number of wells required to offset field decline inevitably increases with time. However the Bakken, at least through the September North Dakota Industrial Commission  production report, has given no real indication that the Bakken is even close to peaking. But a closer look at the ...
This week we bring you an exclusive report on the pandemic that's infecting the globe. Insurrecto-Riotosis. The first wave of the pandemic was reported in the city of Nantes in France following the police murder of 21 year old eco-defender Rémi Fraisse. This contagion quickly spread to Belgium where 100,000 peeps hit the streets in Brussels to show their anger to a proposed package of austerity cuts. In Mexico, insurrecto-riotisis is quickly turning into a full-fledged pandemic, as protests demanding the safe return of 43 students kidnapped on September 26th continue to escalate dramatically. Also, Wal-Mart employees in Los Angeles staged their first-ever sit-down strike against the mammoth retail giant. And all over Turtles Island, a massive fight-back against sexual violence and rape culture has blown up over social media. On the music break, a killer mash up of Keny Arkana's "La Rage" by DAM. And ...
Israeli official cites "sunset clause" in proposed comprehensive deal, which guarantees Iran a path into the nuclear club and may corner Israel into war. Historic negotiations with Iran will reach an inflection point on Monday, as world powers seek to clinch a comprehensive deal that will, to their satisfaction, end concerns over the nature of its vast, decade-old nuclear program. But sharing details of the deal under discussion with The Jerusalem Post on the eve of the deadline, Israel has issued a stark, public warning to its allies with a clear argument: Current proposals guarantee the perpetuation of a crisis, backing Israel into a corner from which military force against Iran provides the only logical exit. The deal on the table World powers have presented Iran with an accord that would restrict its nuclear program for ten years and cap its ability to produce ...
Yergin: OPEC Underestimated Resiliency of U.S. Oil Output
OPEC was mistaken in thinking that U.S. shale oil production would be unprofitable once ...
200 billion barrels of new oil production is needed by 2030
This 21 November the world's oil analysts are attempting to guess what OPEC will ...
The Red Army sell signal
THREE times in the last 35 years, Russian military forces have crossed international borders ...
The 153-Year-Old Oil Well That Hasn't Stopped Pumping Yet
About 70 miles north of Pittsburgh, a pothole-pocked dirt road along the side of ...
More News By Topic...