Welcome to PeakOil.com, an online community exploring oil depletion.
Record radiation levels from the Fukushima power plant were found off the coast of Southern California. Radioactive cesium was measured  on a beach between San Diego and Los Angelos. The nuclear waste was detected in early April 2015, meaning toxic levels of radiation have been plaguing the West Coast since early spring. Approximately 8.4 becquerels per cubic meter of radioactive cesium was detected off the coast of Del Mar, California, which is located 15 miles north of San Diego and 100 miles south of Los Angeles. Woods Hole, the country's oldest marine aquarium, also detected radioactive waste from the Fukushima plant along the shoreline of North America in Ucluelet, Canada, which is about 1,200 miles north of Del Mar.(1,2) Approximately 7.2 becquerels per cubic meter of Cesium-134 and Cesium-137 was measured in a Ucluelet in February. Cesium-137 is a lethal radioactive isotope, ...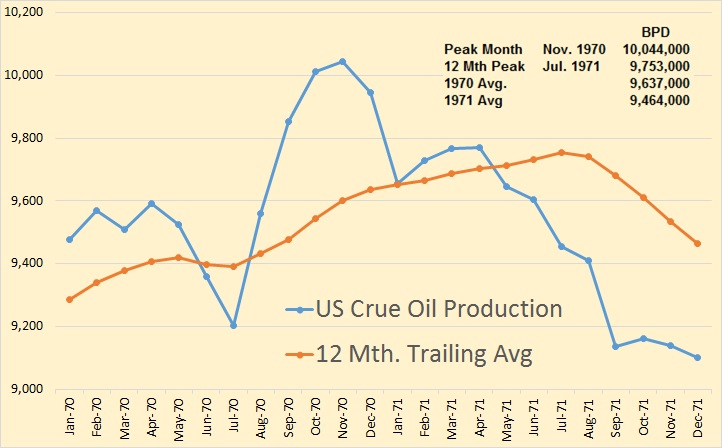 The EIA's Monthly Energy Review came out a couple of days ago. The data is in thousand barrels per day and the last data point is July 2015. US consumption of total liquids, or as the EIA calls it, petroleum products supplied, reached 20,000,000 barrels per day for the first time since February of 2008. Something I never noticed before, consumption started to drop in January 2008, seven months before the price, along with world production, started to drop in August 2008. This had to be a price driven decline. Could the current June and July increase in consumption be price driven also? US Production was down 96,000 barrels per day in July to 9,503,000 bpd. That is 190,000 bpd below the March level of 9,693,000 bpd. Here is what the last 50 years of US production looks like. The peak was in 1970 or ...
An air strike by warplanes from a Saudi-led coalition, which said it targeted a bomb-making factory, killed 36 civilians working at a bottling plant in the northern Yemeni province of Hajjah on Sunday, residents said. In another air raid on the capital Sanaa, residents said four civilians were killed when a bomb hit their house near a military base in the south of the city. The attacks were the latest in an air campaign launched in March by an alliance made up mainly of Gulf Arab states in support of the exiled government in its fight against Houthi forces allied to Iran. "The process of recovering the bodies is finished now. The corpses of 36 workers, many of them burnt or in pieces, were pulled out after an air strike hit the plant this morning," resident Issa Ahmed told Reuters by phone from ...
`Super giant' gas field may hold 30 trillion cubic feet Eni is sole operator of concession in Egypt's Shorouk block Eni SpA discovered a "super giant" natural gas field offshore Egypt in what the Italian oil company said is the largest find in the Mediterranean Sea. The deep-water deposit in the Zohr Prospect in the Shorouk block may hold 30 trillion cubic feet of gas, equivalent to 5.5 billion barrels of oil, Eni said in an e-mailed statement Sunday. Eni, which wholly owns the license for Shorouk, said the discovery validates its strategy of exploring mature areas. Egypt's petroleum ministry confirmed the discovery in a separate statement. "Egypt has still great potential," Claudio Descalzi, the company's chief executive officer, said in the statement. "This historic discovery" will transform the energy industry in Egypt, he said. International oil and gas companies are seeking new deposits as ...
The smartest insight and analysis, from all perspectives, rounded up from around the web: "The oil industry, with its history of booms and busts, is in a new downturn," said Clifford Krauss at The New York Times. The price of oil closed under $40 a barrel this week for the first time since 2009, a 60 percent plunge from its peak last year. The explanation "boils down to the simple economics of supply and demand." The world is awash in crude, with U.S. oil production doubling over the past six years. Meanwhile, the economic slowdown in China, the world's largest oil importer, and sluggish growth in other developing countries are crippling demand. There's no end in sight for the global oil glut, said Russell Gold at The Wall Street Journal. Lower prices mean even more pressure on oil-producing countries to pump ...
A fire swept through an oil workers' residential compound in Saudi Arabia on Sunday, killing 11 people and injuring over 200 others of various nationalities, some critically, the Civil Defence agency said. Saudi national oil company Saudi Aramco [SDABO.UL] said the cause of the fire which broke out in a basement of the Radium residential compound in Khobar was not known. "At 05:45 today a fire was reported in the basement of the Radium residential compound in Al Khobar which is leased by Saudi Aramco for its employees," Aramco said in a statement. The Civil Defence Department said on its Twitter account that at 11 people have died while at least 219 people were injured, some of them seriously. "Cars and furniture caught fire in the basement of one of the towers, heavy smoke bellowed, obstructing rescue and firefighting operations," the Civil Defence said ...
Streamed live on Aug 23, 2015 Economics at the end of the Age of Oil
William Lee of Citi Economic Research discusses the role oil is playing in market volatility and the global economy. He speaks on "Bloomberg Surveillance."
THERE comes a time when any self-respecting cartel boss has to focus on protecting his turf. Saudi Arabia has spent the past nine months fighting to safeguard its share of the global oil market, increasing its own crude production to record highs. That exasperates its weaker OPEC partners. It also seems utterly self-defeating, especially after world oil prices plunged below $45 a barrel on August 24th, a six-and-a half year low. Some say its folly is attempting to fight an unwinnable war against American "frackers". But its eye may be more on local Shia-led rivals, Iraq and Iran. On August 23rd OPEC-member Iran echoed the frustrations previously aired by Algeria and said it would welcome—or "not disagree with"—an emergency meeting of the producers' cartel to shore up prices. Yet two days later Bijan Zanganeh, its oil minister, outlined plans, once nuclear-related ...
Any more trading for butter? Closed. It was the mid 90s, but the CME floor was vibrant. There was a recent scandal where the FBI found nearly nothing by wearing wires and trading horribly in the currency pits. They were trying to bust independent traders by showing how they were manipulating the markets. It seemed too good to be true that a bunch of yahoos could stand around a pit trading against the best currency in the world and making other countries sweat about what the final price of the day was to measure their foreign reserves. Big Guv had it all wrong. Those traders were only following the lead of whatever policy the United States was doling out. Sure Nixon would have been proud that somewhere up there was someone who knew it was another's fault. Well as oil prices are ...
Secretive fusion company claims reactor breakthrough
In a suburban industrial park south of Los Angeles, researchers have taken a significant ...
Forget oil glut and war. Water is real threat for Mideast
Thirst. It's not talked about nearly as much as oil or Islamic State, yet lack ...
Lies You Will Hear As The Economic Collapse Progresses
It is undeniable; the final collapse triggers are upon us, triggers alternative economists have ...
The Anthropocene and Ozymandias
Much has been made lately of the so-called Anthropocene — the idea that Homo ...
More News By Topic...