Welcome to PeakOil.com, an online community exploring oil depletion.
This is extraordinary. Remember all those dire things that were supposed to happen when Peak Oil hit? All the stuff in The Long Emrgency? Cars queuing up for miles to buy petrol, public transportation jacking up rates, cell phones not working, banks closing their doors, planes grounded for lack of fuel, supermarkets stripped bare, scalpers selling gas in jerry-cans, factories shutting down, stations going off the air, people losing their jobs, political disorder, human sacrifice, dogs and cats living together, mass hysteria... Turns out all of it is happening...In Nigeria: Nigeria is facing a prolonged fuel-supply crisis that is taking a severe toll on the country's economy, living conditions, and basic services, reports say. The shortage in Africa's leading oil producer has forced an increasing number of drivers in Lagos to stop using their personal vehicles, but prices for commuters on public transport ...
Iraq is taking OPEC's strategy to defend its share of the global oil market to a new level. The nation plans to boost crude exports by about 26 percent to a record 3.75 million barrels a day next month, according to shipping programs, signaling an escalation of OPEC strategy to undercut U.S. shale drillers in the current market rout. The additional Iraqi oil is equal to about 800,000 barrels a day, or more than comes from OPEC member Qatar. The rest of the Organization of Petroleum Exporting Countries is expected to rubber stamp its policy to maintain output levels at a meeting on June 5. While shipping schedules aren't a promise of future production, they are indicative of what may come. The following chart graphs planned tanker loadings (in red) against exports. As in previous months, Iraq might not hit its June target ...
Peak Oil: Gas Prices, Supply Depletion & Energy Crisis
I sometimes tell my students that I am an 'apocaloptimist'. While, in truth, I am neither apocalyptic nor optimistic, this neologism serves as a fruitful conversation starter. It allows me to begin stating the case for why we, the human species, are facing overlapping crises of unprecedented magnitude – crises that are threatening the very persistence of our civilisation. At the same time, I explain why all of these problems are of our own making and, indeed, that their solutions already exist and are within our grasp, if only we decide that solving them is seriously what we want. I also maintain that the process of solving or at least responding appropriately to these problems can be both meaningful and fulfilling, if only we are prepared to let go of dominant conceptions of the good life. This means embracing very ...
The world population is growing because the birth rate exceeds the death rate, so to stabilize the world population either the birth rate needs to drop, or the death rate needs to increase. The most cited reference for population studies is the projections of future population (PDF) made by the Population Division of the United Nations. The UN report projects the world population to eventually stabilize as a result of countries settling in to a birth rate that falls around the replacement level. A commentary by Stephen Warren in the open access journal Earth's Future takes the UN report to task for focusing on birth rate. He notes that all species generate offspring in numbers well above the replacement level of two, but you don't see historically the kind of population growth like you do with humans. He argues ...
Crude oil futures rose on Monday as firm global demand offset a strong dollar, although a holiday in the United States and much of Europe kept trading muted. Front-month Brent crude <LCOc1> gained 53 cents to $65.90 a barrel by 1750 GMT (01:50 p.m. EDT), after touching an intraday low of $64.72. U.S. crude <CLc1> was up 8 cents at $59.80 a barrel. The market drew support from figures showing strong demand across Asia and the United States. "Global oil demand continues to surprise to the upside, with April data showing no signs of slowdown despite a pick-up in prices," Energy Aspects said in a note. Japan's customs-cleared crude oil imports rose 9.1 percent year-on-year to 3.62 million barrels per day (bpd) in April, the Finance Ministry said. In China, crude imports hit a record 7.4 million bpd last month, with healthy car sales countering a slowing economy. In the United States, the peak summer driving season ...
Cuba is an unusual country for quite a few reasons: The United States has had an embargo against Cuba since 1960, but there has recently been an announcement that the US will begin to normalize diplomatic relations. The leader of Cuba between 1959 and 2008 was Fidel Castro. Fidel Castro is a controversial figure, with some viewing him is a dictator who nationalized property of foreign citizens without compensation. Citizens of Cuba seem to view him as more of as a Robin Hood figure, who helped the poor by bringing healthcare and education to all, equalizing wages, and building many concrete block homes for people who had only lived in huts previously. If we compare Cuba to its nearest neighbors Haiti and Dominican Republic (both of which were also former sugar growing colonies of European countries), we find that Cuba is doing substantially better ...
Low oil prices are endangering an increasing number of exploration and production companies. According to a new report from Moody's Investors Service, the oil and gas industry could see the rate of defaults rise over the next year. The companies in danger of going belly up, not surprisingly, are the ones that already have low credit ratings. Moody's finds that the default rate for oil drillers with a credit rating of B2 or lower could jump from 2.7% to 7.4% by March 2016. Moreover, distressed oil companies make up a rising share of overall firms with a poor credit rating – roughly 14.8% of the companies with a B3 credit rating or worse covered by Moody's are in oil and gas. That is up sharply from the 8% share that oil firms accounted for in 2014. The credit ratings agency also said that ...
On April 26 Russia's main national TV station, Rossiya 1, featured President Vladimir Putin in a documentary to the Russian people on the events of the recent period including the annexation of Crimea, the US coup d'etat in Ukraine, and the general state of relations with the United States and the EU. His words were frank. And in the middle of his remarks the Russian former KGB chief dropped a political bombshell that was known by Russian intelligence two decades ago. Putin stated bluntly that in his view the West would only be content in having a Russia weak, suffering and begging from the West, something clearly the Russian character is not disposed to. Then a short way into his remarks, the Russian President stated for the first time publicly something that Russian intelligence has known for almost two decades but ...
The general in charge of Iran's paramilitary activities in the Middle East said the United States and other powers were failing to confront Islamic State, and only Iran was committed to the task, a news agency on Monday reported. Major General Qassem Soleimani, commander of the elite Quds Force responsible for protecting the Islamic Republic's interests abroad, has become a familiar face on the battlefields of Iraq, where he often outranks local commanders. "Today, in the fight against this dangerous phenomenon, nobody is present except Iran," the Tasnim news agency quoted Soleimani as saying on Sunday in reference to Islamic State. Iran should help countries suffering at the hands of Islamic State, said Soleimani, whose force is part of Iran's Islamic Revolutionary Guards Corps (IRGC), Mehr news agency reported. The Sunni militant group has taken key cities in Iraq and Syria in the past ...
The world is drowning in debt
The world is sinking under too much debt and an ageing global population means ...
Saudi Arabia rewrites its oil game with refining might
Saudi Arabia's rapid transition into one of the world's largest oil refiners adds an ...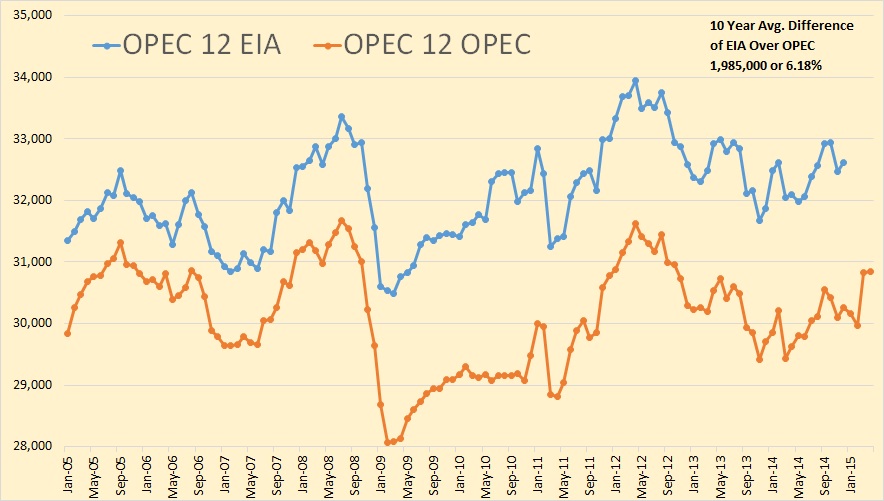 OPEC according to the EIA
OPEC publishes monthly production data for all OPEC nations in their Monthly Oil Market ...
Kunstler: Yesterday's Tomorrowland
America takes pause on a big holiday weekend requiring little in the way of ...
More News By Topic...