Welcome to PeakOil.com, an online community exploring oil depletion.
U.S. natural gas production will increase by 10 percent this year alone and by as much as 60 percent by 2037, a new report from IHS Markit has forecast. The market research company is extremely upbeat about U.S. gas because of the shale gas revolution, seeing the country becoming a leading LNG exporter thanks to this revolution as well. Besides production, IHS analysts also raised their estimates of gas supply in the United States that is economical at prices below the US$4 per MMBtu Henry Hub benchmark price—from 900 trillion cubic feet in 2010 to 1,250 trillion cubic feet. Thanks to this consistent cost decline, IHS expects natural gas to come to account for almost half of power generation in the country by 2040, from about 42 percent today. To date, the U.S. produces around 81 billion cubic feet of natural gas ...
According to the U.S. Energy Information Administration, natural gas prices at trading points around the Appalachia region have generally increased in the past three years relative to the benchmark Henry Hub in Louisiana, even as production in that area reached new highs. Natural gas production in the Appalachia region averaged 22 billion cubic feet per day (Bcf/d) in 2017, an increase of 25% from 2015 average levels. Latest data indicate that production has continued to increase, with production in the Marcellus and Utica plays reaching 25 Bcf/d in March 2018. Higher prices and production are mainly driven by the increased pipeline takeaway capacity from the Appalachia region. Spot prices at market trading hubs in the Marcellus and Utica plays increased even as production growth has continued. During winter 2017–18 (October 2017 to March 2018), the price at the Dominion South Hub ...
OPEC meets in Vienna on Friday in a final effort to overcome Iranian opposition to a preliminary agreement to boost production by a theoretical 1 million barrels a day -- although the actual increase would be smaller as several countries are unable to raise output. Following night of drama in Vienna on Thursday, the Joint Ministerial Monitoring Committee, which includes Russia and Saudi Arabia, recommended a supply boost despite Bijan Namdar Zanganeh, the Iranian oil minister, walking out of the meeting and predicting OPEC won't convince him to back an increase. He met with his Saudi counterpart for private talks on Friday morning before the full OPEC meeting, said one delegate. Bijan Namdar Zanganeh on June 22. Photographer: Stefan Wermuth/Bloomberg Iran could wield a veto over any formal deal, but such a move wouldn't necessarily prevent additional oil coming onto the market. Riyadh could ...
The degree to which the perception of quality of West Texas Intermediate crude oil influences price was on display Wednesday in the form of the following crude value indication given to S&P Global Platts: WTI Midland at Cushing, Oklahoma, is worth 90 cents/b more than WTI at Cushing. If that sounds confusing, it is, and let me explain. West Texas Intermediate is the flagship US grade of oil produced in the Permian Basins of West Texas and transported by pipe, rail and truck to refiners near and far (like India far). The value of WTI at Cushing, Oklahoma, is the most commonly accepted benchmark for crude sales in the Americas for varying types of crude oil produced onshore and offshore in the US. It's called "Cash WTI." WTI at Cushing also forms the backbone of the de facto North American crude oil futures ...
BP recently published energy data through December 31, 2017, in its Statistical Review of World Energy 2018. The following are a few points we observe, looking at the data: [1] The world is making limited progress toward moving away from fossil fuels. The two bands that top fossil fuels that are relatively easy to see are nuclear electric power and hydroelectricity. Solar, wind, and "geothermal, biomass, and other" are small quantities at the top that are hard to distinguish. Figure 1. World energy consumption divided between fossil fuels and non-fossil fuel energy sources, based on data from BP 2018 Statistical Review of World Energy 2018. Wind provided 1.9% of total energy supplies in 2017; solar provided 0.7% of total energy supplies. Fossil fuels provided 85% of energy supplies in 2017. We are moving away from fossil fuels, but not quickly. Of the 252 million tons of oil ...
Chinese oil buyers will keep taking crude from the United States through September, but plan to reduce future purchases to avoid a likely import tariff amid a trade spat between the world's two largest economies, multiple industry sources said. FILE PHOTO: The company logo of China's Sinopec Corp is displayed at a news conference in Hong Kong, China March 26, 2018. REUTERS/Bobby Yip/File Photo Beijing has put U.S. energy products, including crude oil and refined products, on lists of goods that it will hit with import taxes in retaliation for similar moves by Washington. Beijing did not specify when it will impose a 25 percent tax on oil, and that gives buyers time to adjust purchases while waiting for the outcome of trade talks, the sources said. Unipec, trading arm of Sinopec - Asia's largest refiner and biggest buyer of U.S. oil - has ...
OPEC agreed on Friday on a modest increase in oil production from July after its leader Saudi Arabia persuaded arch-rival Iran to cooperate amid calls from major consumers to help reduce the price of crude and avoid a supply shortage. Two OPEC sources said the group agreed that OPEC and its allies led by Russia should increase production by about 1 million barrels per day (bpd), or 1 percent of global supply. The real increase will be smaller because several countries that recently underproduced oil will struggle to return to full quotas while other producers will not be allowed to fill the gap, OPEC sources have said. The United States, China and India had urged OPEC to release more supply to prevent an oil deficit that would hurt the global economy. Saudi Arabia and Russia said they were happy to pump more but Iran had criticised the idea as ...
A few weeks ago, a woman — a prominent media consultant — and her two daughters were shopping at the upscale Kingdom Center mall here. Her daughters, both in their early 20s, had their heads covered on this shopping trip. Hers was not. At the approach of members of the Saudi religious police, whose official mission is to promote virtue and prevent vice, she reached for her head scarf. She did not, however, put it on. Enough already, she thought. "Cover your head!" the agents ordered her. "No." "Well," they muttered, "may God protect you." With that, the bearded enforcers limped away. They used to descend on stores that sell the shapeless black gowns called abayas imposed on Saudi women, scoop up those with any adornment — a trace of color, beads — and burn them. No longer: These once-feared upholders of a puritanical Islamic ...
My wife Janet and I recently bought a used Nissan Leaf from a friend. We are now proud electric vehicle (EV) owners, and we love our plug-in, battery-powered car: some days we almost fight over who gets to drive it. If this essay were a consumer review, it would glow in the dark. The car is quiet, built solidly, cheap to operate, problem free, and nearly guilt free. But a testimonial is not what I have in mind. I now have a personal stake in the EV transport revolution, which is key to the post-hydrocarbon energy transition, which in turn is key to collectively surviving climate change and oil depletion. A lot of hope is riding on the wheels of the world's three million electric cars. So, how's the EV revolution going? And even if it's going well, is it really ...
With the most highly-anticipated OPEC meeting since November 2014 taking place Friday in Vienna, Macrovoices host Erik Townsend made this week's podcast all about oil. He started his three-part interview series with Dr. Ellen Wald, the author of "Saudi Inc.", a book about Aramco. During their discussion, Wald shares what she learned about the Kingdom of Saudi Arabia and - most importantly - how the royals view both Aramco and the oil market. This perspective is important, she explains, in interpreting why former Saudi energy minister Ali Al Naimi made the infamous decision back in November 2014 to keep OPEC oil production targets unchanged. That decision precipitated another leg lower in oil prices, eventually sending them to $30 a barrel. Many observers criticized the Saudis for shooting themselves in the foot by standing against production cuts. But the one thing ...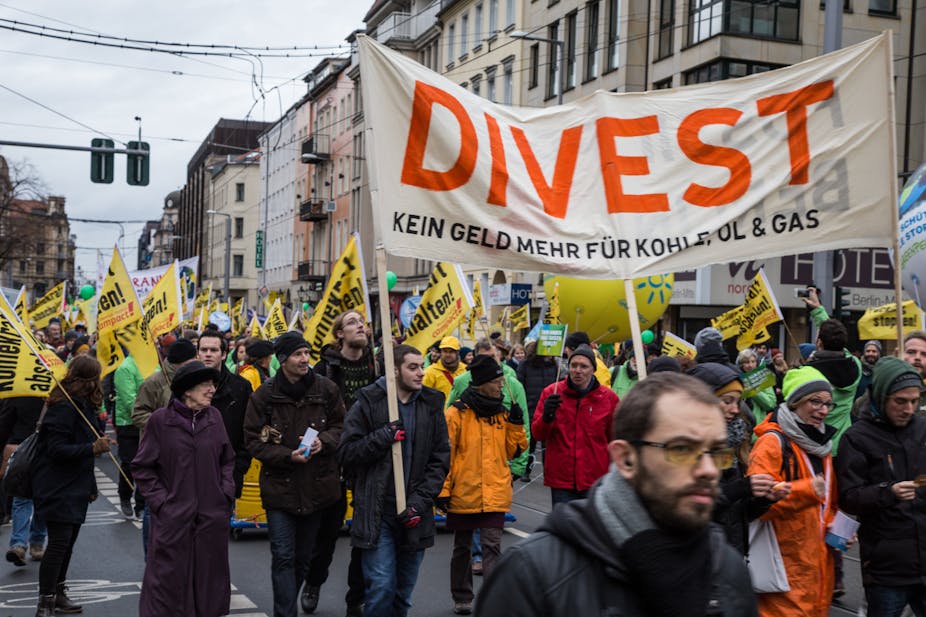 How $6 Trillion of Fossil Fuel Investments Got Dumped Thanks to Green Campaigners
It has become one of the fastest growing political campaigns in human history, surpassing ...
Pioneer Chairman Says Permian Faces Shut Ins on Pipe Shortage
The biggest U.S. shale region will have to shut wells within four months because ...
What Happens If All The Oil Just Disappears?
Crude oil, or petroleum, is made of decaying organic matter which has been trapped ...
Peak Oil? What Peak Oil?
I assume this had something to do with the Bakken revolution. Under the Hubbert peak ...
More News By Topic...