Welcome to PeakOil.com, an online community exploring oil depletion.
NIGERIA suffered a major power cut on the first day of its World Cup campaign, according to local reports. The power grid melt down came on the same day the national team played Croatia in its first fixture. AP:Associated Press 3 Nigeria has suffered a nationwide power cut after millions watched their national team play Croatia at the World Cup The Super Eagles lost 2-0 on the day, but millions turned out to watch the game. An own goal from new Stoke recruit Oghenakaro Etobo, and a spot kick from Luka Modric were enough to break hearts in Africa. But many fans would have been spared the agonising loss - as the power went out across swathes of the nation. Local media reported a total collapse of "all the nation's power plants." The report said: "A top executive of one of the nation's electricity distribution companies, told our correspondent on condition of ...
There is absolutely no doubt that the next Opec ministerial meeting this week will pit Saudi Arabia and its Gulf allies against Iraq, Iran and Venezuela, three founder members of the oil exporters organisation. Saudi Arabia has increased its production 140,000 barrels a day above its 10.058 MBD output ceiling in the pact the kingdom had brokered between the Opec, Russia and non-Opec oil producers. There has been a significant shift in Saudi oil policy since early May and the kingdom wants to increase output to bring down oil prices, probably in response to pressure from the Trump White House. Saudi Arabia has always seen that oil price spirals that could cause global recession and decimate demand for its sole major export commodity. Russia has also increased its oil production in May to almost 11 million barrels a day, in response ...
You may not realize it, but as you read this you are probably surrounded by the most important artificial material ever invented. Is there a floor beneath you, walls around, a roof overhead? Chances are excellent they are made at least partly out of this astonishingly underappreciated material: concrete. To most people, concrete is just the ugly stuff used to pave paradise and put up a parking lot. But concrete is an invention as transformative as fire or electricity. Since it came into widespread use around the turn of the 20th century, this man-made stone has changed where and how billions of people live, work and move around. It is the skeleton of almost every apartment block and shopping mall and of most of the roads connecting them. It gives us the power to dam enormous rivers, erect buildings of Olympian ...
Rosneft PJSC's said crude at $70 to 80 a barrel was a "comfortable level" and expressed satisfaction with the results of Russia's joint supply cuts with OPEC, just a week before talks that could phase them out. The producers working together have "restored balance to the market by cutting oil production," Russia's biggest oil company said in a statement Friday, citing comments its Chief Executive Officer Igor Sechin made at a meeting in Moscow on Thursday with Saudi Arabia's energy minister. "The growth in Brent crude prices to a comfortable level of $70 to $80 per barrel is a result with which we are fully satisfied," Sechin was quoted as saying. The CEO, a close ally of Russian President Vladimir Putin, had last year questioned the wisdom of prolonging production when oil prices were closer to $60. Russia will join OPEC and other ...
For Americans, rising oil prices are threatening $3-a-gallon gasoline and pushing up prices for plane tickets. In many other parts of the world, today's crude rally is more painful—sparking protests, gas lines and emergency subsidies to quell unrest. That is because many consumers outside the U.S. face a double whammy when—like now—the dollar gets stronger at the same time that oil prices rise. While petroleum is produced all over the globe, when it is sold to refiners and other buyers it is almost always priced in dollars. It is, in the words of Brazilian Finance Minister Eduardo Guardia, "a challenging external scenario." Trucks sit idle in Brasília during the May strike; President Michel Temer eventually promised truckers $3 billion in diesel-fuel subsides and tax cuts. Photo: Eraldo Peres/Associated Press After Brazil's military brought an end to a crippling strike by truck ...
Saudi Arabia may have gotten blown out by Russia during its first match at the World Cup, but there seems to be no hard feelings between Crown Prince Mohammed bin Salman and Vladimir Putin. The two leaders met this past week as the Russian national soccer team clobbered Saudi Arabia 5-0 in Moscow. It appears both have agreed to cement the cornerstone of an already deepening energy and economic relationship, even as they look to alter a successful oil production deal that brought them together. On Friday, Russia's energy ministry said it has reached a general consensus with Saudi Arabia that its newfound relationship with the Organization of Petroleum Exporting Countries (OPEC) should be "institutionalized," and be extended to monitor the market and take action if needed. OPEC will meet this upcoming Friday, and then with Russia and other non-OPEC members after ...
Après moi, le déluge ~ King Louis XV of France A hard rain's a-gonna fall ~ Bob Dylan (the first) As the Federal Reserve kicked off its second round of quantitative easing in the aftermath of the Great Financial Crisis, hedge fund manager David Tepper predicted that nearly all assets would rise tremendously in response. "The Fed just announced we want economic growth, and we don't care if there's inflation... have they ever said that before?" He then famously uttered the line "You gotta love a put", referring to the Fed's declared willingness to print $trillions to backstop the economy and financial makets. Nine years later we see that Tepper was right, likely even more so than he realized at the time. The other world central banks followed the Fed's lead. Mario Draghi of the ECB declared a similar "whatever it takes" policy and has printed nearly $3.5 trillion in just the ...
Of all the problems of the world one that is of serious concern is the population explosion which is increasing beyond control. What will be the fate of human beings if this trend goes on relentlessly whereas the productive capacity of the planet earth is getting limited to feed them. The poor poverty-stricken people of the third world less-developed countries, too much poor and illiterate dying from hunger and diseases, are the ones mostly affected by over-population. They are deprived from basic necessities of life. Growth The world population in 1950 was barely 2.5 billion which has now tripled to 7.5 billion over the period of almost three decades. It may shoot up to billions more by the end of the twenty first century. The world would face a tremendous situation if corrective measures like family planning and such restrictive methods are ...
Oil prices are in a holding pattern as we await the outcome of the OPEC+ meeting in a few days, and while the result of that meeting will almost completely control the direction of oil prices in the near-term, there is a bit of disagreement among analysts over the bigger picture in regards to the trajectory of oil prices going forward. So, let's take a look at two different outlooks, one bearish and the other bullish. The bearish case Oil prices have fallen back from $80 per barrel, the direct result of the market recalibrating to the likelihood of higher OPEC+ production in the second half of the year. Indeed, the single largest factor that could push prices down going forward would be a sizable increase in OPEC+ supply. However, OPEC and Russia are not the only factors at play. A few other factors ...
Energy dominance carries its own backlash, it turns out. Ground zero is the Permian basin in west Texas, where oil production has run ahead of pipeline capacity to get it to market, forcing some U.S. barrels to price at wide discounts. Thankfully, new pipelines should fix the problem by early 2020. Apparently, though, the futures market is less convinced about that last bit. Stuck in The Future The discount in U.S. versus international barrels narrows a bit in contracts past 2019, but not by much -- implying continued logistical constraints Source: Bloomberg Note: Yearly averages. Figure for 2018 is for August through December contracts. This looks odd. There is about 3.1 million barrels-a-day of pipeline capacity to take crude oil out of the Permian basin versus production of about 3.3 million a day, according to Bloomberg Intelligence. Hence the problem. By early 2020, though, new pipelines ...
Irv Mills: My Peak Oil Journey
For some time now I been intending to do a post about "My Peak ...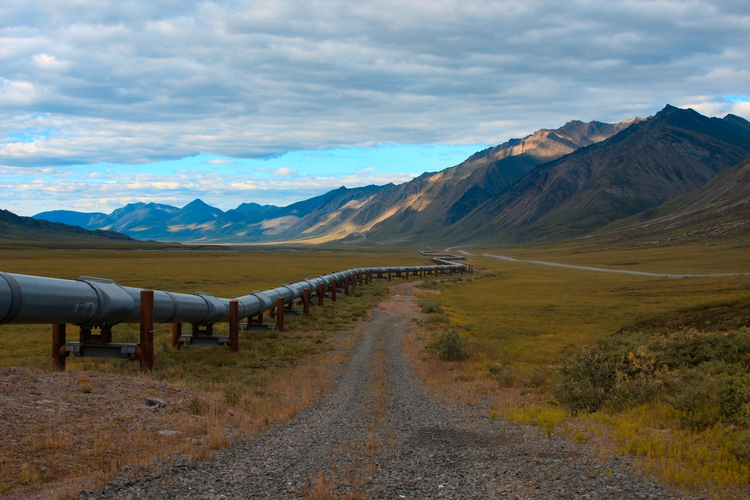 A Closer Look at Drilling the ANWR
The passage of Public Law 115-97 in December 2017 required the U.S. Secretary of ...
It's a 'Toxic World'
After hearing Grantham Mayo Van Otterloo co-founder Jeremy Grantham's keynote on Tuesday at the ...
Permian, Marcellus & Utica to Supply 55% of N. American Gas by 2030
The Permian, Marcellus and Utica shale plays will supply 55 percent of the North ...
More News By Topic...