Welcome to PeakOil.com, an online community exploring oil depletion.
Researchers published a new study making the shockingly apocalyptic claim that nearly one-fifth of the world's population will be forced from their due to man-made global warming. The study estimates there could be 2 billion "climate change refugees" by the year 2100 if nothing is done to reduce greenhouse gas emissions. It's a worst-case scenario for global warming, the study claims. "The future rise in global mean sea level probably won't be gradual," Cornell University ecologist Charles Geisler, the study's lead author, said in a statement. "Yet few policy makers are taking stock of the significant barriers to entry that coastal climate refugees, like other refugees, will encounter when they migrate to higher ground." Geilser's study is just the latest to predict waves of refugees from rising sea levels and more frequent and stronger extreme weather events — all allegedly caused by global ...
Investor bets against the oil price are piling up at breakneck speed, the market is still buckling under the weight of excess supply for a third year in a row, but has bearish sentiment got out of hand? The price of a barrel of oil has dropped nearly 20 percent between January and June and is closing in on its largest slide in the first half of any year in the last 20 years. Geopolitical tensions in the Middle East, a near-2 million barrel per day cut in output by the world's largest producers and the seasonally strong summer demand period in full swing have not been enough to rescue the price from its lowest level in seven months. A bear market is theoretically defined by an asset price falling by 20 percent or more from a peak, a box the oil price ...
Heritage pigs stand in a pen at the Stone Barns farm in Pocantico Hills, New York, U.S., on Friday, April 21, 2017. Photographer: Cole Wilson/Bloomberg Proponents of a new strain of the always-tiresome, never-correct "Peak Oil" theory have returned to the public discourse , this time with a new theory coming from the other side of the crude oil supply/demand equation. Prior iterations of "Peak Oil" theory - which noted author Daniel Yergin traces all the way back to the 1880s, when alarmists claimed that oil would never be discovered anywhere west of the Mississippi River (Texas, Oklahoma, North Dakota, Louisiana, Wyoming, Colorado, Utah, New Mexico, Montana, Kansas, California and Alaska beg to differ) - have always focused on supply.  According to "Peak Oil" theorists down through the decades, oil production has constantly been at or near its "peak", and the ...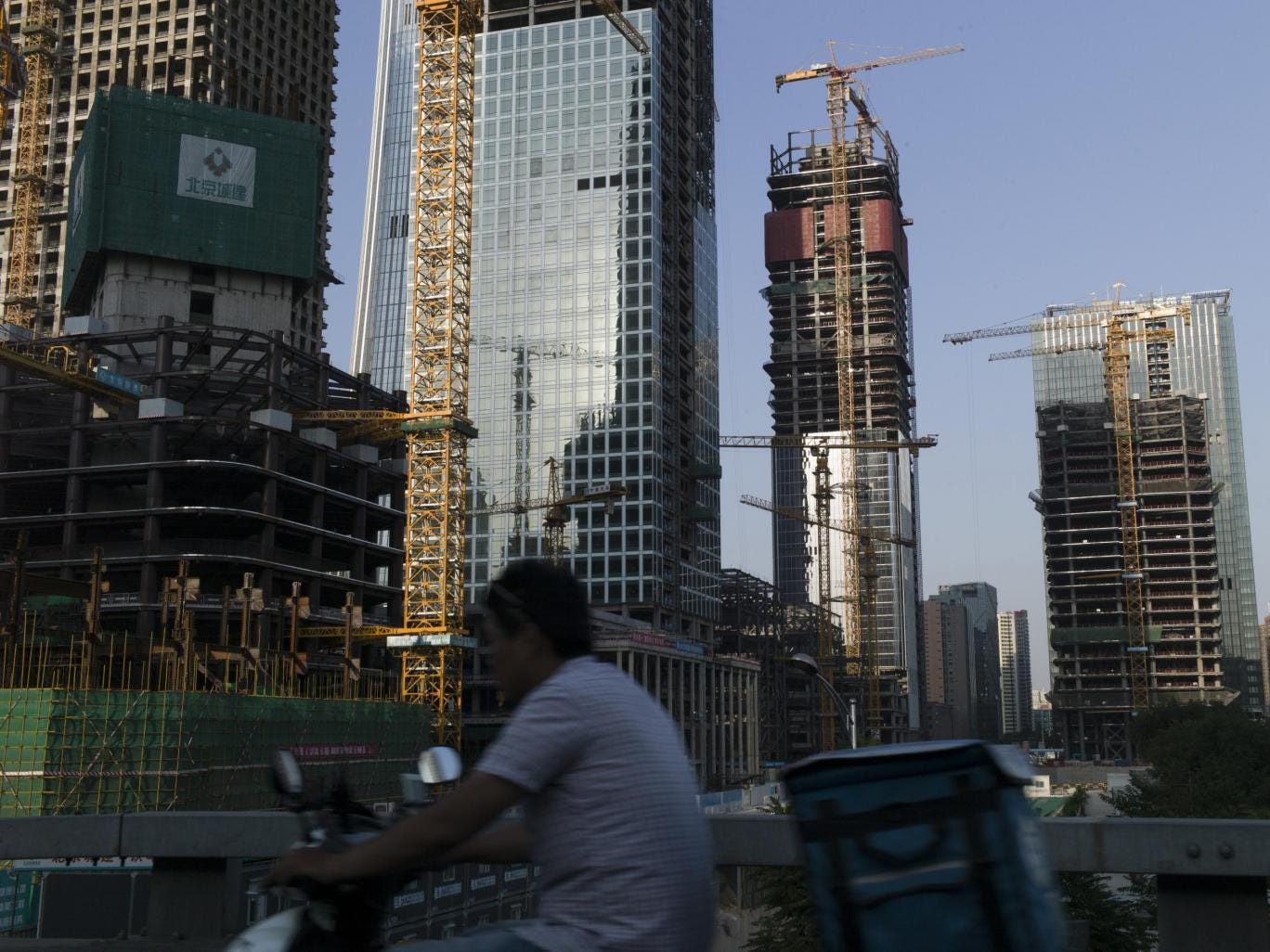 A new financial crisis is brewing in the emerging economies and it could hit "with a vengeance", an influential group of central bankers has warned. Emerging markets such as China are showing the same signs that their economies are overheating as the US and the UK demonstrated before the financial crisis of 2007-08, according to the annual report of the Bank for International Settlements (BIS). Claudio Borio, the head of the BIS monetary and economic department, said a new recession could come "with a vengeance" and "the end may come to resemble more closely a financial boom gone wrong". The BIS, which is sometimes known as the central bank for central banks and counts Bank of England Governor Mark Carney among its members, warned of trouble ahead for the world economy. It predicted that central banks would be forced to raise interest rates after years ...
Russia is reportedly recalling Ambassador Sergey Kislyak, the man who has emerged as a focal point in the FBI probe into Russia's election meddling. BuzzFeed News is citing three sources saying Russia is calling Kislyak back home. The Kremlin did not confirm to the news outlet when Kislyak would head back to Russia, but the US-Russia Business Council on July 11 will have a going away party for Kislyak at the St. Regis Hotel, the report said. Officials within the Trump administration, including Attorney General Jeff Sessions, former national security adviser Michael Flynn and White House senior adviser Jared Kushner, have come under scrutiny in recent months over undisclosed meetings or contacts they each had with Kislyak. The FBI is investigating whether those meetings were part of alleged collusion between the Trump campaign and Russian agents seeking to influence the 2016 election. The Hill
ExxonMobil and its peers risk blowing $2.3 trillion on oil projects that will not be needed if the world hits peak demand in the next decade. A new report from The Carbon Tracker Initiative analyzed what would happen if the oil market saw demand peak by 2025, a scenario that would be compatible with limiting global warming to just 2 degrees Celsius. The headline conclusion is that about one-third of the global oil industry's potential spending – or about $2.3 trillion – would not be needed. In other words, the oil industry is on track to waste a massive pile of money if demand peaks in less than ten years. Of course, the vulnerability to peak demand varies by company. Carbon Tracker surveyed 69 global oil and gas companies, and their exposures range from 10 to 60 percent of their potential spending. ...
Egyptian President Abdel Fattah al-Sisi has ratified a maritime demarcation agreement that sees the country cede sovereignty over two uninhabited Red Sea islands to Saudi Arabia, the government said on Saturday. The Red Sea islands deal has become political sensitive for Sisi, who counts on Saudi Arabia as a key ally, after the proposed agreement fueled widespread public criticism and street protests among Egyptians angered over national sovereignty. Egypt's parliament last week backed the plan that cedes control of Tiran and Sanafir islands to Saudi Arabia, but the deal has also become subject to a legal tussle between different courts over jurisdiction. "President Abdel Fattah al-Sisi has ratified the maritime demarcation agreement between the Arab Republic of Egypt and the Kingdom of Saudi Arabia," the cabinet said in a statement. This week the constitutional court chief temporarily suspended all court decisions on the agreement ...
A brief bibliography for the new series: 1) Anything I could find on small ground-unit tactics, including parts of the US Army field manuals and after-action reports from Australian, US, and British ground troops going back to the 1950s. In a few cases, the reports had a few lines about what it felt like to be there and vivid descriptions that helped me imagine (though I've never been in combat myself) what that might be like. Many thanks to those authors. 2) I admit that I'm no expert on weapons (I've fired a half-dozen, but that's about it), so online manuals and discussions have helped me appear (I hope) something other than a fool on the topic. Writer Eric T. Knight read Slashed to make sure I hadn't said something utterly stupid about the topic, and I'll continue to use my friends ...
The oil and gas industry is facing its "last cycle," according to consultancy Ernst & Young. What does that mean? It's a "time when energy abundance, driven by technology, creates a permanent oversupply that not only keeps prices low but also allows consumers to make new choices about their energy usage." In this new world, consumer perceptions are critical, writes E&Y in a new report. While most Americans still see fossil fuels playing an important role for decades to come, only about one in three trust the fossil industry -- and the younger the generation, the higher the distrust of the industry. Those are some of the top-level findings laid out in the report, the first in a series to explore U.S. consumer attitudes toward the oil and gas industries. It's based on polling of consumers of all ages, as well as oil and gas ...
When I think of the Democratic Party these days, the image instantly comes to mind of little Linda Blair playing the demon-possessed child in the classic horror movie, The Exorcist (1973), most particularly the scene in which she spews a stream of pea soup-like projectile vomit into the face of kindly old Max von Sydow, as Father Merrin, the priest come to rescue her. The pea soup represents the sort of ideology that the Democratic Party has spewed out in recent years — a toxic mush of racial identity politics, contempt for men, infantile entitlement tantrums, corporate whoring, and a demonic quest for war with the Russian Federation. Father Merrin, the priest, stands for incorruptible American men, who have been, at last, killed off by this barrage of diabolical idiocy. Can you think of a single figure in the Democratic faction who ...
Trump Calls for U.S. 'Dominance' in Global Energy Production
Donald Trump will tout surging U.S. exports of oil and natural gas during a ...
The Shale Revolution's Staggering Impact
When new parents in Rio de Janeiro buy baby food in plastic containers, they ...
Albert Bates: Concrete Solutions
"We want to take the atmosphere back to its pre-industrial chemistry as quickly as ...

OPEC Looks Totally Bewildered by the Oil Market
It may be too soon to write OPEC's obituary, but the oil producer club ...
More News By Topic...