Welcome to PeakOil.com, an online community exploring oil depletion.
The Caribbean accounts for seven of the world's top 36 water-stressed countries and Barbados is in the top ten. The Food and Agriculture Organisation (FAO) defines countries like Barbados, Antigua and Barbuda, and St. Kitts and Nevis as water-scarce with less than 1000 m3 freshwater resources per capita. With droughts becoming more seasonal in nature in the Caribbean, experts say agriculture is the most likely sector to be impacted, with serious economic and social consequences. Expensive, desalinated water resources are also becoming more important in the Caribbean, accounting for as much as 70 percent in Antigua and Barbuda. This is particularly important since the majority of Caribbean agriculture is rain fed. With irrigation use becoming more widespread in the Caribbean, countries' fresh-water supply will become increasingly important. In light of the dilemma faced by the region, the Caribbean Policy Development Centre (CPDC) is spearheading ...
We are entering a new age of American energy dominance according to Energy Secretary Rick Perry. President Trump reflected that view in comments he made last week that "…we've got underneath us more oil than anybody, and nobody knew it until five years ago." Trump was referring to tight oil production and today, that means the Permian basin. Global energy dominance by the United States is somewhere between aspirational and absurd. So far in 2017, the U.S. has imported more than 9 million barrels of crude oil per day, and net imports have averaged more than 7.3 million barrels per day. How exactly can the world's biggest importer of oil become the supplier upon which other countries depend? The recently released BP Statistical Review Of World Energy 2017 places the United States 10th in the global ranking of oil reserve holders between Libya and Nigeria (Figure 1). That's not bad but it hardly puts ...
Richard Heinberg joins Juliet Jacobs at BFM radio to discuss realistic avenues for transitioning to renewable energy, the environmental implications of economic growth, and how we can build more resiliency into the sustainability movement.  BFM Malaysia
A new study conducted by members of the U.S. military establishment has concluded that the U.S.-led international global order established after World War II is "fraying" and may even be "collapsing" as the U.S. continues to lose its position of "primacy" in world affairs. We're revolutionizing the news industry, but we need your help! Click here to get started. "In brief, the sta­tus quo that was hatched and nurtured by U.S. strategists after World War II and has for decades been the principal 'beat' for DoD is not merely fraying but may, in fact, be collapsing," the report states. The report, published in June by the U.S. Army War College's Strategic Studies Institute, evaluated the Department of Defense's (DOD) approach to risk assessment at all levels of Pentagon policy planning. The study was supported and sponsored by the U.S. Army's Strategic Plans and Policy Directorate; the Joint Staff, ...
Saudi Arabia has been progressively reducing its bloated domestic stocks of crude in a sign the global oil market is rebalancing, albeit more slowly than OPEC anticipated. Saudi Arabia's domestic crude stocks declined in 16 of the 19 months between November 2015 and May 2017 according to government data reported to the Joint Organisations Data Initiative (tmsnrt.rs/2uIi9dC). Domestic stocks fell to just 259 million barrels at the end of May 2017, which was the lowest level since January 2012, according to updated figures published on Tuesday. Stocks were down by 30 million barrels compared with the same month a year earlier and are now down by 71 million barrels from their peak in October 2015 (tmsnrt.rs/2ua1nmg). Like other producers, Saudi Arabia holds stocks for a range of reasons, including the need to cover field maintenance and manage seasonal changes in consumption and exports. Operational stocks ...
This is the second and final part of a recent conversation with Richard Heinberg by Greening the Apocalypse. Greening the Apocalypse is a weekly show on Melbourne's Triple R 102.7FM. Listen to the first part here.
The crisis of our age has many facets. All of them have their roots in the basic fact of our time, the head-on collision between the limitless economic growth our civilization demands and the hard limits of a finite planet. From that collision, in turn, come the drawdown of irreplaceable resources and the disruption of the biosphere, and from these unfold a cascade of disastrous consequences that can be read in today's headlines, and promise to make an even larger and less welcome contribution to tomorrow's. I've talked at length in my previous blogs about how those consequences can be expected to play out in the years ahead, and no doubt I'll discuss them at length in posts to come. Just at the moment, though, the facets of our time of crisis that fascinate me most are those that reach down ...
On Saturday, we reported that a leaked draft of Energy Secretary Rick Perry's grid study obtained by Bloomberg debunks his attack on renewable energy. ThinkProgress has now obtained a copy of that draft, and it has many more surprises — or, rather, findings that are fairly well known to energy experts but may come as an unpleasant surprise to Perry and the White House. For instance, a large fraction of America's aging fleet of coal and nuclear plants are simply not economic to operate anymore. The July draft, which ThinkProgress received from multiple sources, is here, so the public will be able to compare the final "politically-approved" version with the draft prepared by Department of Energy (DOE) staff. It is widely feared Perry's team of Trump appointees will simply erase the the study's inconvenient truths before it final report is released to the public. The release of the study has ...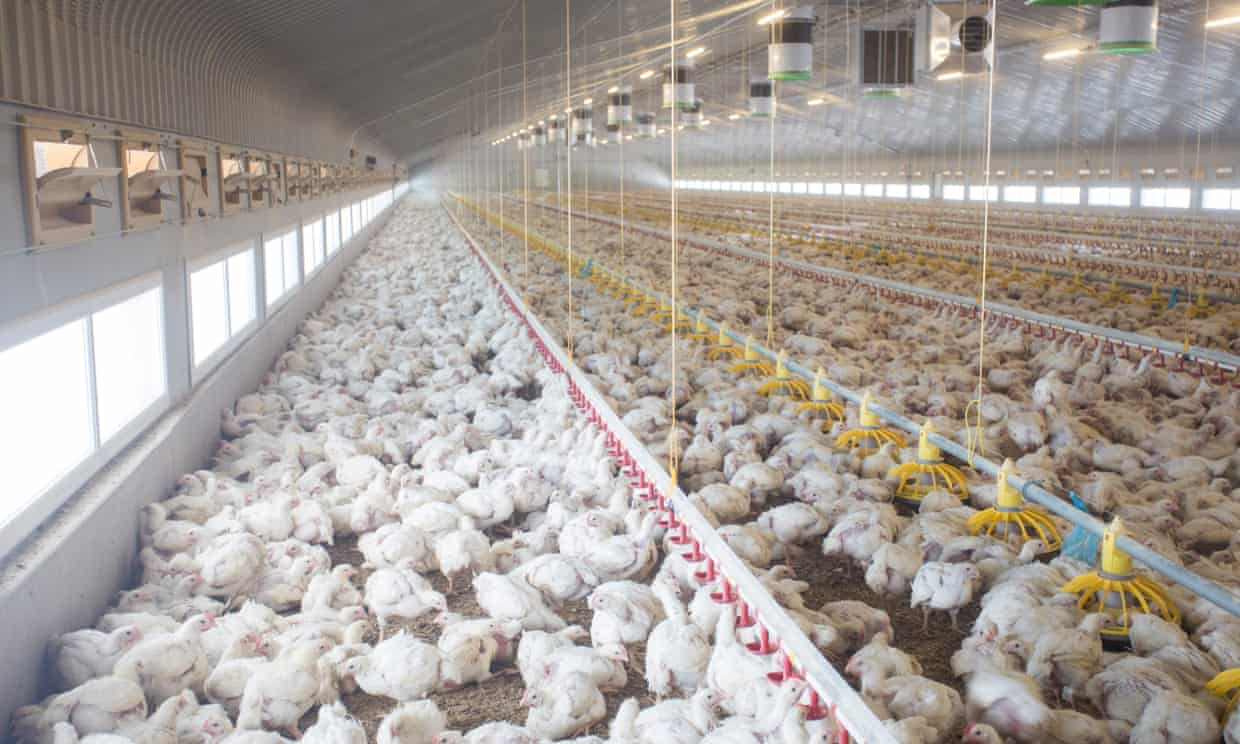 nce the days of the wild west frontier, the popular image of American farming has been of cowboys rounding up steers on wide open ranches, to whoops, whips and hollers. Today, the cowboys on their ranches under wide open skies have been replaced by vast sheds, hulking over the plains, housing tens of thousands of animals each, with the noises and smells spreading far beyond their fences. The US has led the world in large-scale farming, pioneering the use of intensive livestock rearing in hog farms, cattle sheds and sheep pens. There are now more than 50,000 facilities in the US classified as concentrated animal feeding operations (CAFOs), with another quarter of a million industrial-scale facilities below that threshold. Around the world, developing countries in particular were quick to catch up. Intensive farming of livestock offers many advantages over traditional open ranges, ...
There is simply no credible way to address climate change without changing the way we get from here to there, meaning cars, trucks, planes and any other gas-guzzling forms of transportation. That is why it is so heartening to see electric cars, considered curios for the rich or eccentric or both not that long ago, now entering the mainstream. A slew of recent announcements by researchers, auto companies and world leaders offer real promise. First up, a forecast by Bloomberg New Energy Finance said that electric cars would become cheaper than conventional cars without government subsidies between 2025 and 2030. At the same time, auto companies like Tesla, General Motors and Volvo are planning a slate of new models that they say will be not only more affordable but also more practical than earlier versions. And officials in such countries as ...
Are More Bankruptcies On The Way For US Oil?
Something that's been whispered about in the last few months is ...
What If Big Oil's Bet on Gas Is Wrong?
Talk to a Big Oil executive these days, and the chances are they'll steer ...
Earth's Economy Glorifies Waste, Exploitation, Debt, Expediency and Magical Thinking
Humanity appears to default to magical thinking when faced with untenable situations that demand ...
ISIS continues to sell oil because it's in somebody's interest
While the freefall of oil prices seems to have stopped for now, the inevitable ...
More News By Topic...