Welcome to PeakOil.com, an online community exploring oil depletion.
Saudi Arabia relies on oil exports for around half its revenues, but as low oil prices raise the country's deficit, non-oil economic growth has been slowing too. Bloomberg's Willem Marx reports on efforts by some Saudis to diversify the Kingdom's economy.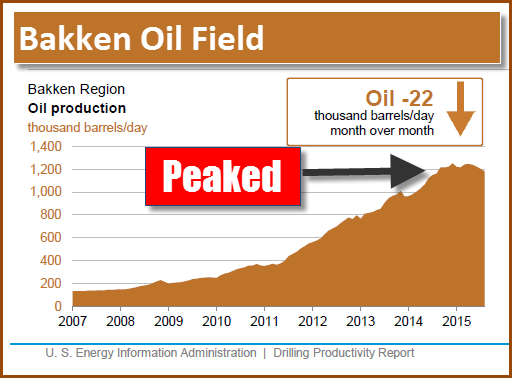 If you are a precious metals investor, you need to see this chart.  Matter-a-fact, this is the first time (to my knowledge) in the history of precious metals analysis that the information in this chart has been made public.  One look at this chart and the investor will see the the huge difference between the cost to produce the precious metals. In addition, the information in this chart will show why the peak of primary gold production will occur before the peak of primary silver production.  However, global silver production will likely peak soon after world gold production.  Thus, individuals understanding the difference, will likely enjoy a rewarding investment strategy most are currently unaware. As I have mentioned time and time again, ENERGY IS THE KEY to the value of the precious metals.  This goes well above and beyond the percentage of ...
Natural gas is easily Florida's main source of energy, offering up 1,300 Trillion Btu in 2014. Gas is 62% of Florida's power generation, compared to 47% in 2008, when the "shale revolution" really took off. Florida is unique in that power generation accounts for nearly 90% of the state's total natural gas demand, while the national average is 33%. Second place Florida uses around 3 Bcf/day to generate 145 billion kWh of gas-fired electricity, compared to Texas leading at 205 billion kWh and California third at 120 billion kWh. The "Sunshine State," however, is being criticized by environmental groups for such a dramatic shift to natural gas, despite the known cost and environmental advantages. Florida today has no wind power and solar accounts for less than 1% of the state's electricity. Natural gas provides 585 times more electricity in Florida than wind and ...
Just about everyone knows that crude oil and natural gas production in Texas has been on the increase for several years. But the size of the increase – especially in crude oil production – has been lost until just a few days ago when economist Karr Ingham told a gathering of reporters in Houston that he projects crude oil production will reach an all-time high in 2015, breaking the old record set in 1972. Ingham, speaking to roughly a dozen reporters in Houston on July 27, pointed out that the decline in oil price, drilling rig count, drilling permits, and well completions would strongly indicate that oil production would decline, also. That has not been the case as crude oil production has increased to 107.6 million barrels in June, which is 15.8 million barrels (17.2 percent) more than in June 2014. Ingham, ...
Complementary Currencies aim to work alongside the pound or the dollar. Classically they seek to broker exchanges of underused resources with unfulfilled need, and facilitate activity in niches neglected by the mainstream economy. They do much good work and are worthy of support. Intentional Currency designs on the other hand will generally be grounded in a critical assessment of the way fiat currencies operate, and recognise and seek to remedy or mitigate their dysfunction. In this way they are competitive with fiat. Consequently if fiat currency plays a role in the start-up or continued operation of a new currency, it is appropriate to manage these interactions carefully and to understand the impact that fiat-dependence can have on the currency's development. This article outlines management issues associated with some of the potential interactions with fiat. It has been produced as a Working Paper ...
Oil headed for its biggest monthly drop this year on speculation that increased OPEC supplies and threats to demand in China will prolong a global glut. Futures slid as much as 2.4 percent in New York, extending their drop to 20 percent this month. U.S. crude stockpiles are almost 100 million barrels above the five-year seasonal average, while exports from southern Iraq rose to a record this month. Producers from BP Plc to Royal Dutch Shell Plc have started a new round of cost cutting as prices decline. Oil's worst month since December paces a slump across raw materials amid expanding surpluses and concern that slower economic growth in China will crimp demand. Commodities also dropped as the dollar gained on signs that the Federal Reserve may increase rates. Sanctions on oil exports from Iran, holder of the world's fourth-biggest crude reserves, ...
Is degrowth only conceivable in the context of "oversaturated" industrial societies while the global "South" remains dependent on growth? In two installments, this article questions such assumptions. In this first part it introduces positions critical of development which refuse to adopt the Western model of prosperity; the second part will focus on the analysis of these positions with a view to their relevance for the European degrowth movement and the growth debate here. A common objection against visions of degrowth is raised with regard to the material needs of large parts of the global population – those who live in so-called "developing" or "underdeveloped" countries under conditions of extreme poverty. This group, so the argument goes, essentially depends on growth in order to improve their living conditions. Interestingly, this argument is often brought forward in order to justify further growth in ...
Even before the upcoming August recess on Capitol Hill, the dogs of war, unleashed by remote control from Tel Aviv, predictably are trying to tear the Iran-P5+1 nuclear deal to shreds from all sides. It does not matter that the National Iranian American Council – which happens to be widely respected in Washington itself – has forcefully come out in defense of the deal. It does not matter that the Obama administration can count on the combined efforts of the so-called E3 ambassadors (Britain, France and Germany) in Washington, who are exhausting themselves to explain the obvious: This is an international treaty, already approved by the United Nations, and not a parochial squabble decided in Idaho. On the other hand, it does matter that the Obama administration has not been forceful enough to defend its strategy as well as the result of such a long ...
The world's top crude-oil exporter, Saudi Arabia, is planning to pull back from record-high levels of production at the end of the summer when domestic energy demand subsides, according to people with knowledge of the matter. The reduction could begin as soon as September and would amount to about 200,000 to 300,000 barrels a day, bringing production to about 10.3 million barrels a day, the people said. Saudi Arabia told the Organization of the Petroleum Exporting Countries that it produced 10.56 million barrels a day in June, a record high. "It is purely based on the [domestic] demand situation," one of the people said, adding that "production is likely to hover around" 10 million barrels until the end of the year.   Saudi Arabia—one of a handful of countries that generates electricity by burning crude oil—generally reduces production in the fall, when demand for ...
Let's take a moment to recap the argument of the last two posts here on The Archdruid Report before we follow it through to its conclusion. There are any number of ways to sort out the diversity of human social forms, but one significant division lies between those societies that don't concentrate population, wealth, and power in urban centers, and those that do. One important difference between the societies that fall into these two categories is that urbanized societies—we may as well call these by the time-honored term "civilizations"—reliably crash and burn after a lifespan of roughly a thousand years, while societies that lack cities have no such fixed lifespans and can last for much longer without going through the cycle of rise and fall, punctuated by dark ages, that defines the history of civilizations.   It's probably necessary to pause here ...
World's population to reach 11.2 billion by end of the century
India is set to overtake China and become the world's most populous country in ...
The New Politics of Oil Abundance
The oil-price shocks of the 1970s and '80s marked the dawn of the modern ...
World's population to hit 9.7 BILLION by 2050 as India becomes largest country
The number of people on earth is set to reach almost 10 BILLION by ...
Some U.S. senators want to start oil war with Iran
As Secretary of State John Kerry tried to sell the Iran nuclear deal to ...
More News By Topic...