Welcome to PeakOil.com, an online community exploring oil depletion.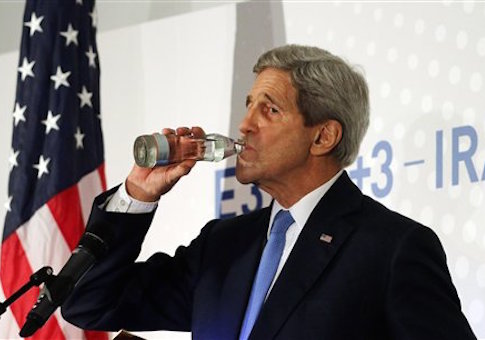 Secretary of State John Kerry on Wednesday moved to reassure Congress that Israel and America's Gulf State allies would be fully taken care of in the wake of the Iran nuclear deal, which Kerry acknowledged would not stop Iran's support for terrorism, according to a letter sent by the secretary of state to lawmakers. Just moments after the White House secured enough votes to override a congressional veto of the Iran deal, a letter from Kerry appeared in the inboxes of congressional offices across Capitol Hill. Kerry admits that, despite the deal, Iran will continue to back terrorist groups across the globe and promises to boost military support and funding to Israel and Gulf states such as Saudi Arabia, according to a copy of the letter obtained by the Washington Free Beacon. The letter comes in response to concerns among lawmakers, Israel, and ...
The president of Shell Oil Co. said exploratory drilling off Alaska's northwest coast is going well despite stormy weather last week that caused the company to halt operations for a few days. And in an interview this week with The Associated Press Marvin Odum said he expects further protests against the company's plans for Arctic drilling like the ones in Seattle and Portland where activists in kayaks tried to block Shell vessels. Arctic offshore drilling is bitterly opposed by environmental groups that say a spill cannot be cleaned in ice-choked waters and that industrial activity will harm polar bears, walrus and ice seals already harmed by diminished sea ice. In Seattle, Shell faced protests on the water by "kayaktivists" upset over the company staging equipment in the city. In Portland, Oregon, Greenpeace USA protesters hung from the St. Johns Bridge to delay a ...
After decades of exhaustive attempts to overcome the dirty reputation of oil sands, we finally have an environmentally-friendly and low cost method to tap into these vast resources in the state of Utah—good news both for Mother Nature and all oil and gas investors.  MCW Energy Group's CEO, former Exxon President of the Arabian Gulf region, Dr. R. Gerald Bailey, tells Oilprice.com in an exclusive interview that his hunt for an innovative technology that simultaneously makes money and cleans up the environment is over. The race to capitalize on Utah's vast oil sands resources is on, and only the 'clean'—both financially and environmentally—will survive.  Coming hot off of the successful launch of clean oil sands operations in Utah, while other oil sands projects are under fire from protesters, Dr. Bailey discusses:  • The difference between Utah and Alberta when it comes to oil sands ...
China will lend Venezuela's government $5 billion to help the South American country produce more oil. Venezuela is seeking to ramp up production in coming months to offset steep losses caused by falling prices for crude, the nation's main export, according to media reports. Venezuela's President Nicolas Maduro announced the deal Tuesday in a speech in China that was broadcast on Venezuelan state television, the Associated Press reported. Maduro did not provide details about the loan agreement. Oil prices are down around 60 percent since their peak in 2014, largely because of a surge in global oil production and waning demand in China. Brent crude, the global benchmark, was trading at $49.06 a barrel Wednesday morning, when the U.S. benchmark was trading at $44.68 a barrel. Brent Crude Oil Spot Price | FindTheData The Maduro government has estimated it needs oil prices at more than ...
An editorial in OPEC's latest Bulletin caused much excitement and contributed to a price rally on oil markets on August 31. The oil producer club said it stood "ready to talk to all other producers" but emphasized that this had to be on "a level playing field." But there's nothing new here. OPEC has regularly stated its willingness to talk to other producers and the editorial seems merely to reiterate this. What appears to have received rather less attention is OPEC's point, made in the same editorial, that world oil demand is rising — as per the forecasts of OPEC itself, the International Energy Agency and the US Energy Information Administration — and that "if the wide-ranging projections on oil demand are correct, then it is just a case of riding out the storm and waiting for calmer waters to return." Indeed, OPEC ...
Brookshire Advisory and Research's Gianna Bern discusses the whipsaw moves in the price of oil with Bloomberg's Alix Steel and Scarlet Fu on "Bloomberg Markets."
Oil prices are still massively higher than they were a week ago but Citi believes that the surge is pretty much devoid from reality. Crude oil rocketed nearly 30% in just three days, its biggest three-day rally in 25 years. Since Friday August 28, oil over 20% higher. Today, crude oil prices are initially ebbing off ever-so slightly. But while crude oil is hovering around $47.86, the chart shows the undeniable explosion in prices over the last few days. Marketwatch.comNYMEX crude oil price over the last five days. However, the spike isn't good news, considering oil prices are still around 50% lower than they were at their peak in the summer of 2014. Edward L Morse and his team at Citi, in a note entitled "The Oil Price Surge" sent to investors this morning, say that the markets may be in for a nasty shock as people are not trading ...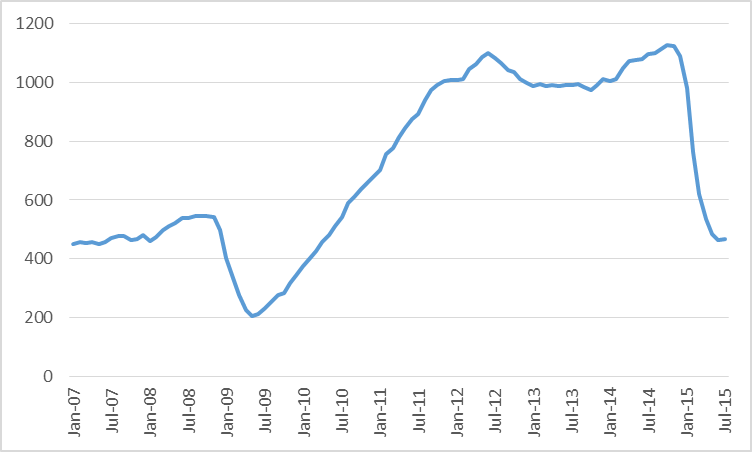 U.S. oil production has begun to drop in response to low oil prices, but not as dramatically as many had anticipated. Oil companies have cut back spending significantly in response to the fall in the price of oil. The number of rigs that are active in the main U.S. tight oil producing regions– the Permian and Eagle Ford in Texas, Bakken in North Dakota and Montana, and Niobrara in Wyoming and Colorado– is down 58% over the last 12 months. Nevertheless, U.S. tight oil production continued to climb through April. It has fallen since, but the EIA estimates that September production will only be down 7%, or about 360,000 barrels/day, from the peak in April. This is despite the fact that typically output from an existing well falls very quickly after it begins production. The EIA estimates that tight oil production from wells ...
The widespread assumption that nuclear plants were safe was behind the March 2011 accident at the Fukushima No. 1 nuclear plant, the International Atomic Energy Agency said in its final report on the crisis. Before the catastrophe, "there was a basic assumption in Japan that the design of nuclear power plants and the safety measures that had been put in place were sufficiently robust to withstand external events of low probability and high consequences," the report, released Monday, says. Because of this assumption, "there was a tendency for organizations and their staff not to challenge the level of safety," the report says. This "resulted in a situation where safety improvements were not introduced promptly." The IAEA report stresses the need to "take an integrated approach that takes account of the complex interactions between people, organizations and technology" in order to better identify plant ...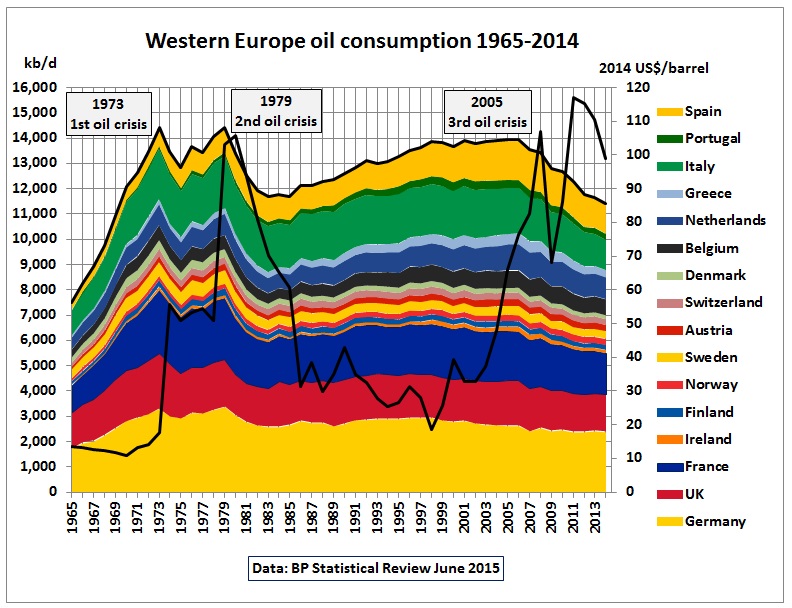 This is the 3rd article using data from the BP Statistical Review published in June 2015. Fig 1: Western Europe oil consumption, oil prices in $2014 Total oil consumption peaked 3 times at around 14 mb/d: (1)   In 1973, the 1st oil crisis which was triggered by the Yom Kippur war. The following OPEC embargo was successful because US oil production had peaked 3 years earlier so the US could not increase production to offset OPEC's reduction (2)   In 1979, the 2nd oil crisis which was caused by Iranian oil production peaking in the mid seventies and the following Iranian revolution, resulting in a global recession in 1982 (3)   In 2005, at the beginning of the 3rd oil crisis when global crude oil production had a peak and declined until 2007 3 main oil consumers Germany, UK and France  The oil crises in the 70s brought down consumption by 2 ...
New 'Super Giant' Natural Gas Field Could Be Straw That Breaks OPEC's Back
A new super-giant natural gas field could prove to be the largest ever discovered ...
Peak Oil Ass-Backwards: Peak Oil, Meet Fractional-Reserve Banking
  If the ongoing crash of oil prices over the past  year – and now ...
There's a New Oil Glut in Town
As crude oil continues to rip higher—it's currently in the midst of its best three-day ...
Russia, Venezuela to Discuss Potential Steps to Stabilize Oil Prices
Russian President Vladimir Putin will discuss "possible mutual steps" to stabilize the global price ...
More News By Topic...