Welcome to PeakOil.com, an online community exploring oil depletion.
Exxon Mobil Corp has halted drilling an offshore oil well in Russia's remote Arctic just a few days after the United States and European Union barred companies from helping Russia exploit Arctic, deep-water or shale-oil fields, Bloomberg reported on Thursday. The United States and European Union were planning to stop billions of dollars in oil exploration in Russia by the world's largest energy companies including Exxon and BP Plc, U.S. government sources told Reuters last week. Exxon signed a $3.2 billion agreement in 2011 with Russian company Rosneft Oil Co to develop the Arctic. The Texas-based multinational was considered one of the few companies capable of drilling in the harsh, deep waters there. The two companies were hoping for a major discovery in the Kara Sea. "We are still assessing the sanctions but will comply with all laws and regulations," Exxon Mobil spokesman Richard ...
Researchers had earlier estimated the population would only reach 7.2 billion The world population may balloon to anywhere between 9.6 and 12.3 billion by 2100, according to a new report that used statistics from the United Nations. The new estimates far outstrip previous calculations of 7.2 billion. The root of the booming population is high birth rates in Africa, according to the report, published in the journal Science. The number of people in Africa is expected to rise from one billion to four billion in the next 86 years. Researchers found that there is a 70% probability that the world's population will not stabilize in this century. "Earlier projections were strictly based on scenarios, so there was no uncertainty," UN demographer Patrick Gerland told the Associated Press. "This work provides a more statistically driven assessment that allows us to quantify the predictions, and ...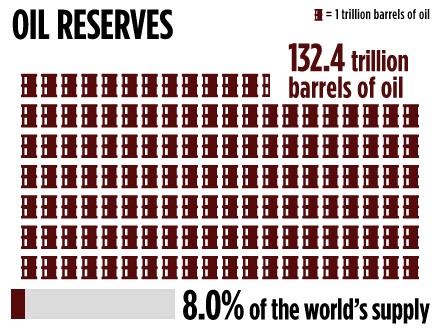 Africa's oil and gas potential will grow significantly over the next two decades, driven by population growth, urbanization and the emergence of a wealthier middle class on the continent. Six of the top 10 global discoveries in the oil and gas sector in 2013 were made in Africa, with more than 500 companies currently exploring deposits there. There were nearly nine million barrels of crude oil produced daily in Africa last year, with more than 80% of it coming from established players such as Algeria, Angola and Nigeria. This is all good news for Africa, but look behind the figures and the story is more about gas than oil. Excitement remains around large gas finds in Mozambique and Tanzania, but even here there is much hype and unknowns. The scale of these East African finds is not in doubt but developing these discoveries ...
 Big oil companies and traders are stashing millions of barrels of crude on massive tankers bobbing in the ocean, in a bid to profit from a quirk in oil markets. Instead of moving crude from one port to another, a growing number of tankers are serving as floating warehouses for companies including Sinopec Ltd. and Vitol Group, according to people with knowledge of their operations. Other companies such as Mercuria Energy Group are using the tankers to haul crude to on-shore storage facilities, these people said. In a rare split, crude is cheaper in the spot market than in the futures market, where bets are made on where prices will be in the months ahead. By buying physical stocks of oil and immediately selling futures, traders can lock in a profit. The storage trade isn't without its pitfalls. If interest rates or storage ...
There have been significant improvements of late to equipment used to produce energy from wind. Towers are taller. Rotor diameters and blades are longer. Gearboxes, generators and bearings are more reliable. Onboard sensors are more effective at measuring and recording data. Power output sizes and ratings have increased. These and other equipment improvements have increased the energy capture of turbines and made their operation more efficient. That, in turn, provides incentive for developing more wind farms. It makes financing these large projects more attractive. Equipment improvements, however, do not paint the entire picture of how the wind industry continues to successfully compete in the highly competitive energy market. Technological advancements are impacting the industry as well. They, too, are making the development and operation of wind farms more efficient and profitable. Wind companies can establish a centralized Web database of organizational and project ...
Output Falls Below 700,000 Barrels a Day After Insecurity Forced Largest Oil Field to Shut Down Libya's energy recovery has suffered its first major setback, with output falling below 700,000 barrels a day after insecurity forced the country's largest oil field to shut down, oil officials said Wednesday. The North African nation's oil production had risen to 870,000 barrels a day on Sunday—nearly six times the level of late May—after deals with militants and protesters allowed fields and ports to reopen. Production has been temporarily shut down at the 340,000-barrels-a-day Sharara field after a rocket hit a tank at the terminal it supplies, the Libyan oil officials said. The port's area in the city of Zawiya has been embroiled in clashes between Islamists-backed militias and their nationalist rivals. During a previous battle that ended up with the Islamists seizing Tripoli last month, several fuel ...
Here is the price of gasoline in the U.S. so far this year: Gasoline prices in 2014 The national average price of regular unleaded, now at $3.38 a gallon, is down 8 percent from the end of June. Tom Kloza, chief oil analyst at GasBuddy.com, thinks this year will bring the cheapest autumn gasoline prices since 2010. Last year drivers spent $40 billion at the pump in September, and Kloza thinks that bill will be at least $2 billion lower in 2014. The savings at the pump should help stimulate consumer spending in other parts of the economy. Gas prices are cheapest in the South and highest in the Northwest. Shale oil being produced in North Dakota and Texas has had an easier time traveling south and east, while fewer trains have headed west, across the Rockies and into Washington and Oregon (though that ...
Agriculture has one hell of a footprint, occupying 37.6 percent of earth's land area, or about 0.7 hectares (1.7 acres) per person to feed our world's current population. "There is no activity that humankind engages in that has a bigger impact on the planet than agriculture," Jack Bobo, Chief of Biotechnology and Textile Trade in the Department of State's Bureau of Economic and Business Affairs wrote. "This is true in terms of impacts on land and water resources [agriculture accounts for some 70% of our freshwater use (PDF)] as well as in terms of greenhouse gas emissions."  Dr. Pamela Ronald agrees, "The worst thing for the environment is farming. It doesn't matter if it is organic [or conventional]…You have to go in and destroy everything." We humans have reduced our agricultural footprint; while both the world population and productivity have increased ...
Last week something serendipitous happened. I went to what was ostensibly a briefing and news broke out. The news was that the big French bank BNP Paribas, after some high-level recruitment from a decamping JP Morgan Chase, intends to try and rebuild North American physical electricity trading to go along with its existing natural gas trading operations done primarily through its offices in New York. BNP's decision bucks the trend set by a number of other big banks—most notably JP Morgan Chase, Deutsche Bank and Barclays Plc– who have pulled out of several areas of physical energy commodity trading due to a combination of changing market conditions and flagging revenues, but perhaps most importantly, due to mounting regulations. Specifically, it was word that BNP intends to try and rebuild its wholesale power business, a development that would clearly break from recent trends. It's ...
Lately I've been rereading some of the tales of H.P. Lovecraft. He's nearly unique among the writers of American horror stories, in that his sense of the terrible was founded squarely on the worldview of modern science. He was a steadfast atheist and materialist, but unlike so many believers in that creed, his attitude toward the cosmos revealed by science was not smug satisfaction but shuddering horror. The first paragraph of his most famous story, "The Call of Cthulhu," is typical:   "The most merciful thing in the world, I think, is the inability of the human mind to correlate all its contents. We live on a placid island of ignorance in the midst of black seas of infinity, and it was not meant that we should voyage far. The sciences, each straining in its own direction, have hitherto harmed us little; ...
The Peak Oil Crisis: It's All Around Us
Ten years ago peak oil was assumed to be a rather straight forward, transparent ...
Reason for Permaculture – Fossil Fuel Shortage, aka peak oil
I have been thinking about writing (or doing a podcast) along these lines for ...
Deeper Saudi Oil Cuts Seen After Biggest Drop Since '12
Saudi Arabia will need to keep cutting oil output to sustain prices above $100 ...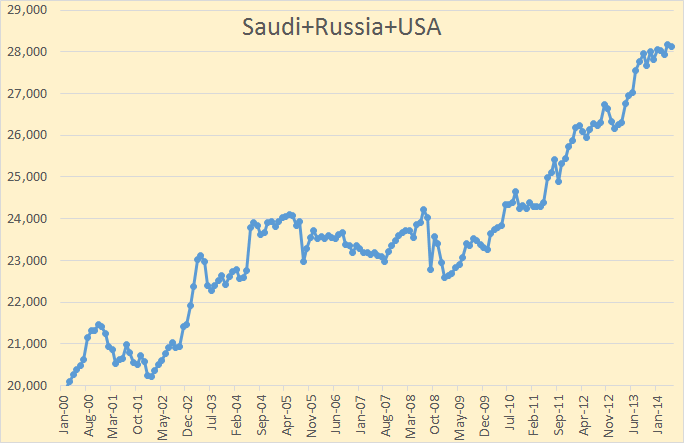 World Oil Production According to the EIA
A few days ago the EIA published the latest update to its International Energy ...
More News By Topic...