Welcome to PeakOil.com, an online community exploring oil depletion.
Iran has entered the fight to retake a major Iraqi oil refinery from Islamic State militants, contributing small numbers of troops — including some operating artillery and other heavy weapons — in support of advancing Iraqi ground forces, U.S. defense officials said Friday. Two U.S. defense officials said Iranian forces have taken a significant offensive role in the Beiji operation in recent days, in conjunction with Iraqi Shiite militia. The officials were not authorized to discuss the matter publicly and spoke on condition of anonymity. One official said Iranians are operating artillery, 122mm rocket systems and surveillance and reconnaissance drones to help the Iraqi counteroffensive. The Iranian role was not mentioned in a new U.S. military statement asserting that Iraqi security forces, with U.S. help, had managed to establish a land route into the Beiji refinery compound. The statement Friday by the U.S. ...
Saudi Arabian Oil Minister Ali al-Naimi said on Thursday that he sees a great future for solar power but that the world can't abandon fossil fuels in the short term Mr. Naimi, speaking on a panel in Paris, addressed questions about whether the world's oil-and-gas companies should move on to other forms of energy in the face of climate change linked to human carbon emissions. He said it wouldn't make economic sense to make a dramatic move now. "You say decarbonize. Are you willing to have me go back home and shut all the oil wells? Can you afford that today?" Mr. Naimi said at the Business and Climate Summit in Paris, broadcast by Bloomberg. "What will happen to the [oil] price if today I remove 10 million barrels per day of the market." Mr. Naimi is among a growing number of top ...
  "Hellstrom's Hive," written by Frank Herbert in 1973, is one of the few sound explorations of how an "eusocial" human society could be patterned on the lifestyle of social insects, such as bees and ants. Could this be what the remote future has in store for humankind? It is impossible to say but I, for one, welcome our new hive overlords. I have no doubt that we are heading at full speed toward a major ecosystem crash. We are wrecking the climate, destroying the biosphere, poisoning the seas, dispersing heavy metals all over, creating radioactive isotopes that had never existed in the four billion years of the Earth's history. Whatever is going to happen, it will not be a pretty sight for those who will be alive to see it. But does the upcoming crash mean the end of the human ...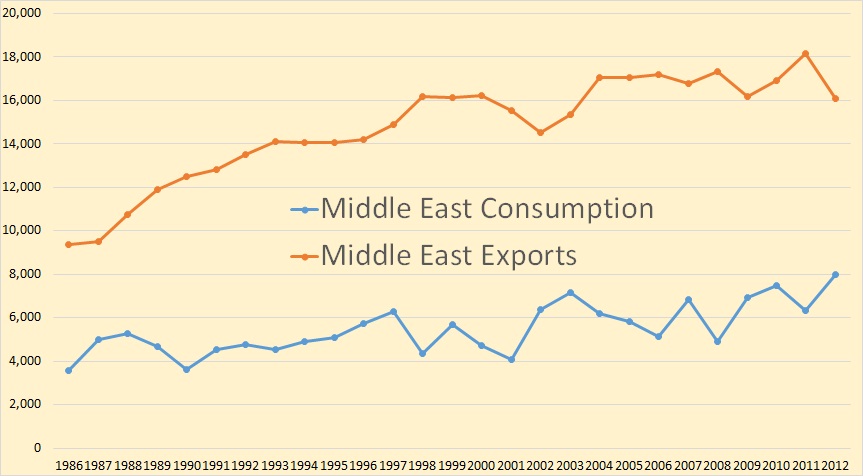 The EIA has updated their International Energy Statistics with annual production numbers through 2014 and export data through 2012. Sometimes these stats can be confusing as they include several types of production and exports. But for production I use only "Crude plus Condensate" and for exports I used "Crude Oil Exports" which I assume includes condensate as well. Also the export data is not exact, just close, because some importers are also exporters. For instance in 2001 the US exported 59,000 barrels per day. In 2012 the US exported 629,000 barrels per day. The exporting of condensate is allowed in the US and since the Shale boom condensate exports have increased quite dramatically because Light Tight Oil is rather top heavy with condensate. To get exports versus consumption for exporting nations I simply subtracted their exports from their production. The difference was what ...
In the past year yet another technology that seems to produce cheap, pollution-free energy has emerged. If this technology proves viable, it could join with cold fusion and hydrinos as an alternative to the combustion of fossil fuels. For several years now, I have been reporting on the progress in the development of cold fusion, or if you prefer Low Energy Nuclear Reactions, and a second technology developed by Blacklight Power, which is a method of compressing hydrogen atoms while releasing large amounts of energy. I realize that many of you have trouble accepting the validity of these technologies as they appear on the surface to be in violation of some key principles of currently accepted science; however, progress in these technologies keeps being made and so far there is no definitive evidence that they are not valid. At first glance, ...
The Organization of the Petroleum Exporting Countries could flood the market with oil for years if it opts to do nothing to alter its output ceiling at a highly-anticipated meeting in June. "If they don't do something and find a way to get on the same page, we will all be floating on a glut of oil for a very long time," warned Kevin Kerr, president of Kerr Trading International. Questions about OPEC's oil production are being raised as the oil cartel is set to call its first meeting since November 2014. Back then, OPEC's vow not to cut output sent crude-oil prices plunging. Although prices have recovered somewhat in recent weeks, they are still sharply off their 2014 peak levels. OPEC has maintained a collective production ceiling of 30 million barrels a day since it did away with individual country quotas about ...
In 1985, then Soviet leader Mikhail Gorbachev and US president Ronald Reagan launched one of the unlikeliest ideas of the Cold War. Under it, the Soviet Union would team up with United States and other rivals of the day to develop nuclear fusion: the same limitless energy source that powers the Sun. Today, 30 years on, their dream is still a long and agonising way from reality. Launched in 2006 after years of wrangling, the International Thermonuclear Experimental Reactor (ITER) project is saddled with a reputation as a money pit. It has been bedevilled by technical delays, labyrinthine decision-making and cost estimates that have soared from five billion euros ($5.56 billion) to around 15 billion. It may be another four years before it carries out its first experiment. But, insists its new boss, a page has been turned. "There has been a learning process," said Bernard ...
Billionaire investor George Soros told the World Bank this week that the planet is on the verge of a third world war that could arise out of an economic collapse in China. "If there is conflict between China and a military ally of the United States, like Japan, then it is not an exaggeration to say that we are on the threshold of a third world war," Soros said during a Bretton Woods conference. The billionaire warned that China's difficulty in transitioning from an export economy to a domestic demand-led system could force Beijing to whip up a conflict with an external enemy in a bid to keep the country from collapsing. Soros said the only solution to the prospect was to allow China to join the IMF's basket of global currencies so that it could compete with the dollar. Without this measure, Soros ...
What was originally thought to be around 21,000 barrels is now over 105,000 barrels of oil spilled on to the pristine beaches of Santa Barbara County. On Wednesday, Gov. Jerry Brown declared a state of emergency for Santa Barbara County to free up resources to respond to the spill, which as the following horrible images show, is far worse than it initially appeared. After seeing all of that, it is no wonder that OilPrice.com's Charles Kennedy believes this latest oil pipeline spill could galvanize environmentalist opposition. Santa Barbara area oil and gas facilities   But the images of the cleanup are awful... Source: LA Times, The Telegraph *  *  * After seeing all of that, it is no wonder that OilPrice.com's Charles Kennedy believes this latest oil pipeline spill could galvanize environmentalist opposition. A pipeline in California broke and spilled oil into the Pacific Ocean on May ...
The past year's drop in crude oil prices will be fundamentally different from previous downturns. What started in June 2014 with a growing imbalance between soft demand in Asia and robust North American shale-oil production seemed typical: Brent crude prices started to fall from $105 per barrel, the market went in contango in October, and expectations were high in anticipation of the late-November OPEC meeting as oil was hitting $75 per barrel. The expectation was that things would revert quickly with a reduction of production quotas. The story went off script when OPEC announced it would not act, sending oil prices crashing below $50 per barrel. Subsequent announcements by influential members of the cartel confirmed that pricing for crude oil would be based on free-market economics. That marked a fundamental shift from over 100 years of price-setting from the Seven Sisters and OPEC, ...
The Era of Impact
Of all the wistful superstitions that cluster around the concept of the future in ...
Fukushima reactor pressure venting system failure
The venting system designed to release pressure inside the containment vessel of the No. ...
Islamic State seizes town of Palmyra in Syria
Islamic State extremists captured the ancient Syrian town of Palmyra after government defense lines ...
The future of meat
Meat — despite popular movements to decrease the amount humans consume — is still a central part of ...
More News By Topic...