Welcome to PeakOil.com, an online community exploring oil depletion.
A very brave law professor at the University of Pennsylvania, named Amy Wax has published the astounding argument that human beings in America would benefit from adopting "bourgeois values" and behaving accordingly. Bourgeois (Boozh-wah, for the underspeeched) may be an unfortunate term-of-art, since it came to be used as a pejorative back in the old hippie days — something that Ms. Wax might remember, since she is a Baby Boomer — but what else might you call this bundle of traditional values: honesty, fidelity, thrift, temperance, punctuality, fortitude, gratitude, dedication, kindness, loyalty, et cetera? A glance at Amy Wax's credentials might induce a head-snap. Amy Laura Wax received a B.S. summa cum laude in molecular biophysics and biochemistry from Yale in 1975. She was then a Marshall Scholar in Philosophy, Physiology, and Psychology at Somerville College at Oxford University. She earned an ...
The oil industry just can't seem to snap out of its doldrums this year. Crude remains stubbornly low, which has stalled the industry's attempts at a recovery. However, while weaker prices have been bad for oil producers, they've been great for consumers because it has kept prices for refined products like gasoline down, which is fueling robust demand growth this year. That said, this accelerating demand hasn't been enough to propel the oil market, due in part because shale drillers have unleashed a gusher of new production. Drilling down into the latest numbers That give and take market was on display this week when the International Energy Agency (IEA) released its monthly commentary. One of the highlights of the report was recent data showing accelerated demand growth. Last quarter, for example, demand grew by 2.3 million barrels per day (Bpd), which is ...
The last decade has seen a significant change in the terms of the debate around the concept of "peak oil". Ten years ago the focus was on when oil resources would start to run out and was still based on a concept developed in the 1950s by a Shell geophysicist called M King Hubbert. Hubbert saw in the life story of an individual oil field, which rises to maximum production and then usually rapidly declines, a model that could be applied to the industry as a whole. As a finite resource, global oil would inevitably reach a point where the only prospect was decline. Numerous worthy individuals and companies believed they could identify the peak. The US Energy Department has produced an invaluable list of those predictions. In 1972, Exxon said the peak would come around the year 2000. In 1977 with ...
Resource analyst and futurist Chris Martenson points out, "The Dow is hitting all-time highs. So, it can't be that bad, right? The Dow is used as a signaling device, and it says have faith in your leadership and everything is fine. Under the covers, obviously, things are not fine. The people I talk to are nervous and worried. One reason is because it's fall, and that is sometimes when we see these corrections, but the other reason is everything we track is getting more and more fragile. These markets . . . are held together by confidence. . . . I can't tell you the number of people that used to be investors that say they just don't trust these markets. They are rigged and they understand that. They don't want any part of that." In closing, Martenson contends, "By ...
Petroleum geologists use their know-how in a variety of settings and in a multitude of applications worldwide. Their work can be exciting and challenging, but becoming a geoscientist in the oil and natural gas industry demands that one acquire a broad set of technical, conceptual and practical skills. Aspiring geologists who decide early on that they want to work in the oil and gas industry often choose to matriculate at colleges and universities with well-established petroleum geology programs, said Allyson Anderson Book, executive director of the American Geosciences Institute (AGI) and a petroleum geologist by training. "Some programs have strong petroleum coursework," explained Anderson Book. "If a student decides they want to pursue an oil and gas career, there are schools whose students are routinely sought after by employers." To be sure, some geoscience students only begin to consider oil and gas career ...
Risk assets failed to launch even after North Korea fired a missile over the northern part of Japan and reports of a terror attack on a London subway or the "tube" in rush hour. Oil failed to launch after rejecting the August high and pulled back below that strong resistance upper Bollinger band. The oil price rejection of the upper end of that range could signal that oil is not ready to break-out yet with triple witching, oil option expiration and increased geopolitical tensions that could change. There are reports that dispute the myth of "peak oil demand" and we should see some increased volatility and market action as the day unfolds. Terror on the tube. The terror attack in London is just unfolding. The New York Times reports that "An explosion on a London Underground train on Friday morning injured ...
After North Korea's latest nuclear test, scientists are worried that more underground explosions in the isolated country's rocky north could set the stage for a deadly volcanic eruption not unlike the one that NASA fears could be brewing in the Yellowstone caldera. Following the North's sixth nuclear test Chinese authorities have stepped up radiation monitoring and even closed part of their border with North Korea as fallout fears have intensified. And now, as Newsweek reports, China has limited access to a nature reserve on its border with North Korea after a mysterious series of seismic shakes at the rogue nation's nuclear test site were detected less than 10 minutes after it conducted its latest test, which also triggered a sizable tremor. The severity of the tremors prompted Beijing to close the site over fears that underground detonations by the North Koreans at ...
For what seems like decades, other countries have been tiptoeing away from their dependence on the US dollar. China, Russia, and India have cut deals in which they agree to accept each others' currencies for bi-lateral trade while Europe, obviously, designed the euro to be a reserve asset and international medium of exchange. These were challenges to the dollar's dominance, but they weren't mortal threats. What's happening lately, however, is a lot more serious. It even has an ominous-sounding name: de-dollarization. Here's an excerpt from a much longer article by "strategic risk consultant" F. William Engdahl: Gold, Oil and De-Dollarization? Russia and China's Extensive Gold Reserves, China Yuan Oil Market (Global Research) – China, increasingly backed by Russia—the two great Eurasian nations—are taking decisive steps to create a very viable alternative to the tyranny of the US dollar over world trade and finance. Wall Street ...
It has become raison d'être that electric vehicles (EV) will keep increasing in use without considering serious factors that could hamper their growth. The British electrical grid example and the growth of EVs should bring pause to consumers, investors and governments promoting their unconstrained usage. According to the British National Grid, "the growing use of electric vehicles could increase electricity peak demand by 3.5 gigawatts (GW) by 2030." This will occur since sales of EVs are expected to be more than 90 percent of all British car purchases by 2050, highlighted in its Future Energy Scenarios Report. In July, the British government mandated that all new petrol and diesel cars would be banned by "2040 to reduce air pollution and assist cutting carbon emissions by 80 percent by 2050 from 1990 levels." Moreover, the National Grid stated: "Peak electricity demand could even rise by ...
Venezuela published the price of its oil and fuel in Chinese currency on Friday in what it called an effort to free the socialist-run country from the "tyranny of the dollar," echoing a plan recently announced by President Nicolas Maduro. Maduro last week said his government would shun the dollar after the United States announced sanctions that blocked certain financial dealings with Venezuela on accusations that the ruling Socialist Party is undermining democracy. The global oil industry overwhelmingly uses the dollar for pricing of products. A weekly Oil Ministry bulletin published on Friday listed September prices in yuan, while including prices from previous weeks and months in dollars. "This format is the result of the announcement made on Sept 7 by the president ... that Venezuela will implement new strategies to free the country from the tyranny of the dollar," the ministry wrote in ...
How (Not) to Run a Modern Society on Solar and Wind Power Alone
While the potential of wind and solar energy is more than sufficient to supply ...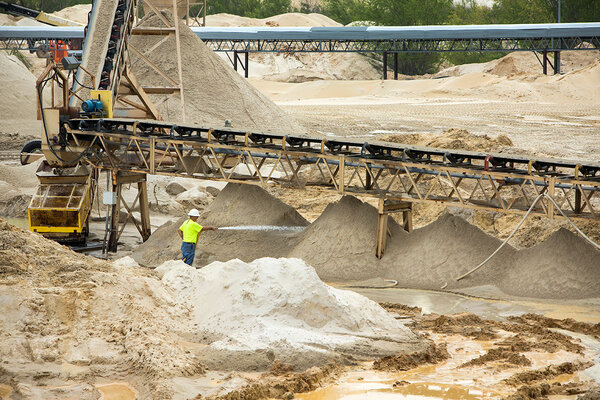 Scientists warning of sand scarcity
f you're looking for a way to express something that's staggeringly hard to count, ...
Why Aramco Delayed Its IPO
The long-awaited Saudi Aramco IPO, scheduled for mid-2018, could be delayed to 2019. International news ...
Food or Feed? A New Look at the Global Grain Drain
The use of grains such as corn and wheat to feed cattle, chicken, sheep, ...
More News By Topic...