Welcome to PeakOil.com, an online community exploring oil depletion.
If after months of Eurasian axis formation, one still hasn't realized why in the grand game over Ukraine supremacy - not to mention superpower geopolitics - Europe, and the West, has zero leverage, while Russia has all the trump cards, then today's latest development in Chinese-Russian cooperation should make it abundantly clear. Overnight, following a grand ceremony in the Siberian city of Yakutsk, Russia and China officially began the construction of a new gas pipeline linking the countries. The bottom line to Russia - nearly half a trillion after China's CNPC agreed to buy $400bn in gas from Russia's Gazprom back in May. In return, Russia will ship 38 billion cubic meters (bcm) of gas annually over a period of 30 years. The 3,968 km pipeline linking gas fields in eastern Siberia to China will be the world's largest fuel network ...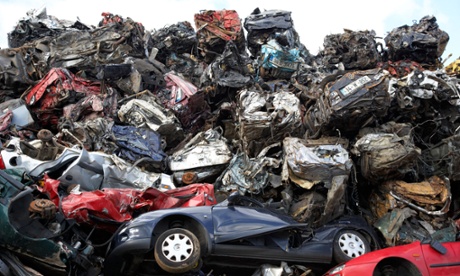 Four decades after the book was published, Limit to Growth's forecasts have been vindicated by new Australian research. Expect the early stages of global collapse to start appearing soon The 1972 book Limits to Growth, which predicted our civilisation would probably collapse some time this century, has been criticised as doomsday fantasy since it was published. Back in 2002, self-styled environmental expert Bjorn Lomborg consigned it to the "dustbin of history". It doesn't belong there. Research from the University of Melbourne has found the book's forecasts are accurate, 40 years on. If we continue to track in line with the book's scenario, expect the early stages of global collapse to start appearing soon. Limits to Growth was commissioned by a think tank called the Club of Rome. Researchers working out of the Massachusetts Institute of Technology, including husband-and-wife team Donella and Dennis Meadows, ...
Perhaps you've seen one of the recent barrage of articles claiming that fears of an imminent peak and decline in world oil production have either been dispelled (because we actually have plenty of oil) or are misplaced (because climate change is the only environmental problem we should be concerned with). I'm not buying either argument. Why? Let's start with the common assertion that oil supplies are sufficiently abundant so that a peak in production is many years or decades away. Everyone agrees that planet Earth still holds plenty of petroleum or petroleum-like resources: that's the kernel of truth at the heart of most attempted peak-oil debunkery. However, extracting and delivering those resources at an affordable price is becoming a bigger challenge year by year. For the oil industry, costs of production have rocketed; they're currently soaring at a rate of about ...
Evidence exposing who put ISIS in power, and how it was done. Sources and full transcript: http://scgnews.com/the-covert-origins...
"While uncertainty over the changes in coal stockpiles still exists, we're confident that the unbelievable may be at hand: peak coal consumption in China." So concludes a recent blog post from the Sierra Club's Justin Guay and Greenpeace International's Lauri Myllyvirta, the latter of whom recently published an analysis suggesting that Chinese coal consumption dropped in the first half of 2014: What does this recent (possible) dip auger for future emissions and energy trends in China? I think it's safe to say the answer is far more complicated than "clean energy is the future," as Guay and Myllyvirta write at the end of their post. First things first: it's far from agreed upon that coal consumption has peaked in China. The International Energy Agency does not expect Chinese demand to peak this decade. The US Energy Information Administration projects Chinese coal consumption ...
For close to 300 years, inflation in the US remained very subdued. Small spurts occurred around major wars (Revolutionary, Civil, WW1, etc), but after each, inflation quickly trended back down to its long-term baseline. If you lived during this stretch of time, your money had roughly the same purchasing power your great-grandfather's did. But something changed after inflation spiked yet again during World War 2. With the permanent mobilization of the military industrial complex and the start of the decades-long Cold War, combined with a related acceleration in government deficit spending, inflation did not come back down. It remained elevated, and in fact, rose further. That is, until the "Nixon shock" in 1971, when the dollar's remaining ties to gold were severed. Then inflation EXPLODED. And the inflationary moon-shot has continued since, up to present day. So, we've become used to a system ...
If you are dead, you cannot mount a comeback. If all life on Earth were destroyed by, say, a large comet impact, there would be no revival. Ruin is forever. The destruction of all life on Earth is not 10 times worse than the destruction of one-tenth of all life on Earth. It is infinitely worse. A fall of 1 foot is not one-tenth as damaging to the human body as a fall of 10 feet, nor is it one-hundredth as damaging as a fall of 100 feet (which is very likely to be lethal). Walking down a stairway with one-foot-high steps, we are typically immune to any damage at all. Thus, we can say in both instances above that the harm rises dramatically (nonlinearly) as we move toward any 100 percent lethal limit. It is just these properties--scope and severity--that most ...
Scientists have for the first time detected the solar neutrino particles forged in the sun's heart that are eventually emitted into the galaxy as light. More than 100 international scientists from the University of Massachusetts Amherst worked together using the Borexino detector in Italy to make the discovery, which provides humans with a peak into the process of nuclear fusion that is responsible for bathing the Earth with light. The findings were first reported in the latest issue of the Nature journal. Although it only takes eight minutes for light from the sun to hit Earth, there is a substantially longer process that takes place before that can happen. After the solar neutrinos are formed in the sun's core, another 100,000 years must pass before they make their way to the star's surface and shoot out at the speed of light. "The first ...
The U.S. Coast Guard has lost track of a Kurdish tanker carrying $100 million in disputed oil off the coast of Texas, the Independent reports. Headed for Galveston, the United Kalavyrvta was anchored at least 60 miles off-shore when it vanished from radar screens. The ship's haul fell under legal dispute when Iraq filed a lawsuit in U.S. courts, urging American officials to grab the ship's oil in Galveston because it belongs to Iraq, not the Kurdish National Government. But Kurds say it's theirs, and insist they need oil-export dollars to survive and fund their future independence, the Washington Post reports. In any case, a U.S. court denied the lawsuit Monday because America has no jurisdiction over ships more than 60 miles off the coast. Meanwhile, the United Kalavyrvta may have moved beyond U.S. antennas or could be suffering technical problems, the U.S. Coast ...
How Many More Times Can The World Be Twice As Big?
Peak Oil: A Farm For The Future With Colin Campball
Originally Published April 2009 BBC documentary on the precient global farming and food crisis, filmed ...
Musings on the Second Great Recovery Experiment and the Promise of Natural Gas
Like the economy as a whole, the Muhlenkamp Fund is still struggling to ...
Saudi Aramco will spend $3 billion on shale gas development
Four companies have expressed interest in bidding for work on unconventional gas in Saudi ...
Some choose to not have kids to protect earth
Jessica Cupp does what she can to protect the environment. She recycles, re-purposes and ...
More News By Topic...