Welcome to PeakOil.com, an online community exploring oil depletion.
 If the Saudis wanted to crush America's shale oil industry they are certainly doing a good job of it.  West Texas Intermediate reached a 2014 peak of $107.73 in June before dropping as low as $49.77 today on the New York Mercantile Exchange. The grade settled at $50.04 a barrel. That's below the break-even price for 37 of 38 U.S. shale oilfields, according to Bloomberg New Energy Finance. Shale oil fracking and Canadian tar sand is some of the most expensive (and dirty) oil production on the planet, while conventional Persian Gulf oil is the cheapest to produce. Warren Henry, the spokesman for Continental, one of the frackers who have been spending money faster than they can make it, says that current oil prices are "not a sustainable long-term trend." However, Bob Tippee, Editor of Oil & Gas Journal, has a different take.  "The Saudis ...
Rich American clients concerned about personal safety, global crises Paranoia" is one of the primary factors motivating the wealthy to purchase secret getaways in New Zealand, according to one realtor, with concerns about personal safety and global crises driving the search to acquire a safe haven in a remote location. During the Davos Economic Forum, economist Robert Johnson made headlines when he revealed that "hedge fund managers all over the world….are buying airstrips and farms in places like New Zealand because they think they need a getaway." Johnson highlighted growing income inequality as a driving factor behind the threat of civil unrest and economic turmoil. The economist's revelation was confirmed by realtors who handle luxury property in New Zealand who say that the world's third safest country is a draw for the super rich due to its political stability and low crime rate. "Yes, there ...
EU foreign ministers have decided to extend targeted sanctions against Russian officials and the militias in eastern Ukraine until September, according to Federica Mogherini, the European Union High Representative for Foreign Affairs. The first batch of sanctions, which was adopted last year and targeted specific individuals accused of fostering conflict in eastern Ukraine, was set to expire in March. The sanctions included travel bans and economic restrictions. The EU Council has also requested that the European Commission expand the blacklist of individuals it blames for the escalation of the Ukraine conflict, Mogherini said after a meeting in Brussels on Thursday. "We have shown that the EU is ready to take further measures and to prepare further measures in the weeks to come if the situation doesn't improve," she said. The council, however, has refrained from imposing broader economic measures for now. Greek Foreign Minister Nikos ...
The US Senate Banking Committee has approved a controversial bill that would trigger additional sanctions against Iran if the ongoing nuclear negotiations between the Islamic Republic and the P5+1 group of countries collapse. On Thursday, lawmakers in the Senate panel voted 18 to 4 to advance the bipartisan legislation sponsored by hawkish Senators Robert Menendez and Mark Kirk, despite warnings from the Obama administration that the new sanctions risked derailing the talks with Iran. The full Senate is expected to vote on the so-called Kirk-Menendez bill by March 24. "It is clear that further action is necessary to compel Iran to reach an acceptable agreement, which is why I strongly support this critical bill," committee chairman Senator Richard Shelby said after the vote. Before the vote, Senator Sherrod Brown, the top Democrat on the US Senate Banking Committee, urged panel members to wait until ...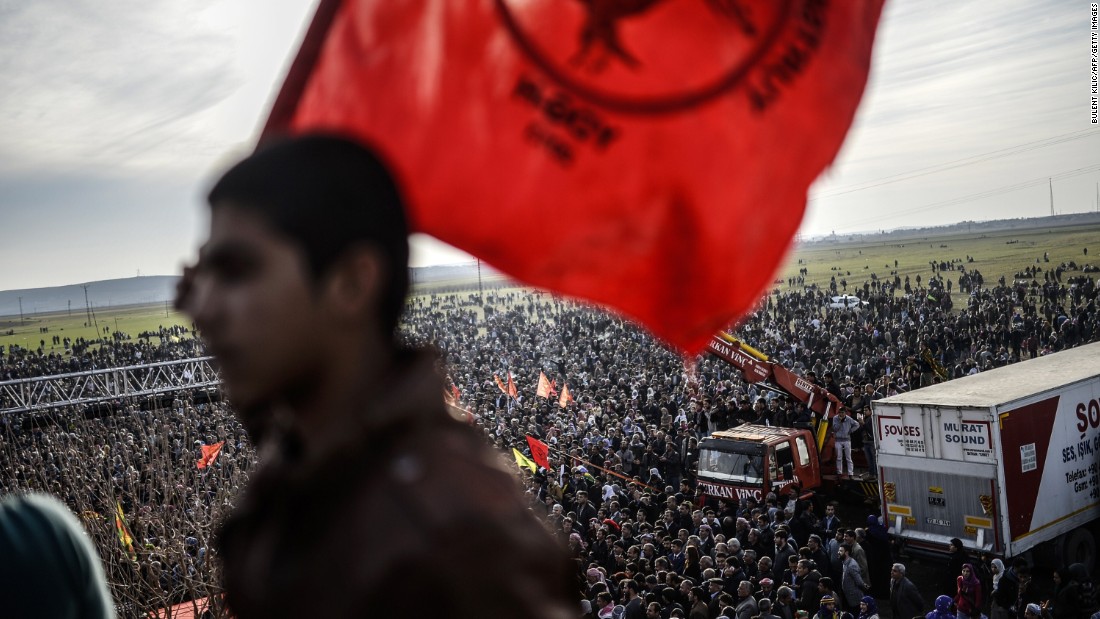 ISIS militants have attacked Kirkuk in northern Iraq, an effort that might be an earnest attempt to capture the key oil-rich city or perhaps to divert Kurdish troops fighting to capture the Islamist extremist group's stronghold of Mosul. For months, ISIS has been facing off with the Peshmerga -- armed fighters who protect Iraqi Kurdistan -- to the west of Kirkuk. It had gone into areas on Kirkuk's outskirts, but not the central city. Until now, apparently. Heavily armed militants attacked an abandoned hotel in central Kirkuk that local police had used as their headquarters. Peshmerga and Kurdish anti-terror units later raided the hotel, wresting control of it from the militants and killing three of them, according to Peshmerga sources. In addition, two suicide bombers detonated themselves in an attempt to keep the Kurdish forces out. Also Friday, ISIS militants took over Maktab Khalid, an ...
Millions of gallons of oil from the Deepwater Horizon oil spill didn't get cleaned up, and instead settled in the sediment of the Gulf of Mexico's floor, a new study has found. The study, published in the journal Environmental Science and Technology, found that 6 to 10 million gallons of oil from the spill are buried in the seafloor. The researchers measured the amount of carbon 14 — a radioactive carbon isotope that's found in organic material but not found in oil — in an approximately 24,000 km² area of sediment near the spill site, a process which allowed them to see what parts of the sediment were low in carbon 14 and thus contained oil. The study sought to determine two things: whether oil had, in fact, settled on the seafloor, and how much of it had settled. Jeff Chanton, Professor ...
The Planetary Boundaries framework was first introduced in 2009, when a group of 28 internationally renowned scientists identified and quantified the first set of nine planetary boundaries within which humanity can continue to develop and thrive for generations to come. A Jan 2015 update by the researchers say a fourth of these boundaries – forests – have been breached. According to a report on the update in the Scientific American (Humans Cross Another Danger Line for the Planet): Five years go an impressive, international group of scientists unveiled nine biological and environmental "boundaries" that humankind should not cross in order to keep the earth a livable place. To its peril, the world had already crossed three of those safe limits: too much carbon dioxide in the atmosphere, too rapid a rate of species loss and too much pouring of nitrogen into rivers and oceans—primarily in the form of ...
  CARACAS, Venezuela — Mary Noriega heard there would be chicken. She hated being herded "like cattle," she said, standing for hours in a line of more than 1,500 people hoping to buy food, as soldiers with side arms checked identification cards to make sure no one tried to buy basic items more than once or twice a week. But Ms. Noriega, a laboratory assistant with three children, said she had no choice, ticking off the inventory in her depleted refrigerator: coffee and corn flour. Things had gotten so bad, she said, that she had begun bartering with neighbors to put food on the table. "We always knew that this year would start badly, but I think this is super bad," Ms. Noriega said. Because Venezuela is so dependent on oil sales to buy imports of food, medicine and many other basics, the drop in ...
The 56 percent drop in oil prices in the last six months is fueling more than just jet engines and road trips. It's also burning through the cushy budget surpluses enjoyed by some of the world's biggest oil-producing nations. Saudi Arabia, the world's top producer of crude, will see the budget surplus it has enjoyed in the past turn into a deficit of 4.7 percent of gross domestic product this year, according to the median estimate of eight economists surveyed by Bloomberg. That would be the first shortfall since 2009, according to International Monetary Fund data. The Middle Eastern nation, which derives about 90 percent of its budget revenue from oil, recorded a surplus of 8.7 percent of GDP in 2013. (Data for 2014 surpluses or deficits aren't yet available in many countries, so we're using 2013 for comparisons.) Oil exporters Kuwait, Qatar and the United Arab Emirates will ...
Assassinations, Hostage-Taking, Geopolitical Violence, Economic Crises, Financial Meltdowns are all part and parcel of ancient legacies that now have become everyday realities, world-wide. Welcome To The Future! As ancient tribalism, modern terrorism and the New World Order way of life become forever wed, through one calamitous-violent ritual after another, the whole world continues to be led down the garden path by preacher-ideologues on both sides of the aisle! Traditionally, at every wedding ceremony there always comes a time when the preacher invites all the celebrants to come down the aisle and enter into joyful dance together to honour the sacred matrimonial bond and pledge that has been made, and the holy union that is taking place between two distinct, unique partners, who represent a rare blend of ancient traditions, cultures and historical lineages. Yet the wedding ceremony ritual that is occurring in the ...
Where Is All That Excess Oil Going?
There's a term traders use when the price of a commodity like oil has ...
Keystone passes in US Senate, faces Obama veto
Republicans in the U.S. Senate made good on a pledge to pass the long-pending ...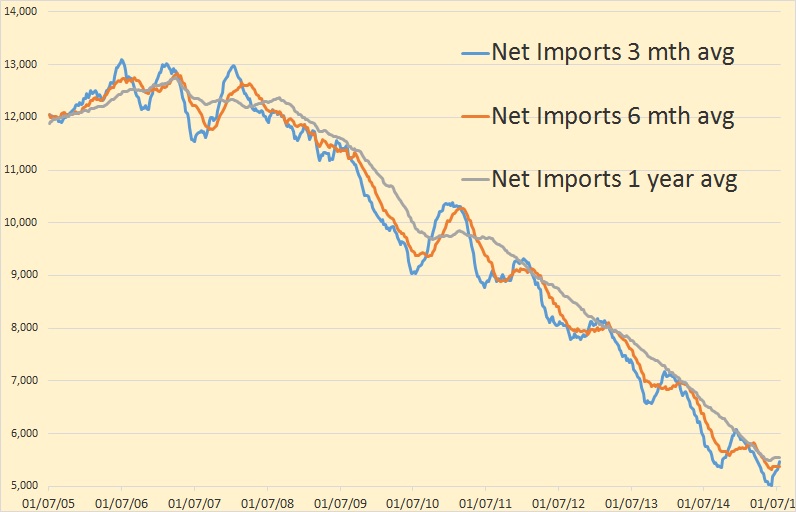 US Production and Imports
Even before the shale revolution got underway, US net imports were falling. The data ...
Have we reached 'peak food'? Shortages loom as global production rates slow
The world has entered an era of "peak food" production with an array of ...
More News By Topic...