Welcome to PeakOil.com, an online community exploring oil depletion.
Thirst. It's not talked about nearly as much as oil or Islamic State, yet lack of water is driving conflict and strife in the Middle East and North Africa. The World Resources Institute released this week a water-stress index measuring competition and depletion of surface water. It shows which countries are most vulnerable to scarcity in 2040. Nearly half of the 33 countries that fall in the extremely high risk category are in the Middle East. Leading the pack are heavily oil-producing Gulf countries: Bahrain, Kuwait, Qatar and the United Arab Emirates. These nations face "exceptional water-related challenges" because they don't have lakes or rivers and already rely heavily upon groundwater and desalinated seawater, the findings show. Lack of water means farmers can't grow the crops needed to feel exploding populations. Governments may stockpile grains out of fear of depletion, creating shockwaves to global ...
It is undeniable; the final collapse triggers are upon us, triggers alternative economists have been warning about since the initial implosion of 2008. In the years since the derivatives disaster, there has been no end to the absurd and ludicrous propaganda coming out of mainstream financial outlets and as the situation in markets becomes worse, the propaganda will only increase. This might seem counter-intuitive to many. You would think that the more obvious the economic collapse becomes, the more alternative analysts will be vindicated and the more awake and aware the average person will be. Not necessarily... In fact, the mainstream spin machine is going into high speed the more negative data is exposed and absorbed into the markets. If you know your history, then you know that this is a common tactic by the establishment elite to string the public ...
Much has been made lately of the so-called Anthropocene — the idea that Homo sapiens has so taken over and modified Earth that we need a new name for our geological age instead of the outmoded Holocene. One remorseless Anthropoceniac writes, 'Nature is gone… You are living on a used planet. If this bothers you, get over it. We now live in the Anthropocene — a geological era in which Earth's atmosphere, lithosphere, and biosphere are shaped primarily by human forces.' One of the reasons given today for renaming the Anthropocene is that we have so impacted all ecosystems on Earth that there is no 'wilderness' left. Insofar as I know, other than babbling about 'pristine', 'untouched', and so forth, none of the Anthropoceniacs ever define what they mean by wilderness, which is not surprising in that none of them give ...
Although I would consider myself to be in broad agreement with "Peak Oil" theory, I am less sure about some of the recent approaches to it. The Oil Drum was the go-to site for peak oil analysis, and I am unaware of any comparable replacement. My diagnosis is that Peak Oil theory developed a public relations problem after the 2009 Financial Crisis - many believed that oil prices would keep going on up to $300/barrel (or whatever), and there was a shock when oil prices collapsed. My feeling is that many in the Peak Oil camp over-reacted to that event. Gail Tverberg was a regular contributor to the Oil Drum. She recently published an article "Deflationary Collapse Ahead?" In it, she argues that low oil somehow indicate that we are near resource limits. This article was a followup from an earlier one ...
Anything happening today that looks like these folks may be implementing their plans ?   It's so nice of these wonderful people to be deciding the fate of billions of human beings while they stuff their vile faces. Instead of figuring out ways to help their less fortunate brothers and sisters, they plan ways to exterminate the less fortunate as if they were insects and pests…..even though it was upon the backs, labor and toil of these less fortunate that their wealth came to them.  These people are supposed to be the shinning example of what great things man can be and do instead they are just the opposite. What disgraces. Perhaps they would like to step to the front of the lines for their many suggested and planned solutions. What's good for the goose is just as good for the gander. Step ...
Sometimes our government moves very slowly. In the case of granting a patent to cold fusion technology, which just might replace fossil fuels, it took 26 years. The odyssey that started with a press conference at the University of Utah back in 1989 and has bumped along below the world's radar screen ever since, seems to be coming to an end. The cold fusion phenomenon had a brief flurry of notoriety until it was "debunked" by many physicists, a couple of universities, and the U.S. Department of Energy panel. The science fell into disrepute, its discovers were disgraced and went into exile. Fortunately for mankind, there were a handful of experimenters who were able to reproduce the original experiments which produced anomalous heat, thereby keeping the spark of cold fusion alive, but mostly in obscure laboratories out of the purview of ...
Oil rocketed more than 10 per cent higher on Thursday, posting its biggest one-day rally in over six years, caught up in a relief rally that swept the globe as the U.S. economy grew more than predicted. West Texas Intermediate futures rose 10 per cent, the biggest gain since March 2009. U.S. gross domestic product grew at a 3.7 per cent annualized rate in the second quarter, exceeding all estimates of economists surveyed by Bloomberg. The Standard & Poor's 500 Index headed for its biggest two-day gain since 2009 as Chinese shares snapped a five-day losing streak.   Prices extended gains after Royal Dutch Shell Plc issued a force majeure on Bonny Light exports from Nigeria as it worked to repair two crude pipelines shut because of thefts and a leak. Oil had slumped below US$40 this week as concern over slowing demand in China fuelled ...
At a time when the oil price is languishing at its lowest level in six years, producers need to find half a trillion dollars to repay debt. Some might not make it. The number of oil and gas company bonds with yields of 10 percent or more, a sign of distress, tripled in the past year, leaving 168 firms in North America, Europe and Asia holding this debt, data compiled by Bloomberg show. The ratio of net debt to earnings is the highest in two decades. If oil stays at about $40 a barrel, the shakeout could be profound, according to Kimberley Wood, a partner for oil mergers and acquisitions at Norton Rose Fulbright LLP in London. West Texas Intermediate crude was up 2.3 percent at $39.47 a barrel at 1:43 p.m. in Singapore. "The look and shape of the oil industry would ...
OPEC next gathers December 4 in Vienna, just over a year since Saudi Oil Minister Ali Al-Naimi announced at the previous OPEC winter meeting the Saudi decision to let the oil market determine oil prices rather than to continue Saudi Arabia's role of guarantor of $100+/bbl oil.  Despite the intense financial and economic pain this decision has inflicted on Saudi Arabia, its fellow OPEC members, and other oil producers, the Saudis have given no indication they plan to alter course. In fact, Saudis have downplayed the impact of lower prices on their country, asserting that the kingdom has the financial wherewithal to withstand lower oil prices.  Presumably swayed by Saudi equanimity, financial markets do not see the Saudis abandoning their current policy before, during, or after the upcoming OPEC meeting. CME Brent oil futures project continuity: as of August 18, 2015, CME Brent futures projected the ...
In reviewing BP's latest Statistic Review of World Energy, the big story for world oil last year was obvious: the USA's third straight record-breaking increase in average annual production. Just over 75% of the net increase in world oil production during 2014 came from the USA; add in Canada and 90% of the total increase came from North America.  Throw in Brazil's first significant increase in three years and you have all the world's net gain in world oil production accounted for by three non-OPEC players.  Production from all other producers combined was flat.  So the question for 2015 is straightforward: will we see a repeat of those gains…and the flat-liners? The second-biggest oil story from 2014 came at year's end: the oil price crash.  While that event came too late to impact production data for 2014, it is already slowing ...
Rossi's E-cat: the slow death of a meme
  Results of a search using Google "Trends." The E-Cat is dead, but it keeps ...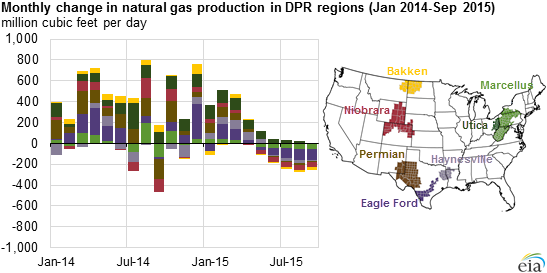 EIA Expects Decline in Natural Gas Production
Source: U.S. Energy Information Administration, Drilling Productivity Report, August 2015 Natural gas production across ...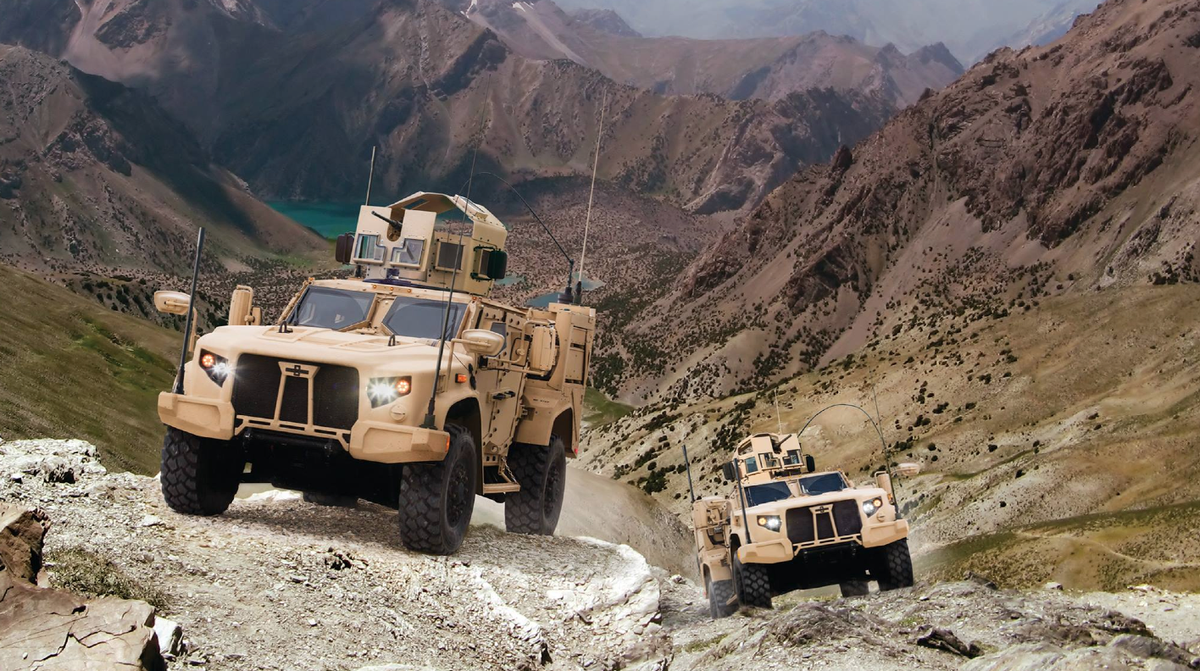 Humvee's days are numbered, as US military announces new replacement
The days of the Humvee as the US Army's vehicle of choice are about ...
Iran Provides Sizable Amount of Info for Nuclear Probe
Iran has provided a "substantive volume" of information to the U.N. atomic agency on ...
More News By Topic...