Welcome to PeakOil.com, an online community exploring oil depletion.
The Oil-price collapse was caused by the astonishing, unexpected growth in U.S. shale output, responsible for three-fourths of new global oil supply since 2008. And as lower prices roil operators and investors, the shale skeptics' case may seem vindicated. But their history is false: the shale revolution, "Shale 1.0," was sparked not by high prices—it began when prices were at today's low levels—but by the invention of new technologies. Now, the skeptics' forecasts are likely to be as flawed as their history. The information here is from a paper called "Shale 2.0: Technology and the Coming Big-Data Revolution in America's Shale Oil Fields" was released in May by Mark P. Mills, senior fellow for the Manhattan Institute and faculty fellow at Northwestern's McCormick School of Engineering and Applied Sciences Technological progress, particularly in big-data analytics, has the U.S. shale industry poised for ...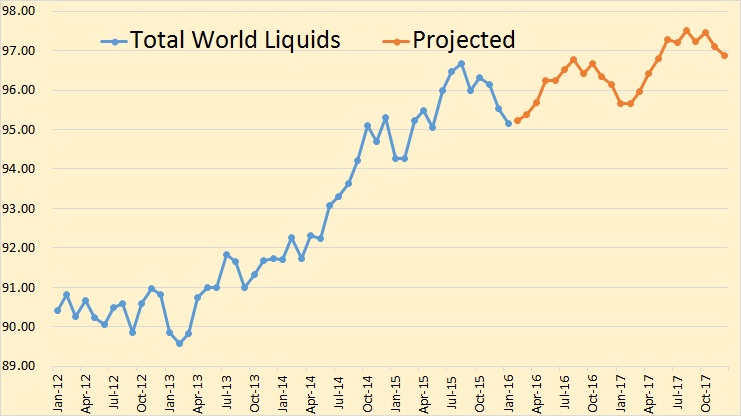 The EIA recently published the February edition of their Short-Term Energy Outlook. If you follow this month to month, and I do, you will notice their prognostications change a little every month. And over several months those small changes can add up to some rather dramatic changes. Nevertheless, below are several charts with their current oil production projections. The EIA STEO only gives monthly data for total liquids. All C+C data is quarterly and annually. The monthly projected data begins in February 2016. Projections for quarterly and annual data begins January 2016. The EIA says Non-OPEC total liquids dropped .5 million barrels per day in December and another .36 mbd in January. But then, other than another short drop in the first quarter of 2017, they see things leveling out for the next two years. For the total world, the EIA expects far ...
When one looks at the deplorable state of the world, one cannot help but wonder at the insouciance of the American people. Where are they? Do they exist or are they a myth? Have they been put to sleep by an evil demon? Are they so lost in The Matrix that they cannot get out? Ever since Clinton's second term the US has been consistently acting internationally and domestically as a criminal, disregarding its own laws, international laws, the sovereignty of other countries, and the US Constitution. A worse criminal government has never existed. Yet, Americans remain subservient to the criminals that they have placed in power over themselves. According to polls, Hillary Clinton and Senator Bernie Sanders are splitting the Democratic vote 50-50 as preferred Democratic presidential candidate. This is extraordinary. Hillary Clinton represents the interests of Wall Street and the mega-banks, ...
With oil prices so low, much of the oil market has its eye on one producer in particular: Saudi Arabia. It is the dominant member of OPEC. And for all the reasons oil prices fell in the first place, perhaps the biggest is OPEC's call in late 2014 to keep pumping full bore. And flood the market with oil. What was the motivation for the Saudis? And with oil now so low for so long, is their strategy working? One word that crops up a lot with Saudi Arabia is ... opaque. The leaders of the kingdom tend not to share their thinking. But the consensus in oil markets is that the Saudis led OPEC's decision to flood the oil market in 2014, and send the price crashing. Why? Mideast energy consultant Sara Vakhshouri said a price war sinks high-cost producers, like fracking companies. ...
Even as all sides - including the US, Russia, Saudi Arabia, and select rebel groups - pretend to be working towards a ceasefire and a diplomatic solution to the five year conflict in Syria, actions speak louder than words, and to put it as succinctly as possible, everyone is still fighting. In fact, the fighting is more intense than ever. Russia and Hezbollah are closing in on Aleppo, the country's largest city and a key urban center where rebels are dug in for what amounts to a last stand. If the city is liberated by the government (and yes, "liberated" is more accurate than "falls" because occupied territory belongs to the Syrian government, not to Sunni extremists), Assad will have regained control of the country's backbone in the west. That would effectively mean the end of the rebellion and the Gulf monarchies, ...
Alarming new research has found that 4 billion people around the globe — including close to 2 billion in India and China — live in conditions of extreme water scarcity at least one month during the year. Half a billion, meanwhile, experience it throughout the entire year. The new study, by Mesfin Mekonnen and Arjen Hoekstra of the University of Twente in the Netherlands, uses a high resolution global model to examine the availability of "blue water" — both surface and underground freshwater — in comparison with the demand for it from agriculture, industry and human household needs. The model — which zoomed in on areas as small as 60 kilometers by 60 kilometers in size at the equator — also took into account climatic factors, ecological ones (how much water is needed to sustain a river ecosystem or lake) and other causes of ...
With the end of the 54-year U.S. trade embargo on Cuba, and Cuban government moves to encourage foreign investors, Cuba is a suddenly attractive venue that is sitting on an estimated 4.6 billion barrels of oil and promising tantalizingly low production costs that defy low oil prices. In December 2014, the U.S. lifted the trade embargo, and earlier that year—banking on an end to the embargo—Cuba began to lay the foundation for attracting foreign investment by offering corporate tax credits. It sounds great—but there has been no rush onto this playing field. Throughout last year, Cuba was busy trying to sell itself as the next up-and-coming venue. What it has to offer is total undiscovered technically recoverable reserves of 4.6 billion barrels of crude oil, 9.8 trillion cubic feet of natural gas and 900 million barrels of natural gas liquids, based on 2004 estimates ...
In its annual outlook for energy report, ExxonMobil presents data that contradicts Obama's green energy utopianism.  Who has the better track record of predicting the global energy future: Obama or a private company that actually produces the stuff? In its just published report, "The Outlook for Energy: A View to 2040," Exxon makes three key points.  First, by 2040, global energy demand is predicted to rise by 25%.  That demand must be met if living standards are to improve, and there are only three feasible ways of meeting it: fossil fuels, nuclear energy, and alternatives.  The choice of energy sources will be driven by a combination of cost and government policy.  Coal remains the cheapest source of energy for electrical generation, but its use is likely to drop after 2025 as a result of environmental policies.  Reliance on oil and natural ...
I'm a climate scientist who doesn't fly. I try to avoid burning fossil fuels, because it's clear that doing so causes real harm to humans and to nonhumans, today and far into the future. I don't like harming others, so I don't fly. Back in 2010, though, I was awash in cognitive dissonance. My awareness of global warming had risen to a fever pitch, but I hadn't yet made real changes to my daily life. This disconnect made me feel panicked and disempowered. Hour for hour, there's no better way to warm the planet than to fly in a plane. Then one evening in 2011, I gathered my utility bills and did some Internet research. I looked up the amounts of carbon dioxide emitted by burning a gallon of gasoline and a therm (about 100 cubic feet) of natural gas, I found ...
China pumps more than 4 million barrels of oil a day (only Saudi Arabia, the United States, Russia, and on a good day Canada produce more), but output is expected to decline this year as the country's oil fields mature and operations become more expensive. The WSJ reports: China is among the world's top five oil producers, but its fields are growing depleted and are increasingly expensive to pump. The country's leading companies are choosing to leave more of their oil in the ground and some analysts now say Chinese oil output may have peaked. […] As China's production starts to decline, demand for oil from overseas should remain firm, which would be good news for prices, which have been languishing near multiyear lows amid a global supply glut and weak demand in the rest of the world. […] This news will be welcomed by ...
More Drinking Water Contamination
Two recent drinking water investigations in Texas show dangerous levels of contamination. The larger study ...
Extreme Inequality = Economic Collapse
John Fullerton's white paper, Regenerative Capitalism, lists eight principles critical to systemic economic health. ...
War, Plunging Oil Prices Send Iraq's Economy Into Crisis
Plunging oil prices have pitched Iraq into a severe financial crisis as it struggles ...
Is The US Leading Saudi Arabia Down The Kuwaiti Invasion Road?
For the first time in a long time I feel concerned and worried about ...
More News By Topic...